As the defending champion, Colonel Liam returns from a seven-month hiatus as the top invitee for the $1 million Grade 1 Pegasus World Cup Turf Invitational. He heads an 18-horse invite list for the Jan. 29 race at Gulfstream Park.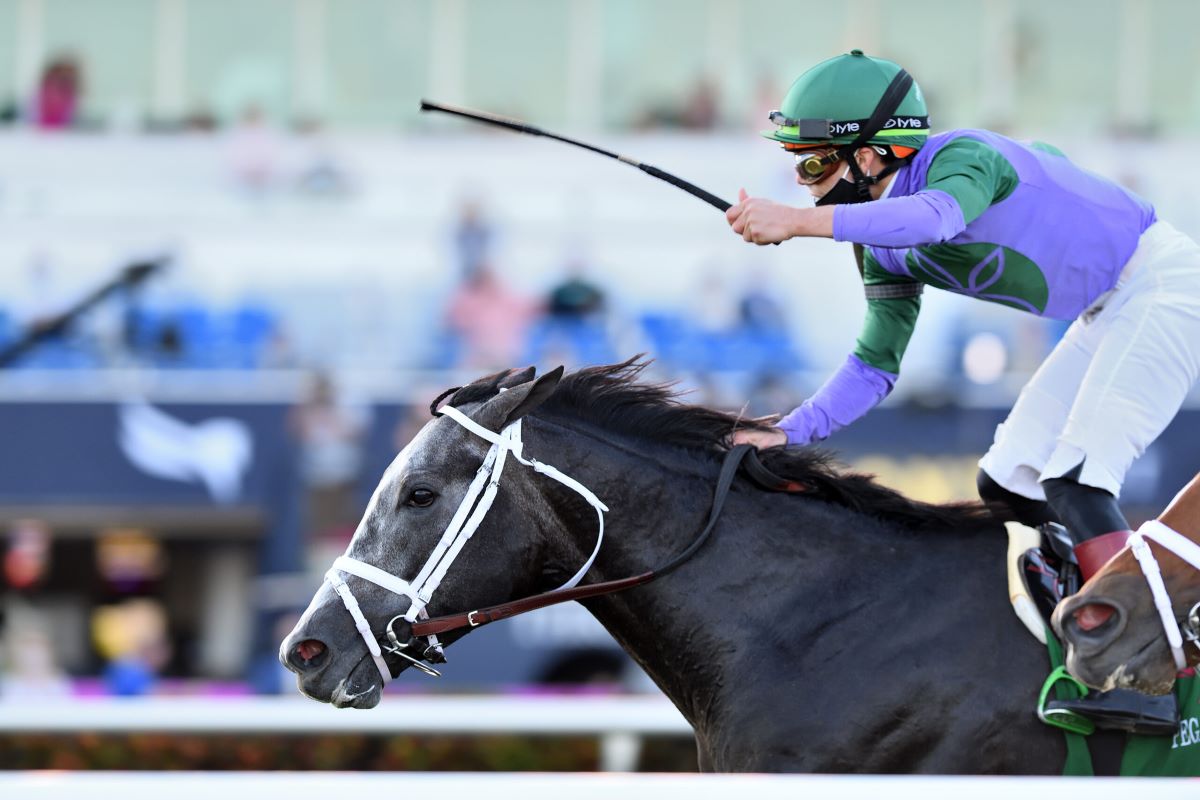 The Pegasus World Cup Turf and its sister race, the $3 million Pegasus World Cup Invitational, headline a seven-graded-stakes card offering $5.2 million in purses. Both those races send their 4-and-up contestants 1 1/8 miles.
First among equals there is Colonel Liam, the 5-year-old Liam's Map progeny who was North America's most dominant older turf male in 2021. He won the Tropical Park Derby, the prep for this race, on Boxing Day 2020.
That kick-started a four-race winning streak that brought Colonel Liam the Pegasus World Cup Turf title (by a neck over stablemate Largent). That, in turn, sent Colonel Liam to victories in the Grade 2 Muniz Memorial at Fair Grounds in March and the Grade 1 Turf Classic at Churchill Downs on the Kentucky Derby undercard.
Turf Classic sent a message for Colonel Liam's backers
The Turf Classic also foreshadowed a changing of the guard. As the 1.40/1 favorite, Colonel Liam got caught at the wire for a dead heat by Domestic Spending. The two resumed their nascent rivalry a month later in the Grade 1 Manhattan at Belmont Park, whereupon Domestic Spending finished nearly 11 lengths and seven places ahead of Colonel Liam.
Placing a dull eighth of 10 at 3.80/1, Colonel Liam never got closer than third for the 1 1/2-mile trip. And with that, trainer Todd Pletcher flipped a switch. Pletcher worked him four times — twice at Belmont Park and twice at Saratoga — in July, then shut him down until Dec. 2. Colonel Liam has worked six times since that Dec. 2 outing, all at Palm Beach Downs.
All his works but one were on the dirt.
Colonel Liam training to Pegasus World Cup Turf
"We've kind of had in mind that our best approach for him to try and defend his Turf title is just to train up to it," Pletcher told Gulfstream Park. "He had some time off and he's a horse that we think will run well fresh. He's put enough into his training that, hopefully, we can have him ready to run a good race off the layoff."
Waiting for Colonel Liam on the invite list are Pletcher stablemates Largent and Never Surprised. Largent came out of his recent layoff into a fourth at last weekend's Grade 3 Tropical Turf. Never Surprised won his third stakes race on Dec. 26 with his score in the Tropical Park Derby.
"We were happy with his race over the course. It's kind of similar to what Colonel Liam did last year, going from the Tropical Derby to the Pegasus," Pletcher said.
Five Grade 1 winners in the field
Also waiting for Pletcher's trio are Grade 1 winners Channel Cat, Hit the Road, Point Me By, and Two Emmys. Channel Cat won the Grade 1 Man 'o War at Belmont Park last year. Hit the Road did the same at Santa Anita's Grade 1 Frank E. Kilroe Mile. Point Me By won the Grade 1 Bruce D Stakes, and Two Emmys captured the Grade 1 Mr D Stakes at Arlington Park last summer.
---
2022 Pegasus World Cup Turf Invite List
Channel Cat
Colonel Liam
Cross Border
Doswell
Field Pass
Hit the Road
Largent
March to the Arch
Never Surprised
Point Me By
Sacred Life
Two Emmys
Atone (AE)
Bob and Jackie (AE)
English Bee (AE)
Flavius (AE)
Law Professor (AE)
Space Traveller (AE)
* Also Eligible
---
Mike Maker, who won the 2020 Pegasus World Cup Turf with Zulu Alpha, brings four to the invite list: Cross Border, Field Pass, Atone, and Flavius. Cross Border and Field Pass are multiple graded-stakes winners. Atone was runner-up to fellow Pegasus invitee Doswell in last month's Grade 2 Fort Lauderdale. Flavius owns stakes victories in both the US and Europe.
Other invitees include two-time Grade 2 winner March to the Arch and Sacred Life, a Grade 3 winner in the US and France. Atone, Space Traveller, Bob and Jackie, English Bee, Flavius, and Law Professor are on the also-eligible invite list. They would need a defection from one of the 12 main-list invitees to get into the field.