Imagine owning a baseball card that not only features a big crease, but that's lost some of the cardboard from the back after being pasted in a scrapbook – and then selling that card for more than $2.5 million.
A famed T206 Honus Wagner fetched that price during a recent sale by Heritage Auctions. Sports Collector Daily reported that the two-day auction, which ended Monday, yielded nearly $33 million in total sales.
Cards owned by former MLB players bring big bucks
That included more than $1 million for a 1969 Topps Reggie Jackson rookie card graded gem mint by Professional Sports Authenticators, the only one to receive that designation. Former major league baseball player Dimitry Young, known for his expansive card collection, brought that card to auction this weekend.
The Wagner card was previously owned by the late baseball player Joe Garagiola, who traded his final major league uniform and other items for the card, SCD noted.
The record sale price for a Wagner card is $3.1 million. The copy once owned by Wayne Gretzky sold to Arizona Diamondbacks owner Ken Kendrick for $2.8 million in 2007.
Wagner card sale a record for 'authentic' grade
The Wagner sold Sunday represents a record price for a copy graded "authentic" by SGC, which means the card failed to meet size requirements for a numerical grade, but was determined by graders to be a non-counterfeit version of the card.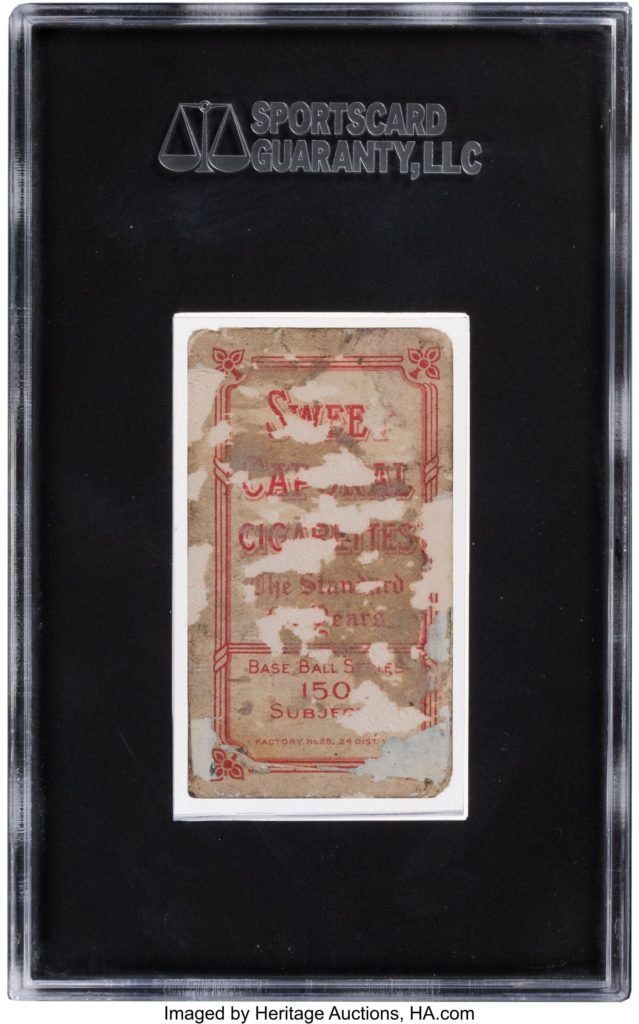 The Wagner sale comes just weeks after a PSA 9 version of the famed 1952 Topps Mickey Mantle rookie card broke sports card auction records by selling for $5.2 million to Rob Gough.
On Saturday, a collector bought a 1-of-1 autographed Luka Doncic NBA Logoman card for $4.6 million. The Baltimore Sun noted that's the second-highest sale ever known. The Heritage Auctions sale of the Wagner represented the fifth-highest price paid for a card.