The New York Racing Association put one of the final Kentucky Derby Trail pieces in place on Friday, releasing its Saratoga Race Course summer stakes schedule. It puts the Grade 1 Travers Stakes on Saturday, Aug. 8, four weeks before the Kentucky Derby.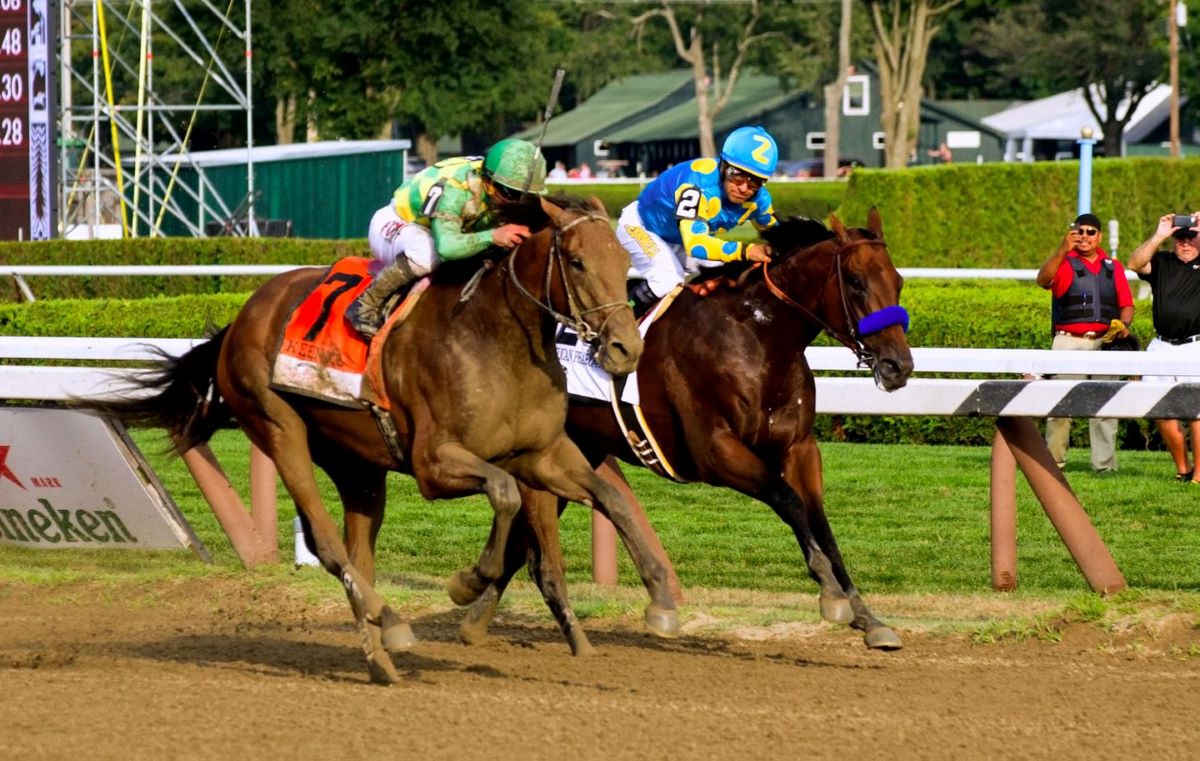 That date conveniently fits Tiz the Law's schedule, meaning you'll likely see the 6/5 Belmont Stakes favorite in the Saratoga starting gate. Jack Knowlton, the managing partner of Tiz the Law's Sackatoga Stables ownership group, told Bloodhorse the early August date gives his star charge the perfect amount of time between the Belmont and the Kentucky Derby.
"We're excited and hoping that Tiz the Law can stay healthy and run in the Travers, which is the race we had the most regrets about missing with Funny Cide because he got sick beforehand," Knowlton told Bloodhorse. "We plotted out this course long ago, going back to after he won the Champagne Stakes. Obviously the order changed, but the Travers has always been one of the races we would point for if Tiz the Law could take us there."
Knowlton referred to 2003 Kentucky Derby and Preakness winner Funny Cide, the last Triple Crown hopeful his small Saratoga-based operation produced before Tiz the Law.
Travers Takes Over the Racing World
Known as "The Midsummer Derby," the 1 ¼-mile Travers is one of the nation's premier 3-year-old races. It's normally held the end of August as Saratoga's marquee race. Instead, it moves to early August, offering 100-40-20-10 Derby qualifying points. The historic race headlines a card featuring two other Grade 1 races: the Ballerina Handicap for fillies and mares, and the Longines Test Stakes for 3-year-old fillies.
Saratoga's other centerpiece race – the Grade 1 Whitney – headlines the previous Saturday's card. The 1 1/8-mile handicap is one of America's signature races for older horses. It brings the winner a berth in the Breeders' Cup Classic. That day also features the Grade 1 Personal Ensign, which offers that winner a spot in the Breeders' Cup Distaff. That 1 1/8-mile race could show off the top two fillies and mares in the country, Midnight Bisou and Monomoy Girl.
The other Grade 1 that day is the H. Allen Jerkens Memorial for 3-year-old sprinters.
Saratoga Schedule Loaded With Stakes Races
Those are six of Saratoga's 71 stakes races, races offering $14.45 million in purses. The full schedule includes 39 graded stakes and 18 Grade 1s during the 40-day meet running July 16-Sept. 7. Because of the COVID-19 pandemic, those races are currently planned to run spectator-free — a double-edged sword for the Capital region. The Saratoga area and the country's horsemen need racing, but the economic impact of not having tourists there during high-season will leave a mark.
"We're thrilled to be racing at Saratoga this summer and we thank Governor Andrew Cuomo for his support and the support of horsemen who have worked with us to navigate the many challenges," NYRA President and CEO Dave O'Rourke said in a statement. "While this will be anything but a traditional Saratoga season, we hope to provide a semblance of normalcy for both the local community, as well as racing fans across the country."