Max Abmas, college basketball's leading scorer from Oral Roberts, wants to go pro so he declared for the 2021 NBA Draft while maintaining his NCAA eligibility by not hiring an agent.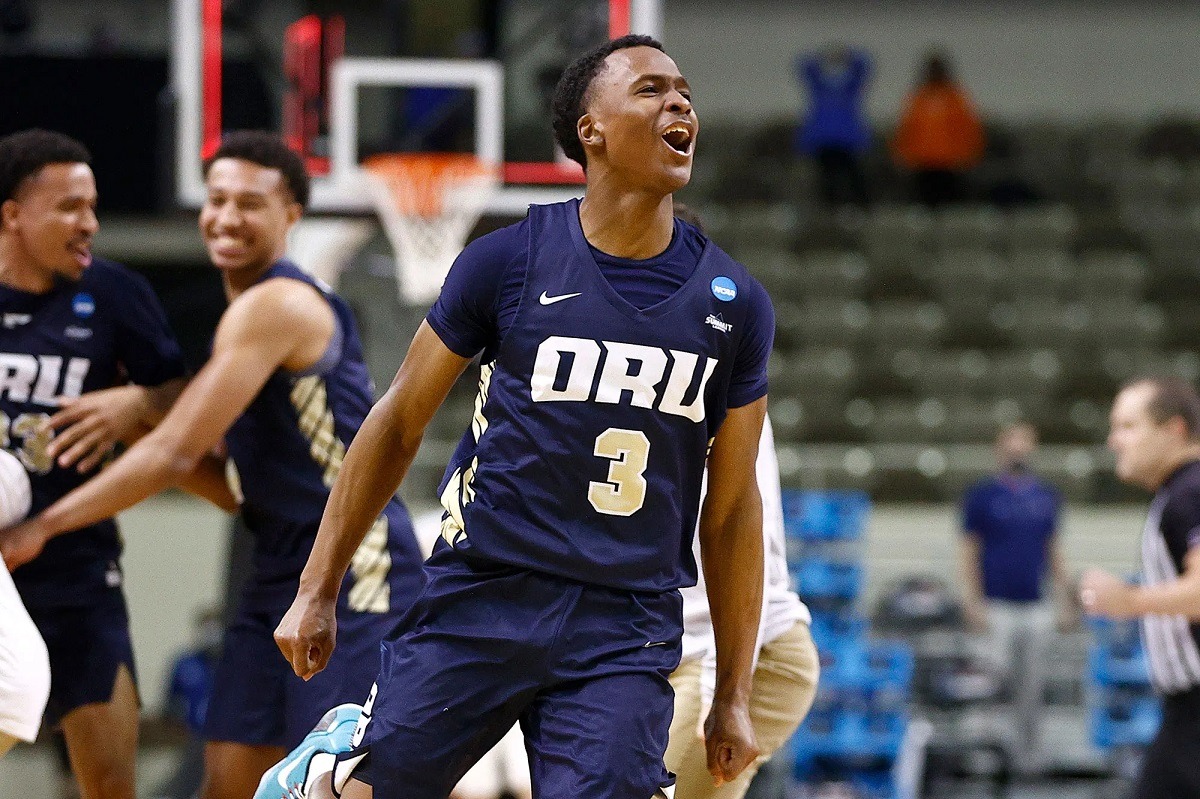 As a sophomore, Abmas led the NCAA in scoring with 24.5 points per game. He also shot 42.9% from 3-point range.
A couple of mock drafts projected Abmas as a late second-round pick in the 2021 NBA Draft. However, before March Madness began, no one had Abmas on their radar even though he was the Summit League Player of the Year.
After his Warholian "15 minutes of fame" associated with Oral Roberts and their Cinderella run in 2021 March Madness, Abmas wanted to capitalize on his visibility by testing the pro waters.
"I played some of my best basketball in the postseason on the biggest stage," said Abmas. "Just looking at the year as a whole and how it ended, I wanted to capitalize on this moment."
By not hiring an agent or agency, Abmas has the luxury of returning to Oral Roberts for another season. He can test the waters and won't get penalized if he's not picked in the upcoming draft.
The final day for players to withdraw from the 2021 NBA Draft will be July 19, or 10 days before the start of the draft on July 29.
Cinderella Max
Abmas heard the same story before. He was overlooked by college programs and recruiters because he was considered too small for a big-time program. At 6-foot-flat, Abmas fielded only a couple of scholarship offers, which is why he ended up at Oral Roberts.
"I've been hearing I'm too small my whole life," said Abmas. "At the end of the day, I'm gonna control what I can control and that's how hard I work."
The school in Oklahoma, named after a famous preacher, sounded more like a punchline to a joke before Abmas showed up. He literally put the school on the map thanks to his basketball prowess.
"Max Abmas enjoys the moment and doesn't shy away from it," said head coach Paul Mills. "This young man thrives in these situations."
Abmas led Oral Roberts to a Cinderella appearance in the Sweet 16 of March Madness. Oral Roberts became only the second #15 seed in NCAA history to advance to the Sweet 16. Along the way, Abmas and ORU toppled #2 Ohio State in overtime in the first round. Then they rallied from a double-digit deficit to pick off #7 Florida in the Round of 32.
Abmas dropped 29 points against Ohio State in OT. He added 26 points in the upset over Florida. In the Sweet 16, Abmas scored 25 points in a two-point loss against #3 Arkansas.
Abmas: Small Guy, Big Dreams
Several NBA scouts questioned his size, which is something Abmas heard his entire life. He never let what other people thought of him, or what he lacked, derail him from success at every level of basketball.
"This is my dream," said Abmas. "I'm gonna do everything that I can to put myself in the best position, so even though I'll remain eligible to come back, that's not what I want. I'm confident in what I can do, and I'm determined to live my dream."
Other scouts think Abmas can thrive in the modern NBA where smaller guards with insane shooting range are running and gunning their way to the top of the NBA scoring race. Abmas now has a path to the NBA thanks to the huge success from smallish guards like Kemba Walker (6-foot-0), Trae Young (6-foot-1), Damian Lillard (6-foot-2), and Kyrie Irving (6-foot-2).
"You see smaller guards in the league having a major impact," said Abmas. "That shows that it can definitely be done. What I bring to a team is my ability to stretch the floor, get others involved, and play within the offense."