close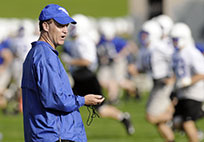 Coaches
Average number:

15

Highest Paid:

$8.5MM (Head Coach)

Lowest Paid:

$300K (Strength Coach)
At the top, you've got the head coach. They're the front man for the team: the one who faces the media, leads team talks and is ultimately responsible for calling the shots of the day. They also build the framework for assistant coaches, who are in charge of various different elements of a game.
To become a head coach usually takes around 20 seasons on the sidelines, but the salary is worth the wait. New England Patriots head coach, Bill Belichick, earns up to $12.5 million per year.
Every team has a large number of assistant coaches, who are scattered across the sidelines or up in the stands. Each has their own responsibility. You've got the offensive, defensive, position and special teams coaches split into sub-roles. They cover each offensive position, each defensive position, and there's also an assistant to the special teams' coach.
You may have seen footage of coaches analyzing the game from high up in the media room. It's their job to pick out areas of the game that need improvement, and then pass that information down to the coaching crew on the sidelines.