The New York Yankees suffered a huge blow when they lost relief pitcher and set-up man Michael King to a season-ending elbow injury.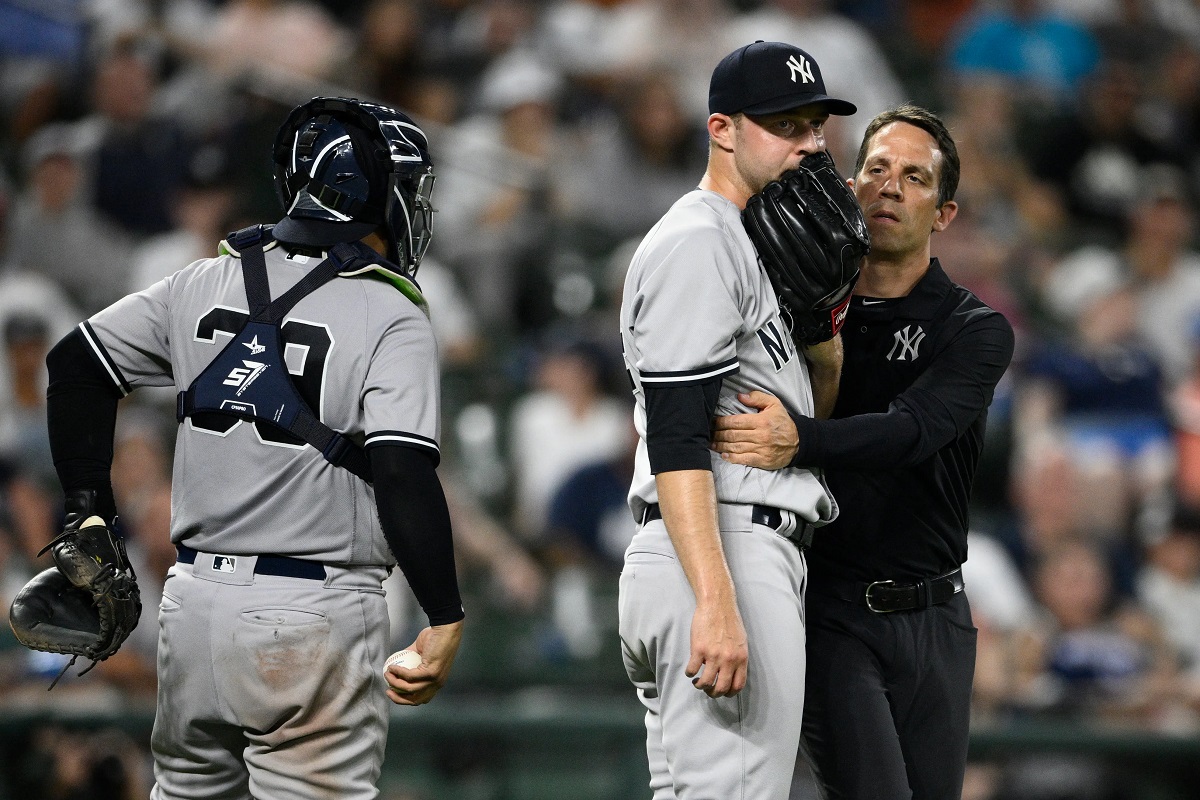 King exited last night's game against the Baltimore Orioles in the eighth inning after he screamed in agony following an 0-2 pitch to Ramon Urias. After the game, an examination revealed that King fractured his elbow and will miss the remainder of the season with the freak injury.
King posted a 6-3 record with one save including a 2.29 ERA and 1.00 WHIP in 34 appearances with the Yankees this season.
"He's a hard worker," said teammate Jameson Tallion. "I know he'll get back here and get back to the same spot he was in. It's never easy seeing a guy walk off the field. You think about his girlfriend and family watching. That's not easy for anyone."
The Yankees faded injuries in the first half of the season, which attributed to the best record in baseball with 64 wins. However, the injury bug hit two pitchers with King last night and starting pitcher Luis Severino last weekend.
Yankees Bullpen in Trouble?
The Yankees were able to withstand two horrible seasons from last year's closer and set-up man thanks to Clay Holmes and King.
Aroldis Chapman and Jonathan "Johnny Lasagna" Loaisiga were the relief pitchers that Aaron Boone relied to slam the door shut on opposing teams when the Yankees held a late-inning lead. However, Chapman lost a little velocity on his feared fireball, and Loaisiga has been awful this season.
Boone got lucky with Holmes and King. With Loaisiga slumping, Holmes took over as the set-up man. When Chapman also lost his edge, Boone promoted Holmes to closer. When Chapman went on the IL, King took over as the set-up man. The combination of Holmes and King anchored the bullpen and allowed the Yankees to withstand subpar first halves from last year's end-game relievers.
With King out for the rest of the season with the elbow injury, the Yankees need Loaisiga and Champman to snap out of their funks.
"We've just got to keep building some successes and get the confidence back to where Chapman is that guy out there," said Boone. "That's what we're working to do."
Chapman appeared in 25 games. He has a 0-3 record with nine saves and an unimpressive 5.75 ERA and 1.67 WHIP. In 22 appearances, Loaisiga is 1-2 with a 7.52 ERA and 1.67 WHIP.
In the latest trade rumors, the Yankees are eying starting pitcher Luis Castillo from the Cincinnati Reds. However, the Yankees also need another reliable arm out of the bullpen.
The Yankees are currently +400 odds to win the 2022 World Series, according to a recent update by DraftKings.