The reigning Belmont Stakes victor is in the field as your deserved race favorite. So is one member of Hall of Fame trainer Bob Baffert's 3-year-old Derby Legion of Doom. And so are a wealth of upstarts seeking to make Saturday's Grade 1 Travers Stakes another trip into Saratoga's "Graveyard of Champions."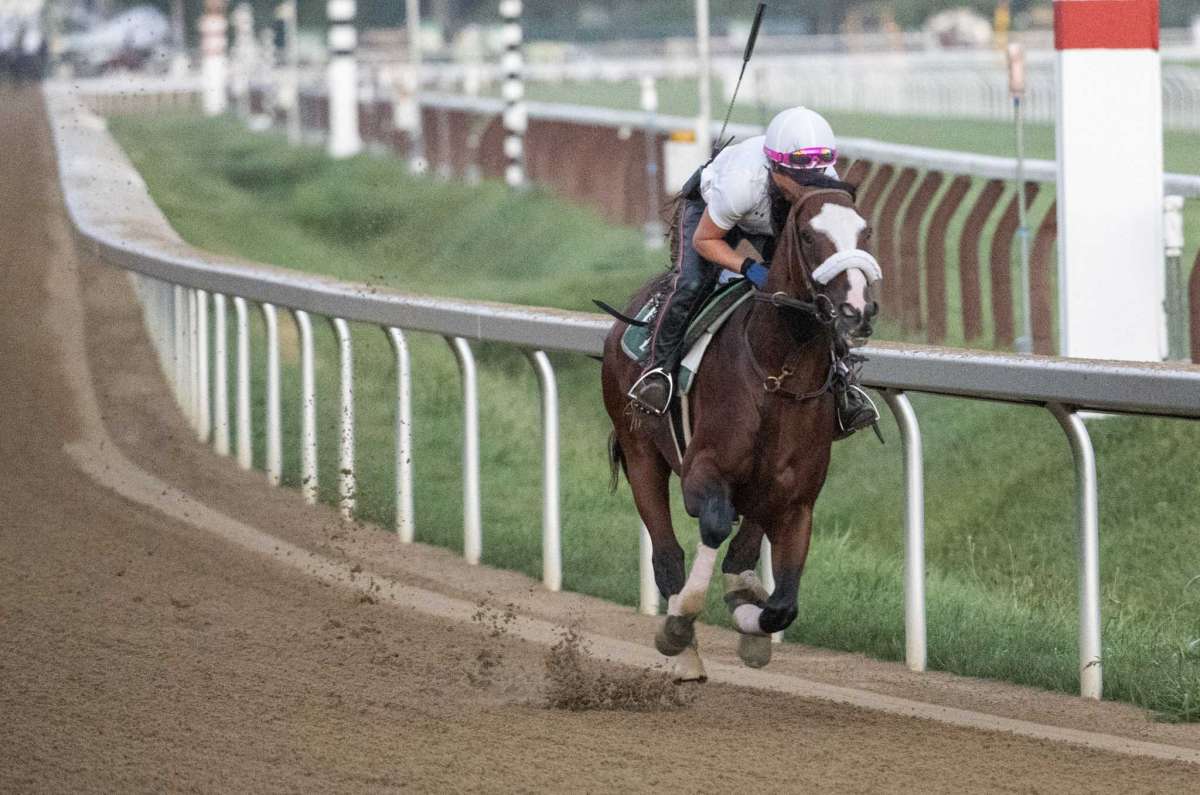 That first horse would be even-money favorite Tiz the Law. The second, shipping out from California, is Baffert's Uncle Chuck (5/2). And playing the roles of prime upset contenders are Max Player (6/1), Country Grammer (6/1), and Caracaro (10/1). Those three will try to mimic the feats of 10 of the last 12 Travers winners – none of whom were the race favorite.
The Travers is the centerpiece of Saturday's loaded stakes day at the Spa. Four other graded stakes are on the schedule, including the Grade 1 Test Stakes that features top 3-year-old filly Gamine and chief competitor, Venetian Harbor.
As for that centerpiece event, the race gets its name from William Travers, the first president of Saratoga Race Course and the owner of the first winner of the event – Kentucky in 1864. In 1930, it provided then-New York Governor Franklin D. Roosevelt and 50,000 others one of the greatest upsets in racing history. That was 100/1 moon shot Jim Dandy beating Triple Crown winner and Travers favorite Gallant Fox.
One of the Derby Trail's Final Stops
The Travers usually occupies a late August slot, which fits top 3-year-old schedules coming out of the spring Triple Crown races and the mid-July Haskell Invitational. This year, it provides one of the last stops on the Kentucky Derby Trail, offering 100-40-20-10 qualifying points to the top four finishers. After the Travers, only two more Derby trail stops await: Sunday's Ellis Park Derby in Kentucky and next weekend's Pegasus Stakes at Monmouth Park.
With the notable exception of Tiz the Law (272 points) and the upstart exception of Peter Pan Stakes winner Country Grammer (50), every horse in the field needs a healthy chunk of those points to ensure a spot in the Derby starting gate. Max Player, who finished third in the Belmont to Tiz the Law and Dr Post, and Shivaree (30/1) have 40 points each, putting both on the bubble.
Everyone else in the field enters the Saratoga starting gate outside the Derby looking in.
Who Can Catch Tiz the Law?
All of the outsiders have a large hay bale to bite off to catch Tiz the Law for those 100 points. Last seen turning in a virtuoso performance in June's Belmont Stakes, Tiz the Law took command of the one-turn Belmont right out of trainer Barclay Tagg's playbook. Jockey Manny Franco parked him behind the early leaders, then turned him loose on the turn. He eased Tiz the Law up in time for a four-length victory where Franco pulled him up.
---
Travers Stakes
Morning Line (Jockey)
First Line, 30/1 (David Cohen)
Country Grammer, 6/1 (Irad Ortiz Jr.)
Uncle Chuck, 5/2 (Luis Saez)
Max Player, 6/1 (Joel Rosario)
Shivaree, 30/1 (John Velazquez)
Tiz the Law, Even (Manny Franco)
Caracaro, 10/1 (Javier Castellano)
South Bend, 15/1 (Jose Ortiz)
---
Not only did that illustrate that New York-bred Tiz the Law has enough to go 10 furlongs, but his third victory of 2020, which came by a combined 11 lengths, showed that he can do it with style. If that's not enough karma, Saturday marks the one-year anniversary of Tiz the Law breaking his maiden at Saratoga, by 4 ¼ lengths.
So, who's up to catch that? The list starts with Uncle Chuck, who brings an undefeated record (2-for-2) and Baffert's unmistaken virtuosity shipping horses East. Baffert owns three Travers victories, including back-to-back triumphs with Arrogate in 2016 and West Coast the following year. He said Uncle Chuck belongs at the Travers, based on his pedigree and recent training outings at Del Mar.
In 2016 Arrogate not only won the Travers Stakes by 13.5 lengths, but set a new track record for the 1.25 miles race. Arrogate's time – 1:59.36, broke the 37-year-old record set by General Assembly. The 151st running of the Travers takes place tomorrow.https://t.co/3DeUi05TvK pic.twitter.com/cXw4hyPXtq

— Horse Racing Facts (@RaceHorseFacts) August 7, 2020
"He's been training well, and I thought he deserves a chance to run in it," Baffert told the New York Racing Association. "He's only had two races, but they were pretty impressive. The talent is there. He's just still figuring it out and putting it together."
Unbeaten, Untested — That's Uncle Chuck
And there's the rub. Uncle Chuck beat all of seven horses in his two races. That's two fewer than Tiz the Law ran by in the Belmont – never mind his Holy Bull and Florida Derby victories earlier this year. Plus, Uncle Chuck's best Equibase Speed Figure (98) isn't in the same galaxy as Tiz the Law's (117).
That brings us to Max Player, who has never missed the board in his four starts (2-1-1). Like every other horse in the field, he's going 10 furlongs for the first time. But trainer Linda Rice, bidding to be only the second female trainer (Mary Hirsch in 1938) to win the Travers, said deep closer Max Player was coming hard at the end of the Belmont.
"So I'm hoping the extra distance only works in his favor," Rice said. "It would be great if we had an honest pace in this race, so it would set up better for a horse coming from off the pace."
Ortiz Proved Again How Jockey Make a Difference
Country Grammer's connections, starting with trainer Chad Brown, would like that too. The son of 2014 Belmont winner Tonalist, Country Grammer showed closing firepower in his neck win over Caracaro in the July 18 Peter Pan Stakes. That came courtesy of Brown's go-to rider, Eclipse Award-winning jockey Irad Ortiz Jr. and the ground-saving trip he took down the stretch to turn away Caracaro.
"He's looking for more ground, Brown said. "He's going to have to step it up obviously on short rest and the fact that it's a much tougher race. But the horse, physically, is doing everything you want him to do."
If you're looking for the race's trendy pick, look no further than Caracaro, who figures to fill out enough exotic tickets where 10/1 will be a dream come post time. Hall of Fame jockey Javier Castellano and his six Travers wins will take the reins of this bay colt – the color of 45% of Travers winners since 1864. Expect them to be the early speed in a race lacking much of it, and expect them to be on many exotic tickets.
The pick: Tiz the Law. His speed numbers sound like NBA scores (113, 112, 117) and outclass the rest of this field by a healthy margin. There's nothing in his workouts or pedigree that indicates 1 ¼ miles is an issue. Oh, and yes, he's a bay.