A new chapter has begun for the New York Jets after the team hired Robert Saleh as their next head coach. The San Francisco 49ers' former defensive coordinator is hoping to guide the Jets to their first playoff berth since 2010.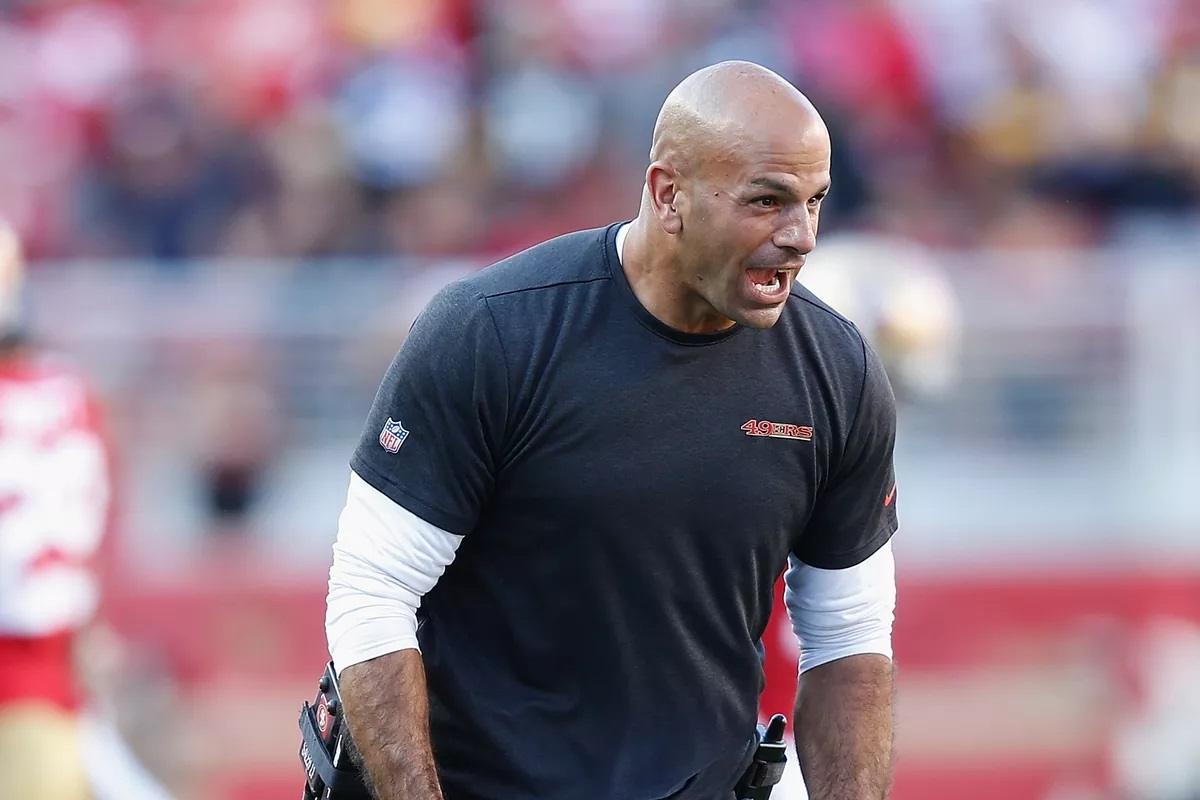 Saleh joins a Jets team recovering from a tailspin after a disastrous 2-14 last season. He also inherits two first-round picks, including the #2 pick in the NFL Draft.
Saleh will have to deal with a media fanning the flames of a rumor in Gotham that the Jets are interested in acquiring disgruntled quarterback Deshaun Watson from the Houston Texans in a trade.
Whatever happens, Saleh has a chance to turn around a team that's rebounding from two of the darkest years in franchise history.
The Jets also eyed highly-touted Kansas City Chiefs offensive coordinator Eric Bienemy before going with Saleh.
Jets Eye Defense-First Head Coach
The Jets have consistently hired defensive-minded coaches in the past couple of decades, including Rex Ryan and Todd Bowles. The LOL Jets made a huge departure from their head-coaching philosophy by hiring an offensive-minded coach to mentor their young quarterback prospect, Sam Darnold. The Jets hired Adam Gase, which backfired from the get-go. The Jets went 9-23 under Gase, including 2-14 this season, before the team finally fired him.
After the Gase experiment failed, the Jets returned to focusing on a head coach with a defensive pedigree.
Saleh gained a reputation for being one of the top defensive coordinators in the league. Over the last four seasons, he transformed the 49ers into a top-5 defense. The Niners went to the Super Bowl 54 thanks in part to Saleh's defensive scheming. They couldn't slow down Patrick Mahomes and the Kansas City Chiefs in the Super Bowl, but then again, no one could.
For losing Saleh, the Niners will receive a pair of comp picks (third rounders in 2021 and 2022) courtesy of the Rooney Rule revision.
We've reached an agreement in principle with Robert Saleh to become our head coach.

📰 https://t.co/CiIczkN97j pic.twitter.com/NC3nW27uNa

— New York Jets (@nyjets) January 15, 2021
LOL Jets: From Weeb Ewbank to Bill Parcels to Rex Ryan
The Jets haven't appeared in the playoffs since 2010, which was the highwater mark of the Rex Ryan era that saw the team appear in back-to-back AFC Championship Games during the 2009 and 2010 seasons. Ryan went 4-2 in six postseason games with Gang Green and holds the record with most playoff wins (4) in Jets history. Herm Edwards went 2-3 during his tenure, which became most famous for the mantra, "You play to win the game!"
---
Weeb Ewbank (1963-1973) 71-77
Charley Winner (1974-1975) 9-14
Ken Shipp (1975) 1-4
Lou Holtz (1976) 3-10
Mike Holovak (1976) 0-1
Walt Michaels (1977-1982) 39-47-1
Joe Walton (1983-1989) 53-57-1
Bruce Coslet (1990-1993) 26-38
Pete Carroll (1994) 6-10
Rich Kotite (1995-1996) 4-28
Bill Belichick (1997) N/A 0-0
Bill Parcells (1997-1999) 48-29
Bill Belichick (2000) N/A 0-0
Al Groh (2000) 9-7
Herm Edwards (2001-2005) 39-41
Eric Mangini (2006-2008) 23-25
Rex Ryan (2009-214) 46-50
Todd Bowles (2015-2018) 24-40
Adam Gase (2019-2020) 9-23
Robert Saleh (2021-) TBD
---
Al Groh is the last head coach of the Jets to leave the team with a winning record. Groh coached one season in 2000. In case you didn't know, Bill Belichick had been named head coach of the New York Jets twice, yet never coached an official game. Belichick resigned in 2000 after he became the head coach following the abrupt departure of Bill Parcels. He went on to coach the New England Patriots and the rest is history.
The Jets won Super Bowl III, but haven't returned to the Big Game since Broadway Joe Namath guaranteed the upset over the Baltimore Colts.
Read more LOL Jets rumblings from a jaded fan of the New York Jets.