The New York Jets, currently 0-12 and hoping to avoid an 0-16 season, will have a job opening for a head coach at the end of the season when they finally part ways with Adam Gase. Eric Bieniemy, offensive coordinator of the Super Bowl champion Kansas City Chiefs, is the leading contender to become the Jets' next head coach. But other names like Jim Harbaugh, Doug Pedersen, and Bill Cowher have also made the shortlist of candidates to coach the LOL Jets.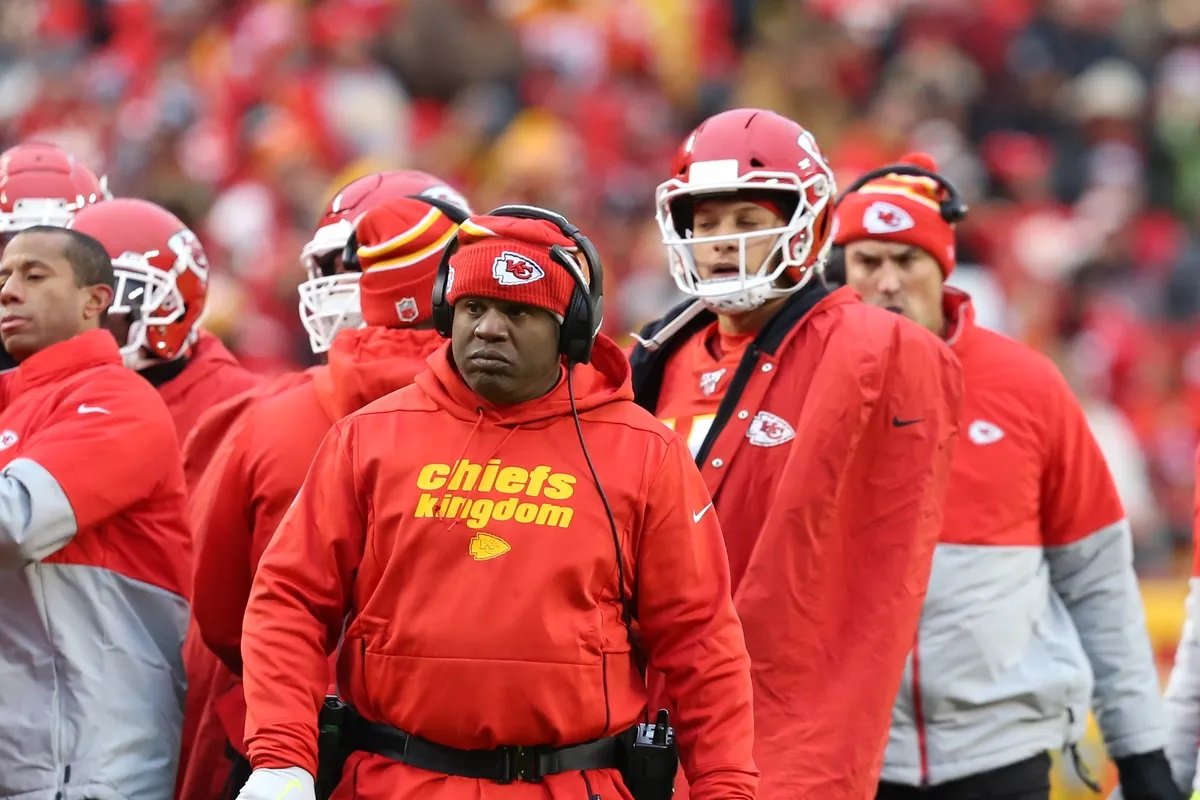 After a lackluster stint with his alma mater, Harbaugh's tenure at Michigan will end this year, and he's itching to return to the NFL.
Pedersen won a Super Bowl for the Philadelphia Eagles, but the boobirds are ready to run him out of town. As an ex-NFL QB, Pedersen could take Trevor Lawrence under his wing in a manner that Adam Gase never could.
---
WHO WILL BE THE NEXT NY JETS HEAD COACH?
Eric Bieniemy
Jim Harbaugh
Doug Pedersen
Bill Cowher
Dabo Swinney
---
Cowher's name recently popped up. Boomer Esiason hinted that Cowher would be interested in ending his retirement. Why would an old coach leave his cushy media job to take over the Jets? He'd have to be crazy.
Dabo Swinney is one big-time scandal away from jumping ship at Clemson. You can't consistently run a top-notch program in college football without having a few skeletons in the closet. If anything comes to light, you can bet Swinney will jump on the next flight to NYC to coach his golden child.
OC > HC
Aside from Eric Bieniemy, which other offensive coordinators could be in consideration for the opening with the Jets? The OCs from the LA Rams, Tennessee Titans, Buffalo Bills, and Tampa Bay Bucs will garner a lot of attention in the offseason — and not just from the Jets.
Arthur Smith (Tennessee Titans)… Art helped transform Ryan Tannenhill from a bust to a playoff-caliber QB. The big knock against Smith is Derrick Henry. It doesn't take an offensive genius to know that when you have a beast like Henry in the backfield, you must feed him.
Brian Daboll (Buffalo Bills)… If you are a stickler for pedigree, then Daboll should impress. He's a branch off the Bill Belichick and Nick Saban coaching tree.
Kevin O'Connell (LA Rams)… Sean McVay gets many accolades for engineering the Rams' offense, but O'Connell doesn't get enough credit.
Byron Leftwich (Tampa Bucs)… Everyone knows Tom Brady is ancient in NFL terms. So, unless you really believe Brady's prowess comes from the special water he gets from a Brazilian witch doctor, then you have to give lots of credit to Tampa's OC. Leftwich is a former NFL QB, which is an added bonus. Adam Gase never played QB in the NFL, so could never relate to Sam Darnold, or any QB for that matter, on a professional level. Leftwich should be able to forge an instant connection with Trevor Lawrence for the simple fact they're QB brothers.
Rex Reprise, Do Nothing Gase, Mullet Boy
There's a reason we call them the LOL Jets; they're so damn absurd that you can't do anything except laugh their antics off. Some call that gallows humor. For Jets nation, it's a defense mechanism in order to stay cool under immense despair and disappointment.
So, who could the Jets hire that will keep us using the hashtag #lolJets on Twitter?
Rex Ryan… If George Steinbrenner, the legendary NY Yankees owner also owned the Jets, then any former coach could be in consideration for the top job. Steinbrenner hired/fired Billy Martin so many times it became a running joke in the NYC tabloids. Maybe Woody Johnson will take a page out of the Boss' playbook and re-hire Rex Ryan? After all, Ryan guided the Jets to back-to-back appearances in the AFC Championship.
Adam Gase… Yes, Gase can still retain his job. Sounds crazy, but there's a management tactic known as "Doing Nothing" in which they recognize a problem, yet don't actually address it in the hope it rectifies itself. The Jets could do nothing and retain Gase's services. It can't get any worse, can it?
Stephen Belichick… The only way the Jets can get a Belichick on the coaching staff would be to hire one of Bill's sons, both of whom are assistants with New England. Stephen Belichick also rocks a badass mullet.
Watching this video of New England Patriots safeties coach and Bill Belichick's son, Stephen Belichick, is mesmerizing on both an audible and visual level pic.twitter.com/RoyxoLNcf2

— T̷R̷O̷Y̷ ̷H̷U̷G̷H̷E̷S̷ (@TommySledge) December 5, 2019