The NBA issued a one-game suspension to Los Angeles Lakers star LeBron James after he bloodied Isaiah Stewart from the Detroit Pistons with an elbow to his face and Stewart went berserk.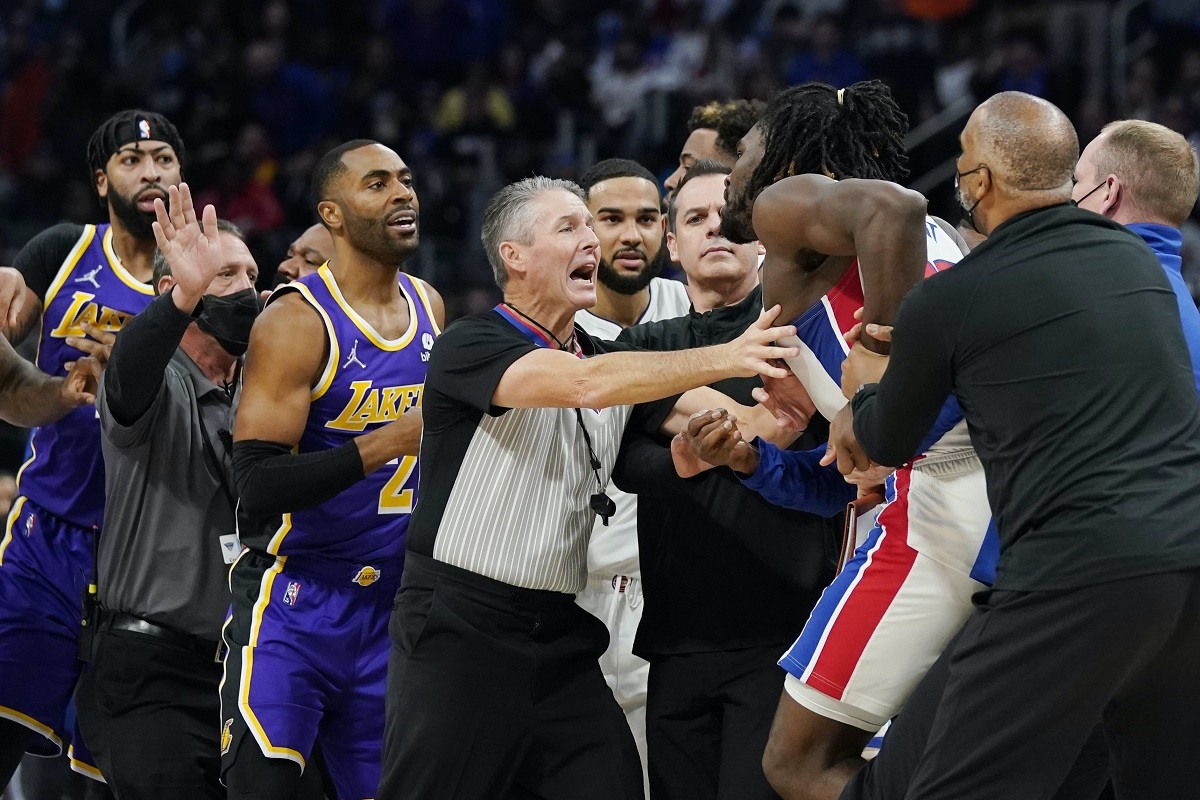 The Lakers visit the New York Knicks at Madison Square Garden, but LeBron will miss Tuesday night's game due to the suspension. He recently returned to the team after missing two weeks with an ab strain.
The Lakers are 5-3 this season with LeBron in the lineup. Without LeBron, the Lakers are 4-6.
The NBA suspended Stewart for two games due to his relentless attempt to escalate the incident into a full-fledged fight. Both teams and arena security swiftly deescalated the situation to avoid a reprise of the Malice at the Palace.
"Everybody did a great job trying to deescalate the situation," said Anthony Davis, who led the Lakers with 30 points in the win. "You never want it to get to that point like 17 years ago."
Stewart, a second-year player out of Washington, averages 7.3 points and 7.1 rebounds per game as the starting center for the Pistons. He will miss the next two games, which include back-to-back matchups versus the Miami Heat on Tuesday and the Milwaukee Bucks on Wednesday.
LeBron vs Stewart
The incident occurred with 9:18 remaining in the third quarter of the Lakers and Pistons game. Stewart and LeBron were jockeying for positing during a free throw by Jerami Grant, but LeBron threw an inadvertent elbow that caught Stewart in the face. LeBron immediately apologized, but Stewart took umbrage as blood trickled down his face.
"Everyone in the league knows LeBron isn't a dirty guy," said Davis. "As soon as he did it, he looked back and told him, 'My bad.'"
Despite numerous attempts from teammates, coaches, and staff security to hold back Stewart, he continuously charged after LeBron.
Officials ejected both players. LeBron was assessed a flagrant foul and got the boot. Stewart, who earned two technical fouls, was also kicked out of the game.
The Lakers were down 11 points when the dust-up occurred. Without LeBron for most of the second half, the Lakers won 121-116 despite falling behind by 14 points at the end of the third quarter. The Pistons squandered their double-digit lead and slipped to 4-12 for the season, while the Lakers improved to 9-9.
The Pistons and Lakers meet again on Sunday in Los Angeles.