We compiled another comprehensive and complete list detailing the top 50 all-time points scoring leaders in the NBA. Kareem Abdul-Jabbar set the record with 38,387 career points and held the top spot ever since he passed Wilt Chamberlin nearly 37 years ago. LeBron James, currently third on the list, recently passed 35,000 points and he could break the all-time record in a couple of seasons if King James continues to play like a peak performer.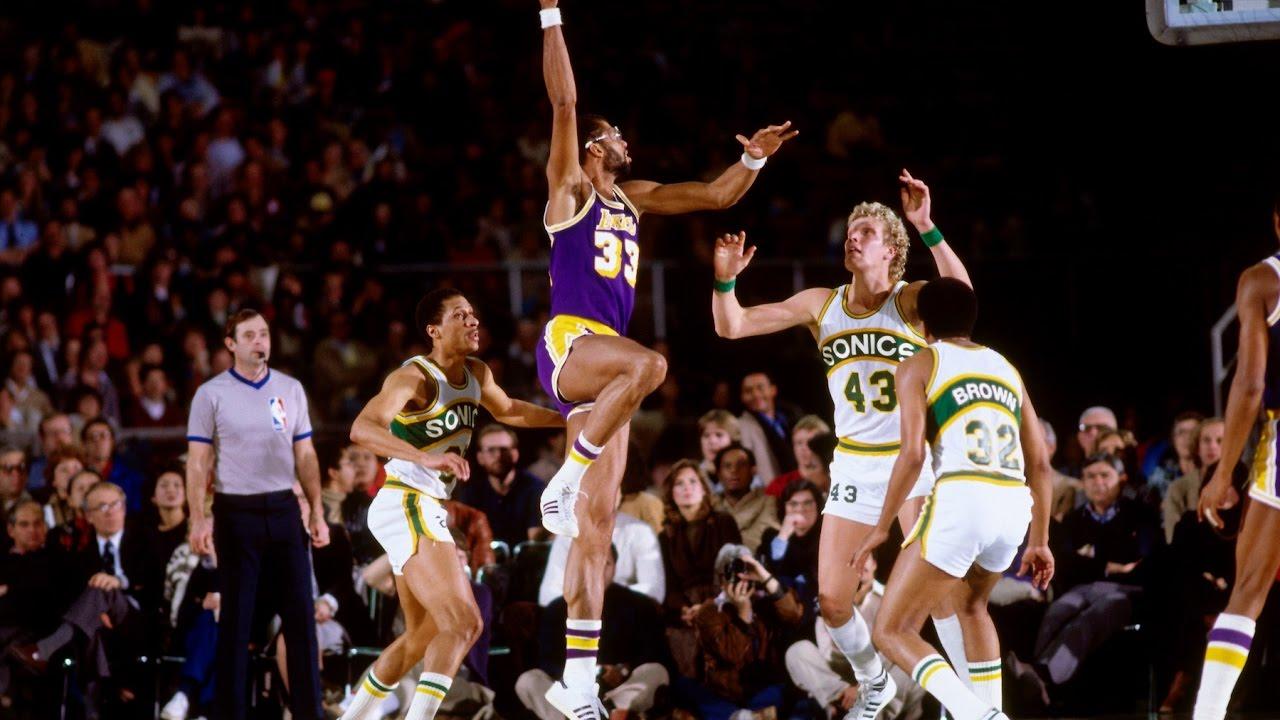 Karl 'The Mailman' Malone sits in second place with 36,928 points and he's the next target within LeBron's reach.
Only 46 men in the history of the NBA scored more than 20,000 points during their careers. Five active players are on that exclusive list including LeBron, Carmelo Anthony, Kevin Durant, James Harden, and Russell Westbrook. KD was on pace to reach 30K, but he missed a full season rehabbing from a blow-out Achilles. Harden is also on pace to reach 30K, but he's also the best 3-point shooter among the top five active scorers.
Carmelo Anthony recently passed Oscar Robertson and moved into #12 on the all-time scoring list and Melo's hoping to pass Hakeem Olajuwon before the season is over. If he can squeeze out another season, Melo could finish his career in the top ten on the NBA all-time scoring list.
Abdul-Jabbar, Mail Man, Jordan, Kobe, and LeBron
Kareem Abdul-Jabbar, then known as Lew Alcindor, started his career with the Milwaukee Bucks. He averaged 30.4 ppg in his first six seasons before joining the LA Lakers. Abdul-Jabbar played 14 more seasons with the Lakers before he retired with the record for most points in NBA history. He broke Chamberlin's record in 1984 and held the scoring record ever since.
Karl Malone earned the moniker The Mailman because he always delivered. He finished his Hall of Fame career with 36,928 points and might go down as the best player to never win a championship.
LIST of NBA's TOP 5 in SCORING by POINTS
| | |
| --- | --- |
|  1. Kareem Abdul-Jabbar | 38,387 |
|  2. Karl Malone | 36,928 |
|  3. LeBron James | 35,017 |
|  4. Kobe Bryant | 33.643 |
|  5. Michael Jordan | 32,392 |
---
Kobe Bryant went directly from high school to the NBA and played his entire career with the LA Lakers. Bryant ended his career on the top of his game and could have grinded out a few more seasons in an attempt to catch Abdul-Jabbar, but he did the noble thing and retired on his own terms.
Michael Jordan retired at the peak of his powers in 1993 to pursue a career in baseball. When that never panned out, he returned to the hard wood and won a few more championships with the Chicago Bulls. He retired prematurely for a second time for three years before playing two seasons with the Washington Wizards in the early 2000s. If Jordan never retired, he probably would've passed Abdul-Jabbar and became the first player to score 40,000 points.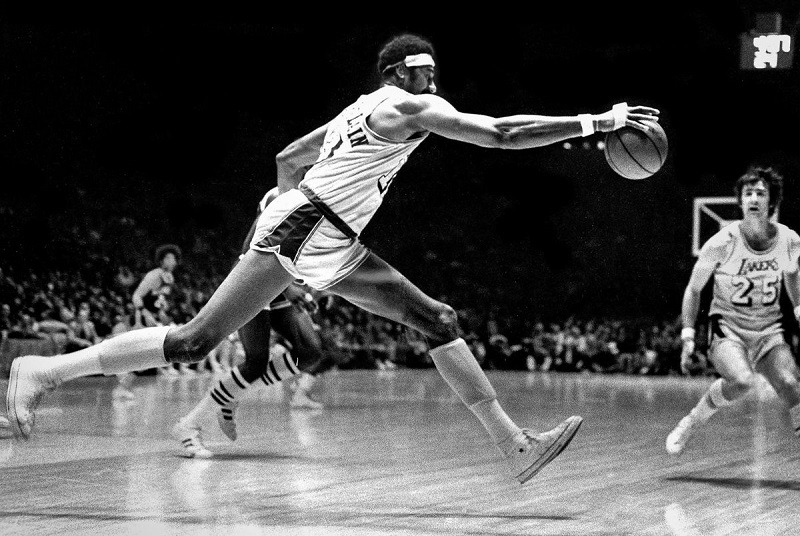 Wilt the Stilt, Moses, Shaq, Dirk and Hayes
Dirk Nowitzki, currently ranked #6, holds the NBA record for most points scored by a foreign-born player. Nowitzki was just a 20-year-old kid from Germany when he arrived in Dallas to play for the Mavericks. After 21 seasons and 1,522 games with the Mavs, Nowitzki holds the franchise record for most points
Wilt Chamberlain dominated the NBA during his era and averaged 50.4 ppg in 1961-62. Wilt the Stilt once dropped 100 points and holds the record for most points in a game. Chamberlain played 15 seasons for the Philadelphia Warriors before the franchise migrated to Northern California and became the San Francisco Warriors. He also finished his career with the LA Lakers.
LIST of NBA's TOP 6-10 in SCORING by POINTS
| | |
| --- | --- |
|  6. Dirk Nowitzki | 31,560 |
|  7. Wilt Chamberlain | 31,419 |
|  8. Shaquille O'Neal | 28,596 |
|  9. Moses Malone | 27,409 |
|  10. Elvin Hayes | 27,313 |
---
Shaquille O'Neal played 1,207 games with six different teams, but spent eight with the LA Lakers. Shaq is currently #8 on the all-time NBA scoring list.
Moses Malone became the first player to skip college and go directly from high school to the pros. He spent a couple seasons in the ABA before becoming a hellcat in the NBA. Malone scored 27,049 points in 1,329 NBA games with seven different teams.
Elvin Hayes, the Big E, finishes out the top ten in all-time scoring with 27,313 points. He started his career with the San Diego Rockets before the franchise relocated to Houston. He joined the Baltimore Bullets franchise that changed its name to the Capitols when it moved to Washington, DC.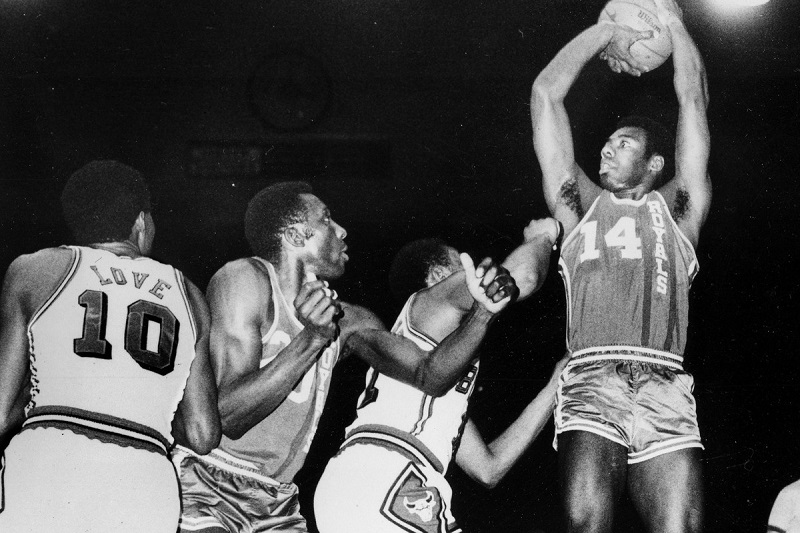 Big O, Dominique, The Dream, and Melo
Hakeem Olajuwon, aka The Dream, finished his career with the Houston Rockets with 26,946 points and was ranked #7 all-time in NBA scoring when he retired. He's since slipped to #11, but about to be overtaken by Melo.
Oscar Robertson, aka the Big O, was the original triple-double machine before the NBA tallied accurate stats. Robertson once joked, "If I knew triple-doubles would be a thing, I would've tried a little harder for them."
Tim Duncan spent his entire career with the San Antonio Spurs where he racked up 26,496 points in 19 seasons. He's currently ranked #15 overall.
LIST of NBA's TOP 11-20 in SCORING by POINTS
| | |
| --- | --- |
|  11. Hakeem Olajuwon | 26,946 |
|  12. Carmelo Anthony | 26,806 |
|  13.Oscar Robertson | 26,710 |
|  14. Dominique Wilkins | 26,668 |
|  15. Tim Duncan | 26,496 |
|  16. Paul Pierce | 26,397 |
|  17. John Havlicek | 26,395 |
|  18. Kevin Garnett | 26,071 |
|  19. Vince Carter | 25,728 |
|  20. Alex English | 25,613 |
---
Dominique Wilkins was the human highlight machine during his time with the Atlanta Hawks. He didn't play during an era where forwards took a healthy diet of 3-pointers, but if he played today, Wilkins could have passed the 30K points mark.
Alex English played most of his career in obscurity with the Denver Nuggets in the 1980s. He averaged 25.9 ppg with the Nugs and led the league in scoring in 1982-82 with 28.4 ppg.
The Chief, Ewing, Barkley, West
Before he became an executive, Jerry West averaged 27 ppg during 14 seasons with the LA Lakers in the 1960s and early 1970s. He's one of 22 players in NBA history to score at least 25,000 points.
Patrick Ewing, the former #1 pick in the 1985 NBA Draft, was the heart and soul of the New York Knicks during their peak years in the 1990s. Ewing, who had the honor of being name-checked by the Beastie Boys, currently sits at #23 and fell short of the 25K mark.
Ray Allen currently holds the NBA record for 3-point shots with 2,973 treys. All those long-range shots beyond the arc added up, which is why he's ranked #24 the NBA all-time scoring list.
LIST of NBA's TOP 21-30 in SCORING by POINTS
| | |
| --- | --- |
|  21. Reggie Miller | 25,279 |
|  22. Jerry West | 25,192 |
|  23. Patrick Ewing | 24,815 |
|  24. Ray Allen | 24,505 |
|  25. Allen Iverson | 24,368 |
|  26. Charles Barkley | 23,757 |
|  27. Kevin Durant | 23,491 |
|  28. Robert Parish | 23,334 |
|  29. Adrian Dantley | 23,177 |
|  30. Dwyane Wade | 23,165 |
---
Charles Barkley, aka the Round Mound of Rebound, averaged 23.3 ppg in his first 12 seasons in the league with the Philadelphia 76ers and Phoenix Suns.
Kevin Durant, playing his first full season with the Brooklyn Nets, should catch Barkley in the second half of this NBA season.
Robert Parish, aka the Chief, scored 23,334 points during his Hall of Fame career that spanned 21 seasons. Parish, most known as the steely-eyed center of the Boston Celtics, won four NBA championships playing on the same front line as Larry Bird.
The Glove, Baylor, Bird, and the Admiral
A bad back is the only thing that slowed down the legendary Bird. Numerous back injuries slowed down Bird, who missed 162 games in his last four seasons with the Boston Celtics. Bird still tallied 21,791 points and averaged 24.3 ppg.
Elgin Baylor is a former #1 draft pick from back in 1958. He was an 11-time All-Star with the Minneapolis/Los Angeles Lakers and currently #31 all-time in scoring.
Clyde "The Glide" Drexler is known from his Phi Slamma Jamma college days with Hakeem Olajuwon at Houston. He spent 12 seasons with the Portland Trail Blazers in the 1980s, before chasing an NBA title with the Houston Rockets in the mid-1990s. He was also a member of the first Dream Team.
LIST of NBA's TOP 31-40 in SCORING by POINTS
| | |
| --- | --- |
|  31. Elgin Baylor | 23,149 |
|  32. Clyde Drexler | 22,195 |
|  33. Gary Payton | 21,813 |
|  34. Larry Bird | 21,791 |
|  35. Hal Greer | 21,586 |
|  36. James Harden | 21,572 |
|  37. Walt Ballamy | 29,941 |
|  38. Pau Gasol | 20,894 |
|  39. Bob Pettit | 20,880 |
|  40. David Robinson | 20,790 |
---
Gary Payton was the king of trash talk in the 1990s with the Seattle Super Sonics. The Glove averaged 18.2 ppg in 14 seasons with the Sonics. He finally won an NBA title with the Miami Heat in 2006.
David Robinson turned down a career in the Navy as an officer in order to pursue an NBA career. The Admiral is also a member of Dream Team and won two NBA titles with the San Antonio Spurs.
Bob Pettit dominated the NBA in the late 1950s as a member of the Milwaukee/St. Louis Hawks, where he averaged 26.4 ppg.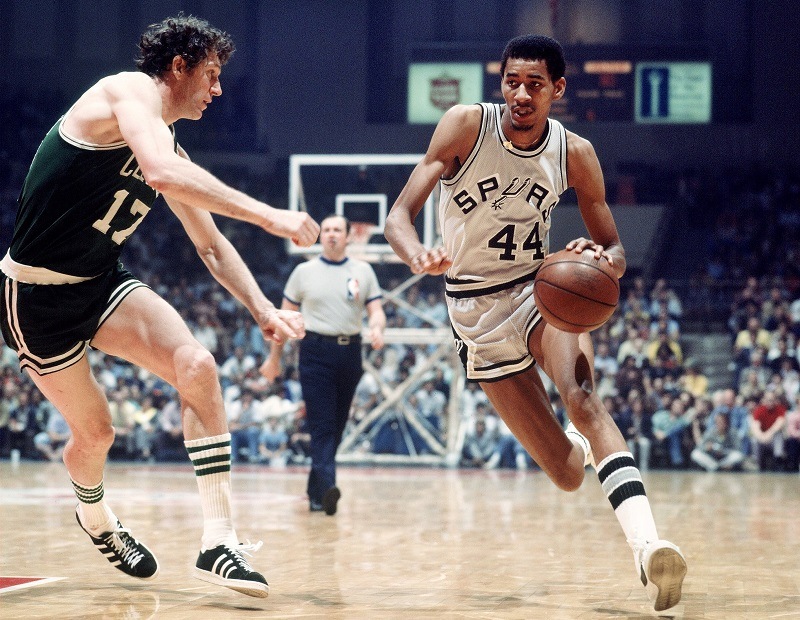 Ice Man, Stockton, King, and Richmond
George Gervin, known universally as the Ice Man, started his pro career in the ABA with the Virginia Squires and San Antonio Spurs. If you used combined ABA/NBA stats, Gervin would be ranked #17 with 26,595 total points. But he's only #42 overall with 20,708 points in the NBA.
Mitch Richmond was a member of "Run TMC" with Chris Mullin and Tim Hardaway on the Golden State Warriors in the late 1980s. In the 1990s, Richmond established himself as a perennial All-Star with the Sacramento Kings. He finished with 20,497 points and currently ranked #43 overall. The kids today cannot fathom Richmond's dominance during the apex of his career. He'd destroy the modern NBA by averaging 30-plus per game.
LIST of NBA's TOP 41-50 in SCORING by POINTS
| | |
| --- | --- |
|  41. Russell Westbrook | 20,771 |
|  42. George Gervin | 20,788 |
|  43. Mitch Richmond | 20,497 |
|  44. Joe Johnson | 20,405 |
|  45. Tom Chambers | 20,049 |
|  46. Antawn Jamison | 20,042 |
|  47. LaMarcus Aldridge | 19,853 |
|  48. John Stockton | 19,711 |
|  49. Bernard King | 19,655 |
|  50. Cliff Robinson | 19,591 |
---
John Stockton holds the NBA record for career assists with 15,806, and the majority of them went to Utah Jazz teammate Karl Malone. Stockton could've scored more points but he unselfishly looked for his teammates first. He still tallied 19,711 points, but fell sort of the 20K mark.
Bernard King could've made a run at 30K points if he never injured his knee. The New York Knicks star was one of the first pro athletes to have reconstructive surgery to repair his blown-out ACL. These days, the surgery is routine and recovery time is faster. King was averaging 32.9 ppg before his injury midway through the 1984-85 season.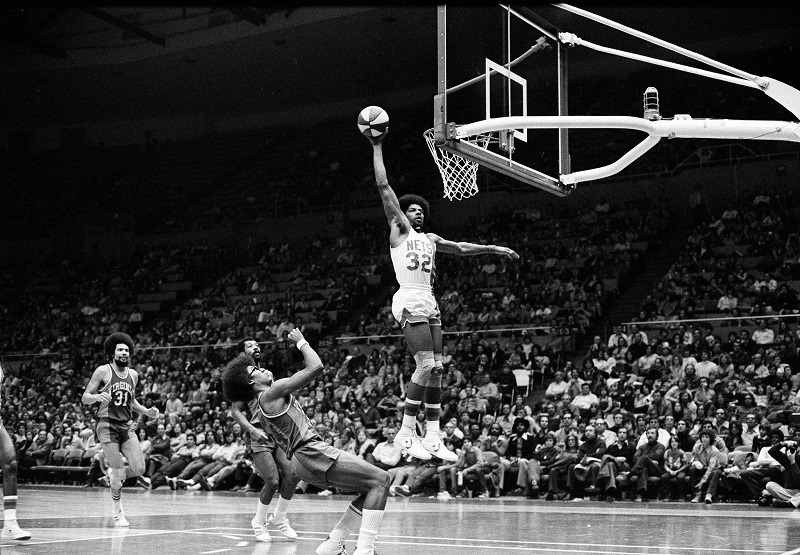 Dampier Tops in ABA Scoring
The legendary Louie Dampier and his sweet mustache hold the record for most points in ABA history with 13,726. The dapper Dampier played 728 games with the Kentucky Colonels before playing three seasons with the San Antonio Spurs in the NBA. Dampier also led the ABA with 794 career 3-point shots.
If you were to count both NBA and ABA points, Julius Irving aka Dr. J would be ranked #8 overall with 30,026 combined points. Dr. J finished his ABA career as its fifth all-time scorer with 11,662 points in five seasons with the Virginia Squires and New York Nets. He also tallied 18,364 points in 11 seasons with the Philadelphia 76ers.
ABA TOP 10 ALL-TIME SCORING
| | |
| --- | --- |
|  1. Louie Dampier | 13,726 |
|  2. Dan Issel | 12,823 |
|  3. Ron Boone | 12,153 |
|  4. Mel Daniels | 11,739 |
|  5. Julius 'Dr. J.' Erving | 11,662 |
|  6. Fredde Lewis | 11,660 |
|  7. Donnie Freeman | 11,544 |
|  8. Mack Calvin | 10,620 |
|  9. Stew Johnson | 10,538 |
|  10. Roger Brown | 10,498 |
---
If you combined both NBA and ABA stats, Hall of Famer Dan Issel would be #11 all-time with 27,482 total points. Issel scored 12,823 points with the Kentucky Colonels and Denver Nuggets before the Nugs joined the NBA.
Check out more complete lists in our series called The OG List.