Rob Gronkowski says he's not ready for the full commitment to play tight end for the Tampa Bay Buccaneers in the upcoming 2022 season, even though he was initially linked to the Buffalo Bills after saying he wouldn't play in the NFL again without Tom Brady as the quarterback.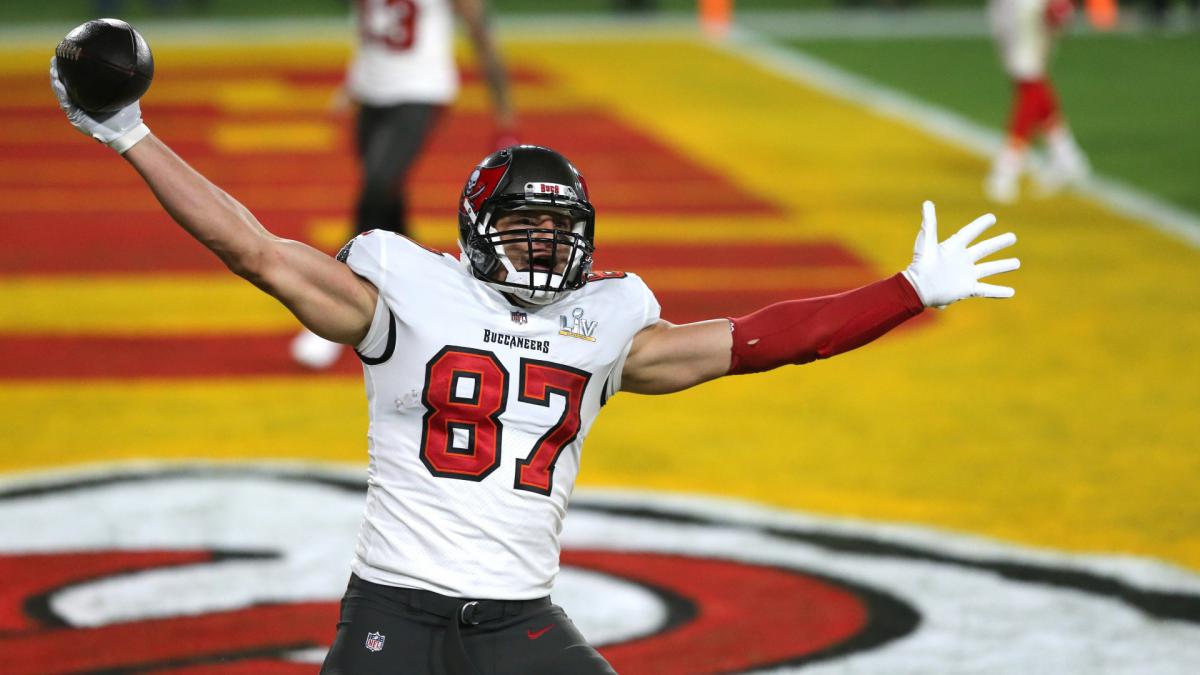 In 12 games with the Bucs last season, Gronk recorded 55 receptions for 802 yards and seven touchdowns.
DraftKings posted a prop bet about where Gronk will play next season, and the Bills and Bucs were betting co-favorites at +700 odds.
Brady retired shortly after the season ended in late January, but he quickly realized he made the wrong decision and un-retired. Brady returned to the Bucs, which left the door open for Gronk to rejoin his close friend.
"Right now, I'm not ready to get back out on that field," Gronk told TMZ Sports. "I'm not ready to commit to the game of football right now."
Gronk, who turns 33 next month, finds himself in a tough spot, which is understandable because he initially decided to hang it up when Brady first retired.
Last week, head coach Bruce Arians stepped down and moved to the front office as a senior consultant. The Bucs promoted defensive coordinator Todd Bowles to head coach. Everyone denies reports that Arians and Brady didn't get along, which is why Arians returned. Both Bowles and Arians indicated that there had always been a succession plan in place where Bowles took over after Arians retired.
Gronk or not?
After two seasons in Tampa Bay and one Super Bowl victory, Brady announced his retirement, which impacted Gronk's future. He could retire with Brady, or he could continue his career with the Bucs or another team like the Bills. Gronk and the Bills were linked together because he had roots in the Buffalo suburbs and the Gronkowski family were Bills fans.
After Brady un-retired, Gronk had to reconsider his options to play again. NFL tight ends are among the most gifted athletes on the field, but it's a grueling position where the biggest stars have short-lived careers due to the increased injury risk. The NFL meat grinder demolishes tight ends every season.
After recovering from a dozen surgeries and serious injuries, Gronk has more weight upon his decision to suit up for another season at his age, especially with an additional regular-season game on the schedule. Does he return to the grind? Or is he dunzo for good? Or does he want a full year to heal and return for the 2023 season?
"Even in your 30s, you just can't just slack it and just be 50% all-in," said Gronk. "Then you're going to get caught off with the game and it's going to just spit you right out. You've got to be fully dedicated. I'm not ready to do that yet, I'm not going to sign a contract if I'm not fully ready."
Even if Gronk is somewhat healthy, he knows that the mental element is just as important. At least he's being honest and honorable about his commitment level. Many other veterans take the paycheck and then coast through a season. Gronk knows that if he puts on a uniform on a Brady-led team, then it's 100% commitment or bust.