In a bit of surprise news, Bruce Arians retired as head coach of the Tampa Bay Buccaneers after three seasons and one Super Bowl title. Defensive coordinator Todd Bowles earned a worthy promotion to head coach, while Arians moves into the front office as a senior football consultant.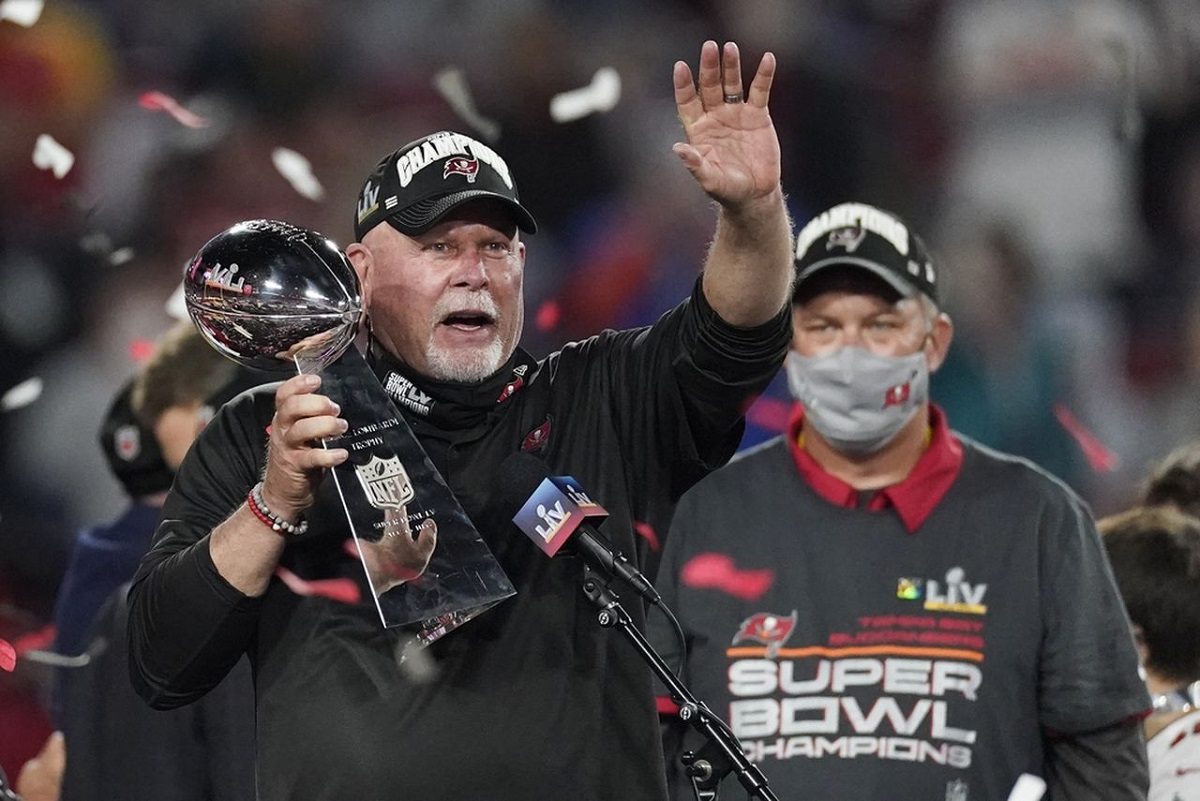 Arians went 31-18 during his three seasons as the Bucs' head coach. He won five playoff games, including Super Bowl 55 after Tom Brady joined the team for the 2020 season.
With a .633 winning percentage, Arians leaves as the most successful head coach in Tampa history. All of the other Tampa head coaches, combined, won a total of six playoff games for the franchise, compared to five for Arians in just three seasons.
With Bowles succeeding Arians in Tampa, the NFL experienced a 10th head coaching change between seasons, which marked the biggest change since the period between the 2008 and 2009 offseason when 11 new coaches were hired. In late January, Sean Payton abruptly retired after 15 seasons with the New Orleans Saints.
The head coaching change between Arians and Bowles didn't alter the NFL futures board, mostly due to a seamless transition. The Bucs are -700 odds to win Super Bowl 57, according to a recent update by DraftKings.
Arians denies Brady rift
Tom Brady reluctantly announced his retirement, but then quickly realized he prematurely ended his career. He returned to the team in March, and Arians informed Brady of his decision shortly after.
"I have spent most of the last 50 years of my life on the sidelines as a football coach in one form or another," said Arians via his statement. "Today, I have made the decision to move from the sidelines into another role with the Buccaneers front office, assisting general manager Jason Licht and his staff."
Arians also insisted health had nothing to do with his decision to retire from coaching and move to the front office.
"I love football," added Arians. "I love the relationships, the strategy, the competition — everything. It has been one hell of a ride, but I know this is the right time for me to make this transition."
Arians and Brady experienced growing pains together during their first season together, but it wasn't anything serious because after all, they ended up winning a Super Bowl together.
"I have no clue where it comes from," Arians laughed off. "Somebody's got to write a story every day about something. Tom and I have a great relationship."
"You are an incredible man and coach, and it was a privilege to play for you," Brady wrote on Instagram. "You are a true NFL legend and pioneer for all the work you have done to make the league more diverse and inclusive. Smart, tough, and loyal are a few of the words to describe your style. I will always remember the conversations we had when you recruited me two years ago and all of the things we discussed came true."
Bowles, another shot at HC
Arians and Bowles had discussed a line of succession before Brady retired. If Bowles didn't get a head coaching job or other opportunity that he wanted to pursue, then he would take over for Arians as the Bucs' head coach.
Bowles has a 26-41 record as a head coach, but he was regarded as one of the top defensive coordinators in the NFL during his tenure with the Bucs.
Bowles served as an interim head coach with the Miami Dolphins for three games at the end of the 2011 season, where he went 2-1. The New York Jets hired Bowles in 2015 and he went 24-40 during four seasons. Even though the Jets went 10-6 in 2015, Bowles and the Jets bubbled the playoffs.
"I am appreciative of the family and Jason Licht for having faith in me to take on this role, and to Coach Arians for his support and guidance over the past four decades," said Bowles in his official statement. "Tampa has become home for my family, and we are excited to remain part of this community for years to come. As an organization, we have all the pieces in place to continue the winning standard that has been established here in recent years. I am eager to get started with our players, coaching staff, and front office in preparation for the 2022 season."
Bowles was on the shortlist for numerous head coach vacancies this offseason. He was rumored to be among the leading candidates for the Jacksonville Jaguars job, but he only interviewed with the Chicago Bears and Minnesota Vikings.
Now that Bowles is the Bucs' new head coach, he becomes the sixth minority head coach in the NFL this season.