Either Las Vegas or Disneyworld in Orlando could host the 2020 NBA Playoffs and NBA Finals. Those are the rumors around the NBA's plans to end its season, with a significant amount of chatter saying the league is leaning toward Disneyworld as its preferred location to resume the season and host the playoffs.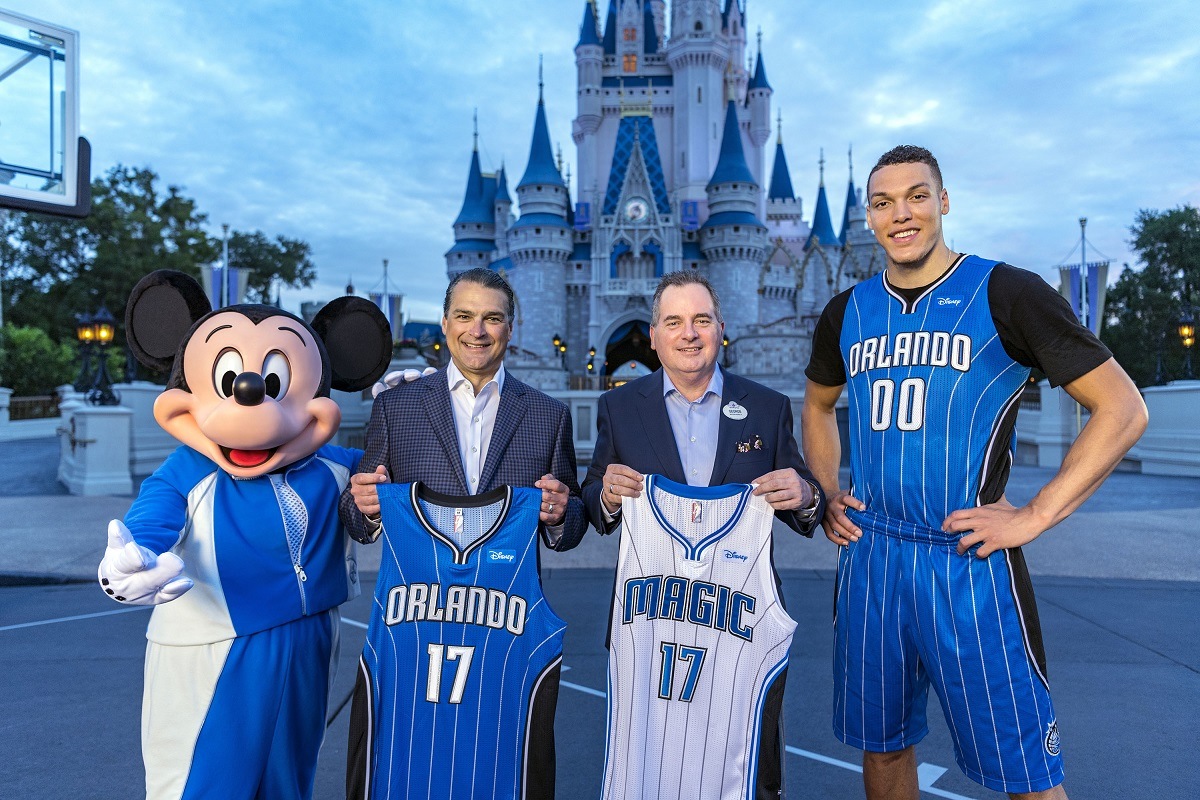 NBA commissioner Adam Silver has been trying to figure out a workable solution to finish the regular season and the playoffs in a safe environment. If/when play resumes, games would play out without an audience. Teams would lose revenue without fans in attendance, but at least the league could salvage its lucrative TV deal.
"Everything is on the table," said Silver. "It's clear that if we were to resume play, we're looking at going significantly later than June, which is historically when our season and draft would have been completed. If there is an opportunity to resume play, even if it looks different than what we've done historically, then we should be modeling it."
Silver would like to create a bubble or campus-like environment in which all NBA teams can operate without outside interaction. That could be difficult in Las Vegas with casinos reopening in the next few weeks. Disneyland, however, could work out a deal with the NBA because they own private land that houses its multiple parks and hotels.
Resume Regular Season or Straight to Playoffs?
If the NBA scuttles the rest of the season and the playoffs, the league would lose at least $900 million in television advertising revenue.
With the Canada/US border closed, it would cause scheduling problems for the Toronto Raptors if they sought to play their home games in Toronto. Playing NBA games in a single city or at Disneyworld would eliminate border crossing issues for the Raptors and their opponents.
Unlike the NHL scrapping the rest of its regular season and resuming with a 24-team playoff format, the NBA wants to finish out its regular season.
Am Amick from The Athletic reported, "If the NBA can't find a way to play regular-season games, sources say teams will also lose out on regional sports network revenues that require them to air at least 70 games to achieve the financial threshold that is so routinely discussed in league circles."
The majority of NBA teams were somewhere around 60-62 games into the season before Silver officially shut down the league on March 11. Teams have roughly 20 games remaining, or around 10 games left to qualify for the 70-game threshold.
NBA in Orlando?
Orlando hosting the NBA playoffs could work because Disneyworld is already its own bubble. Disney has plenty of empty hotel space and "basketball-ready venues" according to one report. Orlando and Disneyworld get the edge over Vegas because its private property and the NBA can control who enters/exits the established "safe zone."
"All these professional sports are going to be welcome in Florida," said Governor Ron DeSantis. "That may not be the case in every other state in this country, as we've seen. And so what I would tell commissioners of leagues is, if you have a team in an area where they just won't let them operate, we'll find a place for ya here in the state of Florida because we think it's important and we know that it can be done safely."
Disneyworld will be closed indefinitely to tourists and visitors. Some of the adjacent restaurants and stores will reopen at the end of May.
Over the past month, WWE hosted events at its training facility in Orlando, including Wrestlemania. The UFC held multiple events in Jacksonville without any issues.
NBA Playoffs in Vegas?
How many arenas in Las Vegas could actually house NBA games? In theory, you don't need a massive arena to hold 20,000 screaming fans. So long as there is a court and proper lighting, the NBA can host playoff games in Vegas and air them to fans around the world.
The T-Mobile Arena on the Las Vegas Strip is the home to the Vegas Golden Knights. The arena plays host to various college basketball games and conference tournaments.
Thomas and Mack Arena, home of the UNLV Runnin' Rebels, offers another option of a bona-bide college basketball arena. They also have something called Cox Pavilion, which is where many NBA summer league games are hosted.
The Orleans Casino has a multi-purpose arena that hosts minor league hockey, college basketball tournaments, and concerts.
In theory, you could run games at four courts, with triple-headers or quadruple-headers. Then again, it's Vegas, where you can host games all night long. It could be fun to watch the Knicks and Grizzlies slug it out in a Midnight Madness hoops game.
Once you get past T-Mobile Arena, Thomas & Mack, and the Orleans, things get a little shaky. I'm sure you can find a regulation court at one of the swanky private and prep schools around town. But there's also plenty of convention space available, including the Las Vegas Convention Center. It's big enough to have multiple courts.
To add more courts aside from existing arenas, the NBA would have to rely on casinos constructing regulation courts in their convention areas.
The Rio Casino and Convention Hall won't host the World Series of Poker this summer. If they can figure out how to build a court, then the Rio could become another viable option.