The #24 Colorado Buffaloes are the top shooting team from the charity stripe this season, hitting 83.1% of their free throws. If Colorado can finish above 82.3% this season, they'll break the NCAA free-throw shooting record held by Harvard. Yes, Harvard.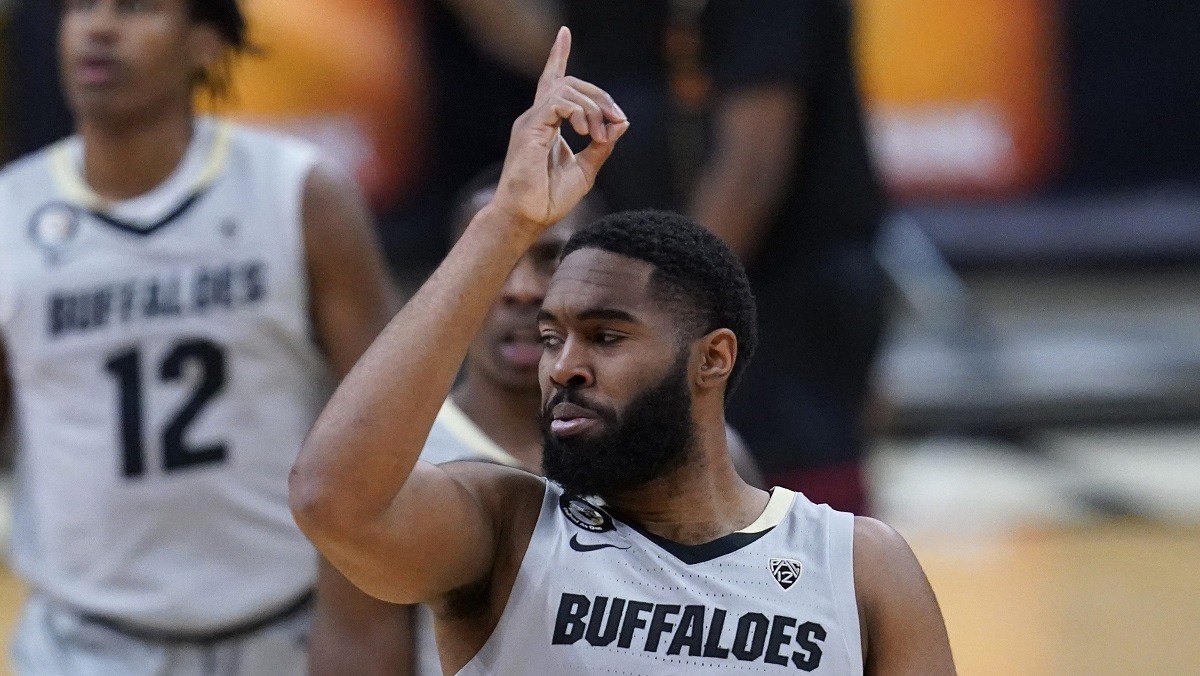 It's weird to see an Ivy League basketball team, let alone Harvard, holding an NCAA Division I college basketball record. But the Crimson set the college basketball record during the 1983-84 season by hitting 82.2% of their free throws.
Through 26 games, Colorado leads the nation in free-throw shooting with an 83.1% success rate with one regular-season game remaining.
If you take a quick glance at the top 10 teams in free-throw percentage, Virginia and Colorado are the only teams from a major conference. When you don't have a Blue Chip program with players bound for the NBA, you can't afford to squander an opportunity for free points. That's why smaller schools like Oral Roberts, Lafayette, and Eastern Washington are among the best free-throw shooting teams in the country.
---
2020-21 NCAA Top 10 Free Throw %
Colorado 83.1%
Oral Roberts 81.4%
Eastern Washington 81.0%
Virginia 80.4%
Lafayette 80.4%
Detroit 80.4%
Montana 80.2%
Portland 79.6%
South Dakota 79.5%
Chattanooga 79.4%
---
In case you're worrying about record nits who love to force asterisks next to records, Colorado still played as many games as Harvard did during the season in which they set the record as the best free-throw shooting team in the nation.
Smart Kids Like Free Stuff
It's hard not to think about Matt Damon's character from Good Will Hunting when thinking about funny things to say about Harvard. But it's true, and we triple-checked the NCAA record books. Harvard holds the record with an 82.2% success rate over 26 games.
That record-setting mark happened back in the mid-1980s before the NCAA adopted a universal three-point shot in college basketball. A team full of smart kids figured out a simple, yet difficult scoring hack — hit your free throws.
There's a reason why it's nicknamed the "charity stripe," because it gives a player a free chance to score without any defenders. It's not as easy as you think. Only seven teams in Division I this season are shooting above 80%.
In 1983-84, Harvard was the second-best team in the Ivy League. Princeton won the Ivy League that season, but Harvard finished in second place with a 9-5 conference record and a 15-11 overall record. Head coach Frank McLaughlin knew his best way to gain an edge, especially against better non-Ivy opponents, was to make as many free throws as possible.
Harvard's top two scorers in 1983-84, Joe Carrabino and Bob Ferry, both knocked down 90% of their free throws. Carrabino led Harvard with 90.5% from the charity stripe, while Ferry was also money with his free throw, shooting at 90.3%.
Rocky Mountain Free Throws
Colorado (19-7) recently returned to the AP Top 25 Poll with a #24 ranking after posting wins over Pac-12 foes USC and UCLA. The Buffs finish the Pac-12 regular season with a game on Thursday against Arizona State.
So why is Colorado so good at shooting free throws? Is it something in the water in Boulder? Or is it the fresh mountain air? Or maybe it's just that head coach Tad Boyle emphasized free-throw proficiency?
Boyle played college ball for Kansas at the same time Harvard set the record. He averaged 2.4 points off the bench as a back-up guard with the Jayhawks, and was a career 76% free throw shooter.
Last season, Colorado connected on 73.6% of their free throws, but improved by nearly 10 percentage points this season to have a shot at eclipsing Harvard.
Leading scorer McKinkley Wright IV averages 15 ppg for Colorado this season. Wright knocks down 84.3% of his free throws. Jeriah Horne leads Colorado with 92.7%, followed by Eli Parquet's 88.2%.
Colorado attempted 428 free throws and hit 364 of them. The Buffs average 14-for-16.8 per game from the free-throw line this season. Over the last three games, Colorado connected on 87% of their free throws.