Undefeated Princeton is one win away from an Ivy League title, but pesky Penn stands in their way.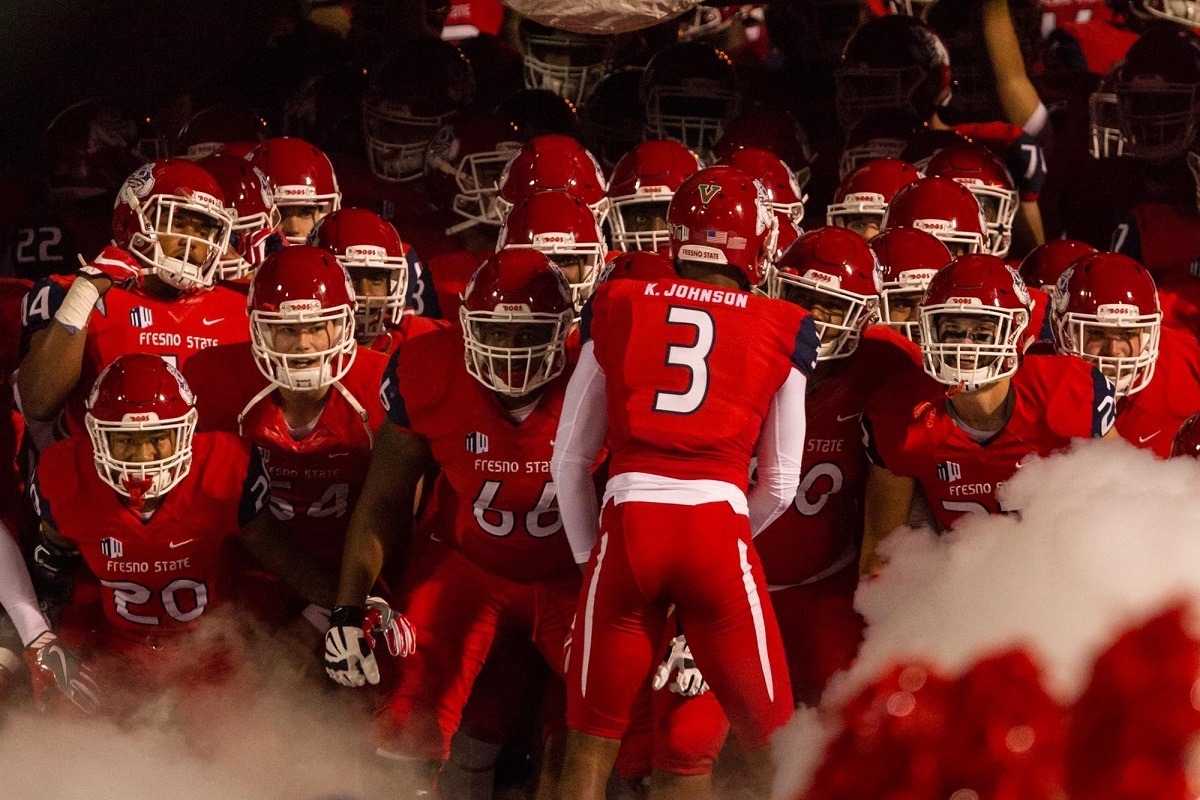 Several under the radar games in college football this week will not be mentioned in the same breath as the big dogs from the SEC or Big Ten. Fresno State is one win away from clinching consecutive Mountain West titles. Two 1-9 teams slug it out with Bucknell and Fordham fighting to avoid last place in the Patriot League. Lastly, the Rainbow Warriors of Hawaii are looking to get off the schnied. After a hot 6-1 start, Hawaii lost four in a row.
Someone Has to Win This One!
Fordham Rams (1-9) at Bucknell Bison (1-9)
Kickoff: 9:00am PT
Location: Christy Mathewson Stadium, Lewisburg, PA
Point Spread: Fordham -1.5
Over/Under: 42
Patriot League action featuring two bottom feeders. Two terrible teams with identical 1-9 records face each other. Someone will emerge with two wins, while the other will hold down last place.
The Fordham Rams are a favorite, which means even the bookies think that Bucknell can't even beat a bad team on their home turf. Fordham is in the middle of a four-game losing streak and lost a close one 17-13 against Holy Cross last weekend.
Both teams give up 29 points per game, but Bucknell really struggles on offense with only 14 ppg. At least Fordham musters up 18 ppg.
Bucknell is trying to snap a five-game losing streak. Bucknell's only win came against Colgate. Two weeks earlier, Colgate blew out Fordham 41-0 in the Bronx. Bucknell is 1-8 ATS over their last nine games.
Ivy Title Within Reach for Tigers
Penn Quakers (6-3) at Princeton Tigers (9-0)
Kickoff: 10:00am PT
Location: Powers Field, Princeton, NJ
Point Spread: Princeton -27.5
Over/Under: 48.5
An undefeated season and an Ivy League title are on the line for the Princeton Tigers. So far, they handled every obstacle thrown at them in the Ivy League. They beat down rival Harvard in Boston, they also won a close game 14-9 against previously unbeaten Dartmouth. And last week, they won a crazy shootout 59-43 against Yale. Penn is the lone team standing in their way of Ivy League glory.
Princeton has not lost a game at home this year, which goes without saying since they're undefeated. Princeton boasts a top 10 running game (288.7 yards per game) and a stingy defense that does not give up a lot of points (9.1 ppg). Princeton's D is ranked #9 in the FCS allowing only 269 yards per game.
It's rare to get into the endzone multiple times against Princeton. Only Harvard and Yale scored more than one TD against the Tigers this season.
Penn is no slouch. They struggle to put up points (20.6 ppg), but they have a tough defense (17.3 ppg). This is not going to be an easy win for the Tigers even though they are favorite by four touchdowns over the Quakers. The under hit in the last five games for Penn.
Fresno Wants Another MW Crown
San Diego State Aztecs (7-3) at Fresno State Bulldogs (8-2)
Kickoff: 7:30pm PT
Location: Bulldog Stadium, Fresno, CA
Point Spread: Fresno -13.5
Over/Under: 42
The Fresno State Bulldogs are trying to hold on to first place and clinch a Mountain West title. Fresno State won the Mountain West last season and are seeking back-to-back titles.
San Diego State Aztecs will be without two starting offensive lineman: Keith Ismael and Tyler Roemer. One is injured and the other suspended indefinitely. Both are key starters, which is not good news for the Aztecs.
San Diego was supposed to have an amazing running attack this season. Instead, it remained inconsistent all season due to problems on the O-line. The Aztecs only score 21.1 ppg, while their defense has been solid allowing only 19.6 ppg.
Fresno State (39.5 ppg) crushed opponents all season on their way to a seven-game winning streak. But their run was snapped by Boise State last week 24-17. The Bulldogs offense gets all the love, but their defense allows only 13.5 ppg.
Fresno State opened as a 15-point favorite, but early money came in on San Diego State, despite losing two lineman.
Fresno State beat the spread in eight out of their last nine games, while the under hit in five out of their last six.
Hawaii Lonesome Blues
UNLV Runnin' Rebels (3-7) at Hawaii Rainbow Warriors (6-5)
Kickoff: 8:00pm PT
Location: Aloha Stadium, Honolulu, Hawaii
Point Spread: Hawaii -6.5
Over/Under: 71
The bookies expect a high scoring game for the last game on the schedule for Saturday. With 71 points, this total is one of the highest of the week.
After starting the season 6-1, the wheels came off the bus for the Rainbow Warriors. Hawaii dropped four games in a row because of their porous defense that allows 440 yards per game. Hawaii's D also allows 34.6 ppg. The Warriors desperately want to stop the skid and welcome the 3-7 Runnin' Rebels.
The Rebels suffered a disappointing season due to injuries to key players. Although, UNLV snapped a six-game losing streak with a 27-24 win last week at San Diego State.
The Rainbow Warriors are 4-2 at home this season, which is good, but not as awesome as they usually are with their home-island advantage and forcing teams to travel to them.