The 2022 Preakness Stakes comes to you with a paradox, a wagering quandary that pits one 21st century trend against one 2020s trend.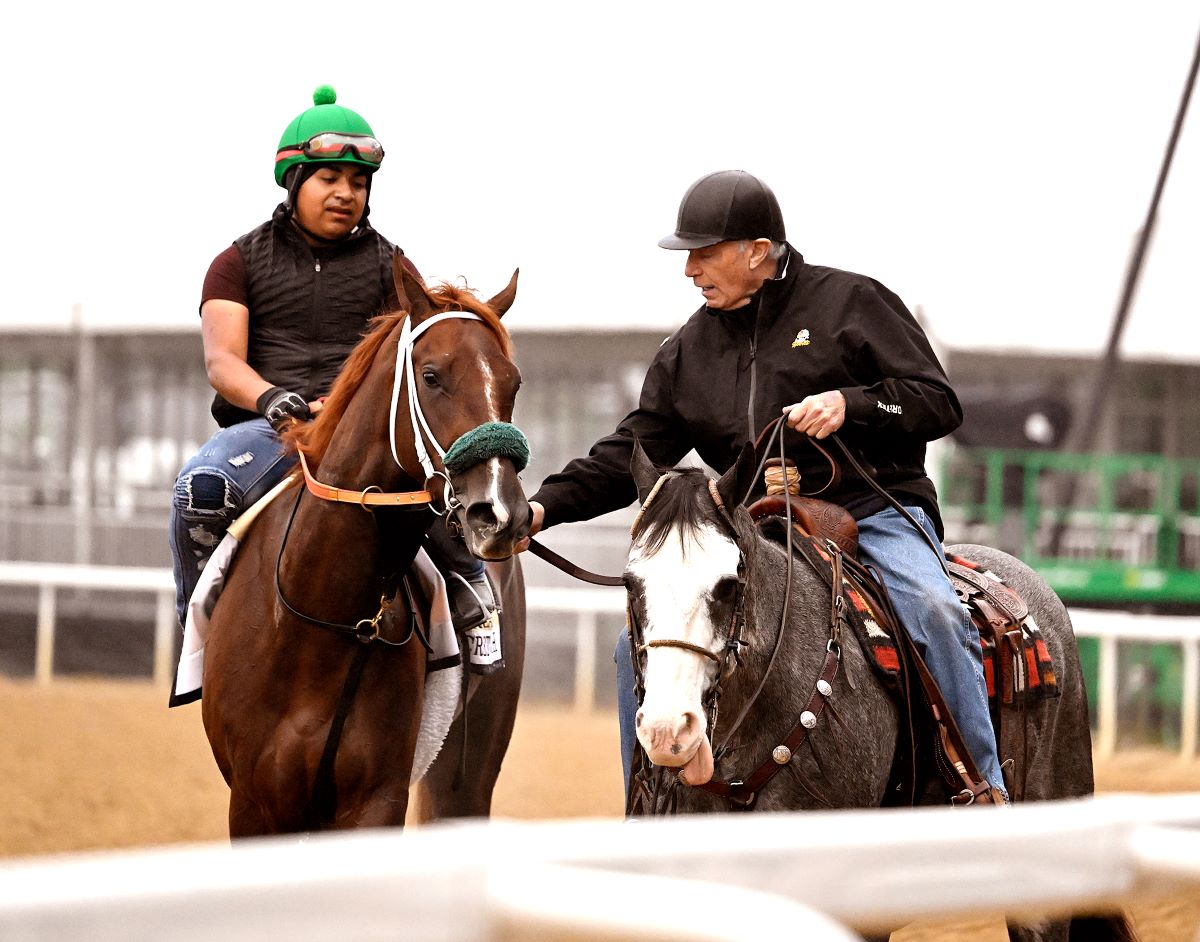 The trend this century is the friend to chalk. Since 2000, 10 favorites found the Pimlico Race Course winner's circle. Oxbow at 15.40/1 in 2013 is the longest shot to win the Preakness this century. Seven horses between 2010 and 2019 won the second jewel to the Triple Crown with single-digit odds.
It's also the friend to horses coming in from Churchill Downs. That means Kentucky Derby runner-up Epicenter, fourth-place Simpification, and 14th-place Happy Jack, along with Kentucky Oaks winner Secret Oath and Derby undercard allowance winner Creative Minister are good places to start. Only four horses this century took that weekend off and ran off with the Preakness.
That first trend, however, runs into some recency bias. The last two Preakness winners: Rombauer last year and Swiss Skydiver in 2020, came home at 11/1 odds. Rombauer beat 5/2 favorite Medina Spirit, who finished third. Swiss Skydiver, meanwhile, beat 3/5 Authentic in one of the best Triple Crown races this century. And we didn't mention 2017s Cloud Computing, who ran home at 13/1.
Who needs Churchill Downs?
Speaking of Cloud Computing, before last year, he was the last horse skipping Derby/Oaks week to win the Preakness. Rombauer famously thumbed his nose at that last year, being the fourth horse this century to blow off the first Saturday in May and blow into a Preakness title. On paper, that would bode well for Early Voting, the best of the new shooters in the nine-horse field.
So factoring that in, what wins Preaknesses? Well, a mix of styles. The Pimlico winner's circle welcomes pace-setters like Triple Crown winners American Pharoah (2015) and Justify (2018), the aforementioned Oxbow, Big Brown (2010), Smarty Jones (2004) and Funny Cide (2003). It welcomes pressers like California Chrome (2014) and Swiss Skydiver, along with four others to hit the back end of the exacta. And it beckons stalkers like Rombauer, War of Will (2019), Cloud Computing and I'll Have Another (2012).
Just don't be a closer. Exaggerator's 2016 victory in the Maryland slop made him the only closer in the last 11 years to win.
Preakness closers may not win, but they cash frequently
That said, closers hit the board with profitable regularity. Two years ago, it was 40/1 Jesus' Team finishing third. In 2019, Everfast finished second at 29/1. In 2018, Tenfold balanced out Justify's 2/5 winning odds when he finished third at 26/1. Senior Investment proved to be a profitable one the previous year when he completed the trifecta at 31/1. When American Pharoah won the 2015 Preakness at 4/5, Tale of Verve finished second – at 28/1.
You get the idea. The Preakness is a horseplayer's race, one favoring tactical speed on the track and wagering savvy at the window.
It's time to work our way through this puzzle. OG News breaks down the field, worst to first. The listed odds are Pimlico's morning line and will obviously fluctuate between now and post time.
Why are you here?
Fenwick (Post 3-50/1): Ah, the optimism of the post draw. Trainer Kevin McKathan gushed about Fenwick's "perfect draw" that put this son of Curlin in the middle of the field. Ostensibly, this gives Fenwick free rein to fulfill McKathan's mandate that he'll go to the front when the gates open. "He's a free-running horse. You put him on the lead and let him go at 50/1, they might never see him again." Ummm… OK. The last time we saw Fenwick was the Blue Grass Stakes, where everyone – including McKathan – watched Fenwick finish 11th and last, 36 lengths behind Zandon and seven lengths behind 10th-place Volcanic. Did we mention that came with a glacial 54 Equibase Speed Figure? Have we mentioned that in six career starts, Fenwick has a maiden special weight win at Tampa Bay Downs and a second – along with two sixths and a fifth? Did we say that Fenwick has one Equibase north of 90? Oh, and this might be a good time to point out Fenwick is running for his third trainer. "I deserve to be 50/1 how we ran last time," McKathan said. "I deserve to be that, maybe 60/1." Did we mention McKathan has a point here?
Armagnac (Post 7-12/1): Trainer Tim Yakteen sent his top two Bob Baffert imports: Messier and Taiba, back to California after their disappointing Derby finishes. But after Armagnac won a May 8 1 1/16-mile Santa Anita allowance-optional claimer by 4 ¼ lengths, Yakteen decided Armagnac was ready for the Preakness. One of the good guys in racing, Yakteen can be forgiven for conveniently forgetting Armagnac's previous start: a fourth to Taiba, Messier and Happy Jack by 12 ½ lengths in the Santa Anita Derby. Since he didn't have Armagnac in March, Yakteen can also be forgiven for missing Armagnac's sixth-place outing in the San Felipe Stakes – by 27 ¼ lengths. That's two losses in two of the stronger Derby preps by nearly 40 lengths. It should be noted the only other horse from those races here at the Preakness is Happy Jack – who beat Armagnac both times by a combined 17 lengths. Not exactly a ringing endorsement for Preakness glory. This is not the kind of colt you see hitting Triple Crown race boards. What you will see is Armagnac vault out to the front with Fenwick, Early Voting and perhaps Epicenter. Somewhere around the beginning of the far turn, his lack of speed will kick in – he hasn't hit triple digits on the Beyer, Brisnet or Equibase standards — and he'll fade into the Maryland evening.
Like father, like son? Ummm, probably not
Happy Jack (Post 6-30/1): Here's the first of the three Kentucky Derby starters returning for Round 2 in the Preakness – and the one you can toss from your tickets. That Happy Jack is a product of the storied Calumet Farm should make the record eight Preakness winners from that farm turn over in their graves wondering what's going on at their alma mater. Because nobody is going to confuse a horse who finished a non-threatening 14th by 19 lengths in the Kentucky Derby with Calumet legends Whirlaway, Citation, Tim Tam or Forward Pass. Nor will they confuse Happy Jack with his Preakness-winning sire: Oxbow. Happy Jack is 0-for-his-last-4, with only a pair of distant thirds in the San Felipe and Santa Anita Derby cashing bettors' tickets. Those four losses came by a combined 69 lengths. This prompts trainer Doug O'Neill, who won the Preakness with I'll Have Another 10 years ago, to put the blinkers back on. As much as we like O'Neill, we'll keep our blinkers off when it comes to putting Happy Jack on our tickets.
Skippylongstocking (Post 9-20/1): Another chip off the Preakness winning block; his sire Exaggerator won the 2016 Preakness, Skippylongstocking is the most experienced runner in the field. The last of his nine races was a non-threatening third to Mo Donegal and fellow Preakness rival Early Voting in the April 9 Wood Memorial at Aqueduct. The outing before that was an allowance optional claiming victory at Gulfstream Park. Skippylongstocking does bring good form into the proceedings. And it's nice to see up-and-coming trainer Saffie Joseph Jr. back at the Preakness, where he finished ninth with a troubled Ny Traffic two years ago in his Triple Crown debut. But when you look at Skippylongstocking's hardly pippy speed figures: a 100 for that allowance win being the high-water mark and a career best 91 Beyer, you see an allowance-grade horse whose ceiling is the bottom of the superfecta – at best.
They could win – or finish 5th
Early Voting (Post 5-7/2): Five years ago, Cloud Computing ran the Wood Memorial, bypassed the Derby, entered the Preakness at 13/1 – and won. This is the same blueprint Chad Brown and owner Seth Klarman are following with the son of 2017 Horse of the Year Gun Runner. And why not? Among the horses who didn't run two weeks ago at Churchill Downs in either the Derby, Kentucky Oaks or an allowance race, he is by far the biggest threat to find the winner's circle. Early Voting is 2-for-3, with a gate-to-wire win in the Grade 3 Withers as the marquee win on the resume. He controlled the pace in the Wood Memorial at Aqueduct, until Mo Donegal rallied from somewhere around Yonkers and beat him by a neck. You're looking at the early speed here with Early Voting, who has the top BRIS figure in the field (111) and is tied for second with Simplification for second with a 96 Beyer. There is no reason Early Voting can't follow Cloud Computing's code and crack the Preakness. But we're at the point where you need to take a stand somewhere and being pushed early by Fenwick, Armagnac and Epicenter may be what keeps Early Voting from pulling the right lever.
Creative Minister (Post 2-10/1): Say "hello" to the biggest wild card in the Preakness field, a card so wild and so potentially talented that owners Greg Back, Paul Fireman and trainer Kenny McPeek forked over $150,000 to supplement him into the Preakness field. This financial audacity is brought to your potential tickets by a colt who is 2-for-3 with the top Equibase figure in the field (108). That came after you were paying attention to Secret Oath's Kentucky Oaks victory and before Rich Strike stole the Derby from Epicenter in the last 50 yards. In a Derby undercard race few paid attention to, Creative Minister overcame a hopping start with a midstretch flourish, winning by nearly three lengths. This followed a 1 ½-length maiden-breaking score a month earlier at Keeneland and a neck loss in his career debut in early March. Creative Minister's speed figures increased every race, meaning he could either regress from that stellar finish – or take another huge step that gives McPeek his second Preakness victory in three years — while announcing a new 3-year-old potential superstar. With Creative Minister's limited body of work, we honestly can't gauge how this will play out.
Your Preakness tickets will thank you
Simplification (Post 1-6/1): We told you so. We told you before the Derby about this underrated, under-the-radar Not This Time colt who never takes a race off. And the Derby was no exception. Simplification stalked the pack until the stretch, when he picked off horse after horse after horse until he was on Epicenter and Zandon's heels. How he finished a strong fourth wasn't a mystery to anyone paying attention to his Florida escapades: two wins, a second and a third. How Simplification left the gate at 35.30/1 was a mystery that won't repeat itself here. Trainer Antonio Sano trades one multiple Eclipse Award-winning jockey – Jose Ortiz – for another one: John Velazquez. That's because Ortiz agreed to ride Early Voting in the Preakness. It won't matter. The only reason Simplification and his 96 career-best Beyer and 103 BRIS aren't ranked higher here is because of his rail post, which pressures him to get out faster than Sano and Velazquez prefer for his stalking style. We haven't mentioned the early speed that complicates Simplification's matters on that front. Regardless, we'll say it again: keep it simple here and get Simplification in your exotics.
Epicenter (Post 8-6/5): We'll get it out of the way early. Here is your likely winner of Preakness 147, one who would be gunning for a Triple Crown bid if it wasn't for the most improbable Kentucky Derby upset since Woodrow Wilson occupied the White House. When you look at the list of his fellow sophomores Epicenter beat, it reads like a who's who of the foal Class of 2019: Zandon (twice), Cyberknife (twice), Pioneer of Medina (twice), Mo Donegal, Messier, Taiba, White Abarrio, Smile Happy, Simplification, Tiz the Bomb and yes, the author of that 80/1 Derby shocker: Rich Strike. That's every winner of a Grade 1 Derby prep and the Derby champion, who Epicenter beat by 14 lengths at the Gun Runner back in December. Why isn't hard to fathom. You have the fastest horse in the field (the 102 Beyer is the field's best by a considerable margin) who can win from the front, from just back as a presser and farther back as a stalker, which is what you'll likely see here. OK, so all Epicenter has to do is repeat that stirring, near-flawless Derby performance and he finds the Pimlico winner's circle. It's that simple, right? Well, the front-and-center question for Epicenter is how much did that Derby runner-up outing over 1 ¼ miles take out of him. Oh, and Epicenter's talent isn't a secret, so you're likely looking at no better — and likely worse — than that 6/5 if he wins Steve Asmussen his third Preakness.
The Pick
Secret Oath (Post 4-9/2): Yes, we're not-so-secret members of the Secret Oath bandwagon. And as usual, let's get her flaws out of the way early. D. Wayne Lukas hasn't been shy about running the filly. This is her third race since her troubled third in the April 2 Arkansas Derby, where she debuted against the boys with an iffy start that doomed her chances. And of course, there was that scintillating Kentucky Oaks victory against one of the best Oaks fields in the last decade. That had to take something out of her, right? Well, not really, according to Lukas. "I actually think that she is training better these two weeks than she did the two weeks before the Oaks," he said. Her flaws disposed of, here's why you're likely looking at the seventh filly to win the Preakness. After that awful Arkansas Derby start, Secret Oath rallied to finish third. Then, there was that two-length Kentucky Oaks victory over Nest, which wasn't that close, as Secret Oath was pulling away when the wire came. That win came with the same 105 Equibase that Epicenter earned in his Derby runner-up the next day. And speaking of Epicenter in the Derby, unlike Secret Oath's Oaks stretch cruise, he had his hands full dealing with Zandon in deep stretch — never mind Rich Strike. Secret Oath gets a five-pound weight break for being a filly. Don't think that won't matter at 9 ½ furlongs. Then, there's that stalker running style, which not only brought Secret Oath three wins and a third in four stakes starts but is perfect for this field. And did we mention she's the only Grade 1 winner in the field? Put it all together and you heard this secret here: Secret Oath will join Rachel Alexandra (2009) and Swiss Skydiver (2020) as Preakness-winning fillies this century.