Ian Nepomniachtchi arrived to the board for Game 9 of the World Chess Championship with a new haircut. He started the game with a new opening, but the result was more of the same, as Magnus Carlsen picked up another point to extend his lead in the match.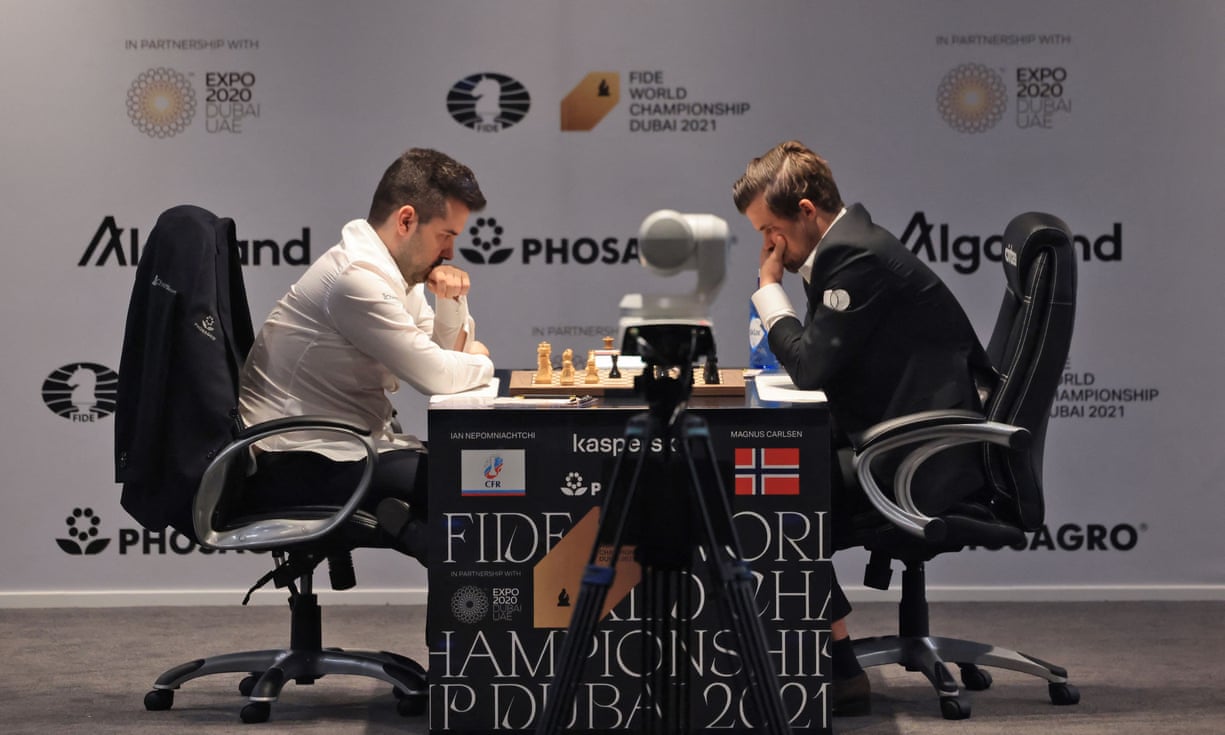 Nepomniachtchi blundered away a full piece in what should have been a safe position for the challenger, allowing Carlsen to easily win and grow his overall lead to 6-3.
Hasty play costs Nepomniachtchi
The challenger changed things up with White in Game 9, playing 1. c4 – the English Opening – for the first time in the World Chess Championship. Nepomniachtchi created a complex position and held the initiative, raising hopes that he might have winning chances and could get back into the match.
But Nepomniachtchi threw away his edge with a hasty recapture, the latest in a string of quick moves made while the Russian held an advantage on the clock during the match. Still, he had the easier play in what looked to be a drawn position, at least according to computer engines.
Then, Nepomniachtchi made another fateful error. On his 27th move, the Russian grandmaster played the pawn push c5, walking into Carlsen's natural response of c6. That trapped Nepomniachtchi's bishop in the corner of the board with no hope of escape.
"I couldn't imagine there is actually a way which exists to blunder in this position," Nepomniachtchi explained after the game. "It's even funny there's a way to blunder this position in one move. Who could know?"
Nepomniachtchi fought on for several moves, creating enough complications that Carlsen had to play accurately to win. But there was little doubt as to the final result. After 39 moves, Nepomniachtchi resigned, accepting a crushing loss with the white pieces.
Carlsen: All wins count
Afterward, Carlsen said that in a World Chess Championship, he would take a win no matter how it came. Still, Nepomniachtchi's form has taken some of the excitement out of his victories.
"I think that goes without saying," Carlsen told reporters. "But in the standings they look the same. I think that goes for everybody that earning a victory through really hard work is more rewarding than getting one handed to you by your opponent … [I] definitely feel a lot more satisfied when I actually win a good game. But I'll take it."
With Carlsen all but clinching victory – he now needs just 1.5 points in five games to retain the World Chess Championship – Unibet has taken down its markets on the overall match winner. Bettors can still wager on the outcome of every game, and the sportsbook sees blood in the water for the Norwegian.
In Wednesday's Game 10, Carlsen will take White, seeking his third straight win, his fourth in five games, and his third straight victory with the first move. Unibet now sees Carlsen as a +160 pick to score a win in the game, with Nepomniachtchi at +1500 to score a stunning turnaround with Black. A draw still rates as the most likely outcome at -167.