The long-awaited partnership between Dapper Labs and the UFC has finally come to fruition, as the sports NFT leader will drop its first UFC Strike packs on Sunday, Jan. 23.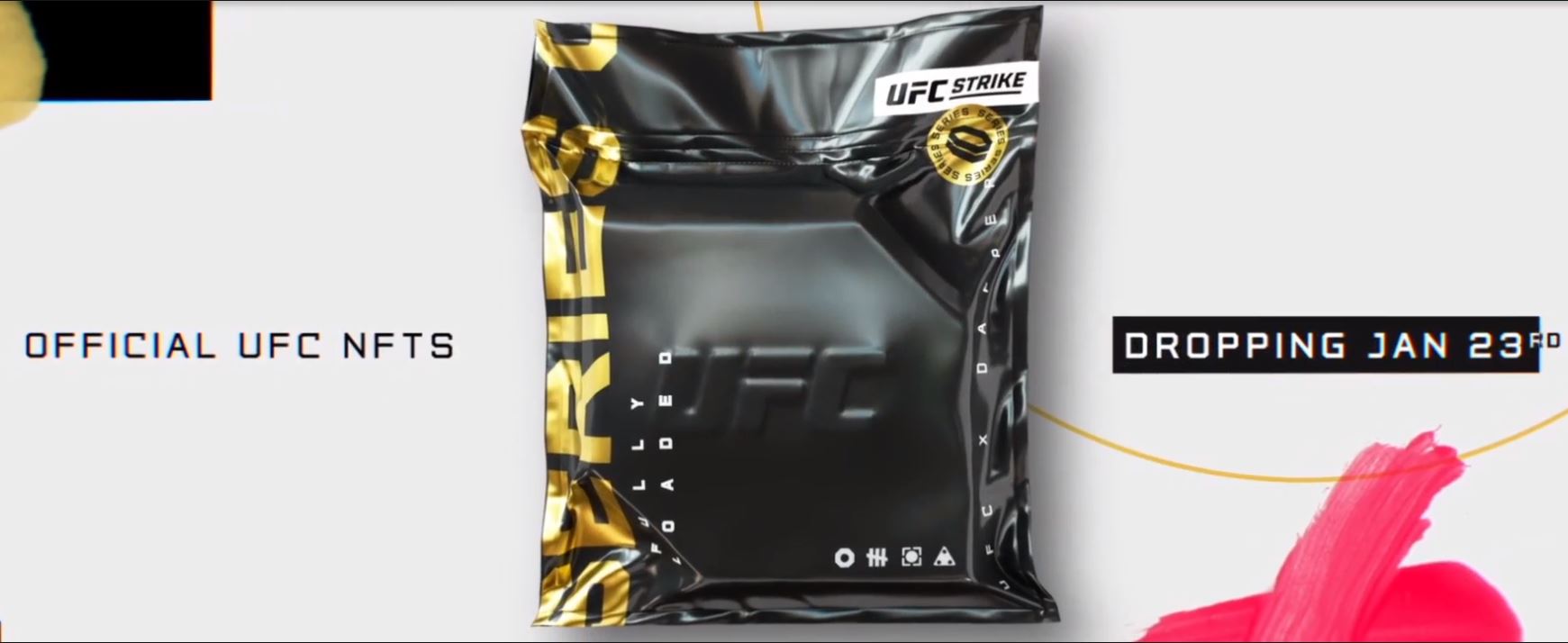 The first drop will feature 100,000 "Fully Loaded" packs at a cost of $50 each.
UFC Strike follows in Top Shot's footsteps
Dapper Labs is best known for creating NBA Top Shot, the hit basketball NFT platform. The company is also currently offering NFL All Day – a similar football product – in a closed beta. Dapper differentiates its product from many competitors by selling "moments" that feature video clips rather than static images of athletes.
UFC Strike will give collectors a similar experience. The first set features 35 unique moments. Each pack contains three random moments from that set. While 25 of these moments are typical commons, 10 belong to the "Champion Tier," with Dapper minting only 75 of each.
The rarest Moments available in @UFCStrikeNFT Packs: 🏆 Champion Tier 🏆

With unmissable gold-trim design, Champion Tier Moments all feature current or former @ufc champions.

Here's a look at some of the Moments available in Sunday's Pack Drop. #OwnTheGlory pic.twitter.com/8ILSAt6jUU

— UFC Strike (@UFCStrikeNFT) January 20, 2022
Users can purchase up to five packs in total, but can only reserve one pack per transaction. After each purchase, buyers must rejoin at the back of the queue to line up for a potential second purchase.
Dapper Labs has announced several fighters appearing in the Champion Tier, including Francis Ngannou, Ciryl Gane, Kamaru Usman, and Rose Namajunas.
According to the UFC Strike blog, this drop – and a follow-up drop of another 100,000 packs on Jan. 31 – represent a "Series 0" for the product. Dapper plans to release two more series of moments during 2022. A peer-to-peer marketplace will arrive "shortly after the first pack drop" in order to allow buying and selling of individual moments.
Drop offers opportunity for early adopters
The UFC says it made an easy choice when choosing how to begin releasing NFTs for fans and collectors.
"Dapper Labs is an innovator in this field, creating an industry that didn't exist a few years ago," UFC Senior Vice President of Global Consumer Products Tracey Bleczinski said in a statement. "Their vision for the potential of these products is the reason UFC chose Dapper Labs as its first NFT partner."
While this is the UFC's first official NFT venture, it is not the first time collectors could get their hands on digital versions of MMA collectibles. In 2021, Panini dropped blockchain versions of its UFC trading cards, including limited number parallels. That mirrored Panini's offerings for baseball, basketball, and football.
It's far too early to know how well UFC Strike will perform for investors. However, it stands to reason that early adopters have the best chance of turning a profit on these NFTs.
While NBA Top Shot continues to thrive, early investors made the biggest profits while some users who tried to get in after the market popped last winter have never made money. NFL All Day has yet to release a marketplace, though the limited access to the closed beta could make its first season of moments more valuable as well.