UCLA hired Mick Cronin to help restore the Bruins to their glory days when they were the top college basketball program in the country. Heading into the new season, #22 UCLA is the favorite to win the Pac-12 conference basketball title at +260, according to DraftKings, and followed closely by #18 Arizona State at +265.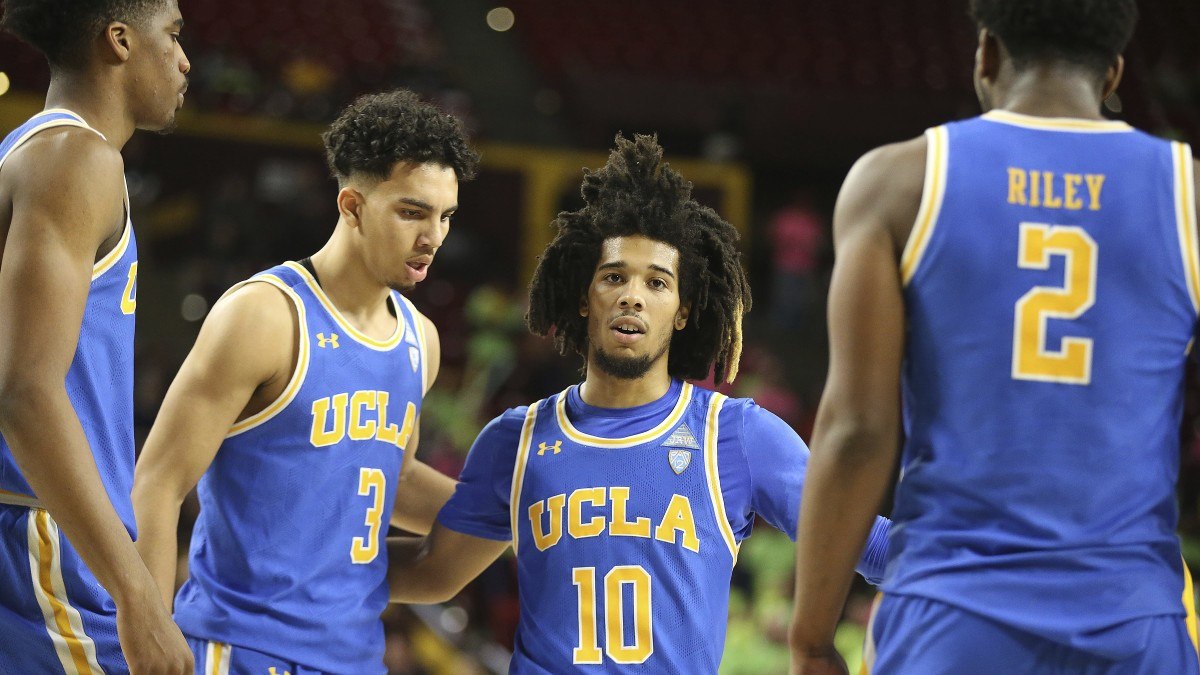 Cronin's first season was cut short due to the COVID-19 pandemic, which was a shame because UCLA (19-12) started getting hot just before the Pac-12 basketball conference tournament. The Bruins were in second place with an 11-3 clip after starting the season 8-9.
The good news for Bruins fans is that UCLA has pretty much the same team back from last season, including guard Chris Smith. Smith, UCLA's leading scorer, could have declared for the NBA Draft, but he chose to return to Westwood for a chance to win a Pac-12 title and go deep in March Madness.
---
PAC-12 BASKETBALL CONFERENCE ODDS
UCLA +260
Arizona State +265
Oregon +435
Stanford +600
Arizona +700
USC +1000
Colorado +1500
Utah +3000
Washington +3000
Oregon State +8000
California +10000
Washington State +3000
---
Down in Tempe, former Duke star Bobby Hurley has helped rebuild the Arizona State basketball program. His Sun Devils advanced to the March Madness basketball tournament as a play-in game participant in consecutive seasons. Now, Hurley thinks Arizona State is ready to contend for the Pac-12 title.
Oddsmakers at DraftKings listed Oregon as the third-highest favorite on the future board at +435 odds to win the Pac-12 Conference basketball title. Stanford is fourth at +600 odds, while Arizona is +700 odds to win the Pac-12.
UCLA: Glory Days or Glory Daze?
Everyone is high on UCLA this season because they have a similar team to last season's. Chris Smith led UCLA with 13.1 ppg last year. The 6-foot-9 point guard from Chicago could have gone pro, but decided to try to win a title with the Bruins.
UCLA added Johnny Juzang to its roster. Juzang saw limited time with Kentucky last season as a bench player. Cronin will insert Juzang into the starting lineup.
"I have to remind them that we're not far removed from being a bad basketball team," said UCLA head coach Mick Cronin. "We can get back there real quick."
Tyger Campbell, a 5-foot-11 point guard, led UCLA with 5.0 assists per game last season.
Jaime Jaquez Jr. only averaged 8.9 ppg as a freshman, but he's on the verge of a breakout sophomore season.
David Singleton, a local kid who grew up in LA, will now provide some depth off the bench.
What the Heck is a Jersey Kid Doing in the Arizona Desert?
Bobby Hurley is a part of basketball royalty. His father, the legendary coach Bob Hurley, was often regarded as the top high school basketball coach in the country at St. Anthony's in Jersey City. The tiny Catholic school was so poor it didn't even have its own gymnasium and had to play the entire season on the road. Yet, Hurley's St. Anthony squads were among the top-ranked in the nation.
Bobby Hurley played for his father before he earned a scholarship to Duke. The younger Hurley was the point guard on Duke's championship teams in 1991 and 1992. Hurley was the floor quarterback of a team that had future NBA players Christian Laettner and Grant Hill.
Hurley pivoted to coaching after his NBA career was cut short after a car accident. His first two seasons in Tempe were subpar with 15 wins and a losing record. However, Hurley and Arizona State were finding their way. The school was patient with Hurley as the team steadily improved in subsequent seasons. Before the pandemic struck, Arizona State was 20-11, and in fourth place in the Pac-12. That marked Hurley's third consecutive season with at least 20 wins.
Arizona State: Remy Martin, Josh Christopher
Arizona State has a #18 preseason ranking, just ahead of UCLA, making them the only teams in the Pac-12 to garner attention in the AP Top 25 poll.
Remy Martin, a 6-foot-0 senior guard from LA, led Arizona State with 19.1 ppg last season. He's on the shortlist for potential Player of the Year candidates.
"The ceiling is limitless for us this year," Arizona State head coach Hurley said.
Hurley landed one of the top recruits in the country with Josh Christopher. Christopher had been a YouTube star with his highlight videos garnering millions of views. He's already projected as a lottery pick for the 2021 NBA Draft. His older brother Caleb is also on the Arizona State squad, but saw limited time last season. The Christopher brothers will be reunited in Tempe.
"It's almost a dream come true," said Josh about playing with Caleb.
Speaking of hoops-playing brothers, Marcus Bagley joins Arizona State. The 6-foot-7 freshman forward is the younger sibling of Marvin Bagley, the former Kentucky star who currently plays in the NBA with the Sacramento Kings.