It's October 2020, which in this bizarre of all bizarre years, means it's Preakness Stakes time. That there is no Triple Crown at stake does not mean there is nothing at stake in the third and final jewel of a wild, 15-week Triple Crown campaign.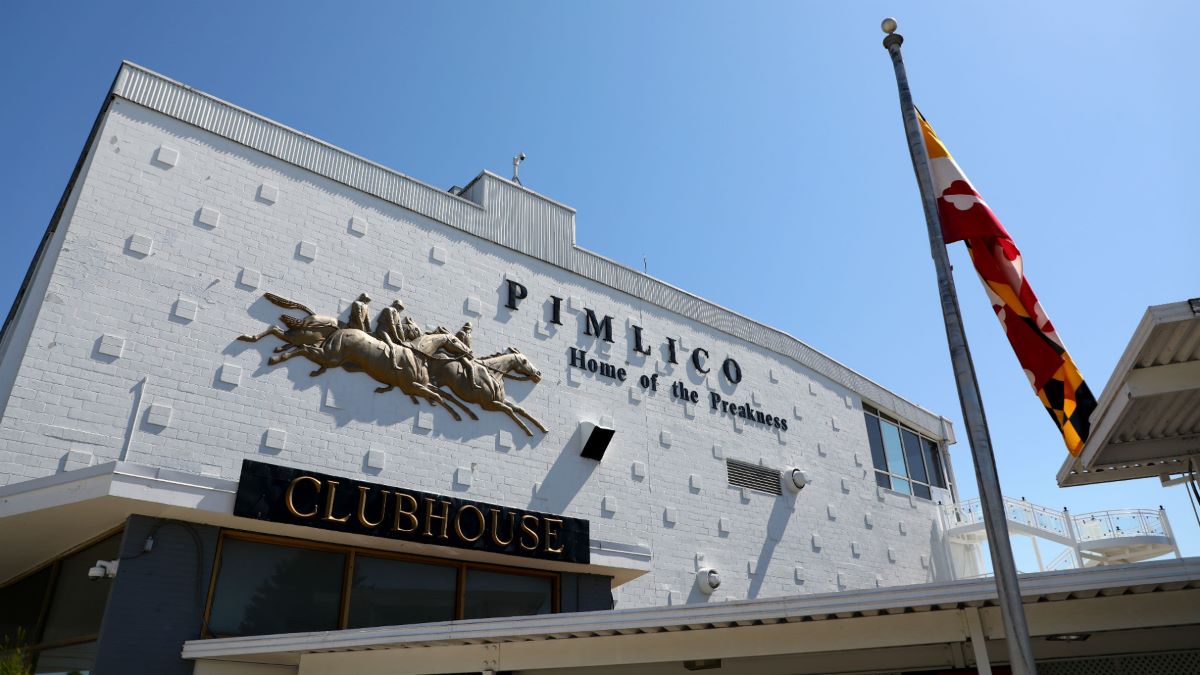 The 2020 American Classics trail ends not in the spring, but in the early fall. It ends in front of empty stands at Pimlico as a Breeders' Cup "Win and You're In" challenge event for the Breeders' Cup Classic next month at Keeneland.
Imagine, a Triple Crown event serving as a Breeders' Cup prep. Only in 2020.
It ends with a Preakness run outside of May for the first time in 75 years.
It ends without Belmont Stakes champion Tiz the Law, who passed on settling his grudge match with Kentucky Derby winner Authentic here. Instead, Tiz the Law bides his time and waits for Authentic at Keeneland.
But it ends with Authentic leading an 11-horse parade – one that includes the first filly in six years — into Pimlico for bragging rights and breeding prestige. Win the 2020 Preakness Stakes, wrap yourself in Black-Eyed Susans and your pedigree is secure forevermore.
Take Note of these Preakness Betting Trends
To do that, a few elements bear mentioning.
First, favorites captured 10 Preaknesses since the turn of the century. This is a race where form and class typically prevail.
At the same time, don't discount longshots on your tickets. Last year, 29/1 Everfast was the fourth runner-up in the last five races going off at 15/1 or greater. That produced a $947 payoff on a $2 exacta bet. So balance your favorites with some tote-board destroying bombers.
From a pace standpoint, the Preakness favors tactical speed. Get out front or get close to the front as quick as you can. Three horses this century: Exaggerator in the slop of 2016 and icons Point Given (2001) and Curlin (2007) rallied from more than five lengths back. If the Kentucky Derby hates closers, the Preakness doesn't care for them either.
Baffert's Derby Champions an Unbeatable Preakness Combo
And speaking of Point Given, that was one of Hall of Fame trainer Bob Baffert's seven Preakness champions. His quest for a record eighth Preakness begins with favorite Authentic and ends with the enigmatic Thousand Words. It bears mentioning that Baffert has never lost a Preakness with one of his Derby champions, where he is 5-for-5.
The Preakness is the 11th of 12 races on Pimlico's all-stakes Saturday card. It is the only Grade 1 on the card.
Let's begin. OnlineGambling breaks down the 2020 Preakness Stakes for Saturday's race in categories, worst to first. Odds are morning-line numbers.
Why Are You Here?
Excession (Post 1-30/1-Steve Asmussen trainer, Sheldon Russell jockey): When we last saw Excession, he was splashing his way in the Oaklawn Park slop to a runner-up finish to Nadal in the Rebel Stakes. Alas, that intrepid finish at 82/1 came in March. Before that and a knee chip that sent him to the sidelines, Excession was an afterthought in the Risen Star Stakes (eighth) and the Lecomte Stakes (seventh) at Fair Grounds. As a Grade C closer whose best races came in the muck – and Saturday's Pimlico forecast is for sunny skies — consider him an afterthought here.
Jesus' Team (Post 6-30/1-Jose Francisco D'Angelo, Jevian Toledo): Remember the kid on the playground who was always up for a challenge, but just didn't have the talent to back up his drive? Meet that kid's equine counterpart in Jesus' Team. Here's a horse who knows his counterparts, since he's lost to several of them in his last three stakes starts. Haskell winner Authentic didn't even know Jesus' Team was there during his fourth-place finish. Pneumatic barely noticed him in his 2 ½-length victory in the Pegasus Stakes. Last time out in the Jim Dandy at Saratoga, Jesus' Team was so shocked he took the lead at the top of the stretch that he promptly surrendered it to Mystic Guide and Liveyourbeastlife and finished third. On the bright side, Jesus' Team won't be the last one picked for the team this time out.
We're Not Seeing It Here
Ny Traffic (Post 7-15/1-Saffie Joseph Jr., Horacio Karamanos): It took a blitzing four-furlong workout at Churchill Downs last Sunday for Ny Traffic's connections to pull the trigger and send him to Pimlico. If they were on the fence about his Preakness chances, why shouldn't we be? Ny Traffic went from losing the Haskell to Authentic by a nose to surrendering in the stretch and finishing eighth – 13 ½ lengths behind him in the Kentucky Derby. Granted, Ny Traffic endured a brutal trip that involved losing a shoe and being stuck in traffic befitting his name. But even granting him that excuse, putting Ny Traffic's pace-pressing running style into the mix with Authentic, Art Collector and Swiss Skydiver and factoring in he's never won a stakes race tells us one thing. Get off the freeway and avoid the Traffic here.
Liveyourbeastlife (Post 11-30/1-Jorge Abreu, Trevor McCarthy): There's money coming in on this distance-eater with a hybrid running style, although outside of exotic value hunters, we're not sure why. The problem for Liveyourbeastlife isn't his route-loving, stamina-laden pedigree, nor his current form. That form produced a strong runner-up to Mystic Guide in the Jim Dandy with a decent career-best 107 Equibase Speed Figure. It's that hybrid running style, combined with the far outside post. He's not fast enough to press the pace and hang with Authentic and Art Collector and he's not in the closer class of Max Player or Mr. Big News. So neither fish, nor fowl, nor likely board hitter anywhere above the superfecta – and only if Liveyourbeastlife lives his best trip.
Thousand Words (Post 5-6/1-Bob Baffert, Florent Geroux): With one temperamental move in the Churchill Downs paddock, Thousand Words literally flipped from trendy Derby pick to enigmatic Preakness play. The "other Baffert" reared up and flipped over, breaking Baffert assistant Jimmy Barnes' wrist and mandating a scratch. This tells you plenty about a horse you literally can't figure out from race to race. Will you get the 9/1 Thousand Words who went gate-to-wire and beat Honor A.P. in the Shared Belief Stakes at Del Mar? Or will you get the Thousand Words who finished 11th in the Oaklawn Stakes and a non-threatening fourth in the San Felipe Stakes? Whichever version shows up Saturday doesn't have the speed to run down his Baffert stablemate or Art Collector. Nor does he have any victories at greater than 1 1/16 miles. Even Baffert told OG News Thousand Words is "a nice horse, but he isn't Authentic." We believe him.
Pick One Or More and Your Exotic Ticket Thanks You
Mr. Big News (Post 2-12/1-Bret Calhoun, Gabriel Saez): Speaking of believing, this Giant's Causeway progeny made believers out of everyone with his third-place Kentucky Derby finish. That came courtesy of a perfect trip that took him within three lengths of Authentic and Tiz the Law. It also came with a career-best 101 Beyer Speed Figure, the seventh consecutive time Mr. Big News topped his previous Beyer. That's saying something. What else it's saying is Mr. Big News is no longer a sleepy, mud-happy longshot, but is now expected to fill out trifecta and superfecta tickets. That's not a stretch anymore, which means value hunters are going to overbet him. At the same time, Preakness closers rarely find the winner's circle and eventually, Mr. Big News finds his speed ceiling. The bottom rungs of the trifecta and superfecta are that ceiling.
Swiss Skydiver (Post 4-6/1-Kenny McPeek, Robby Albarado): We'll admit it now. We are huge Kenny McPeek fans. First, for sending this standout filly against the boys in a Triple Crown race and second, for sending Swiss Skydiver out for her ninth race of the year. What is this "load management" you speak of? It doesn't exist for the first filly in the Preakness since Ria Antonia finished 10th in 2014. Swiss Skydiver is the 56th filly entering the starting gate in the Preakness' 145 years and a victory makes her the sixth distaff winner – and the first since Rachel Alexandra blitzed the boys in 2009. To do that, jockey Robby Albarado needs to conserve her stamina for a stretch run likely featuring Authentic and Swiss Skydiver's Blue Grass Stakes nemesis – Art Collector – who passed Swiss Skydiver in deep stretch of that race. Even then, does she have enough firepower? After finishing a strange second to 17/1 Shedaresthedevil in the Kentucky Oaks last time out, we're not sure. Use her underneath in exotics, revel in the ride and tip your cap to the Audacious Mr. McPeek.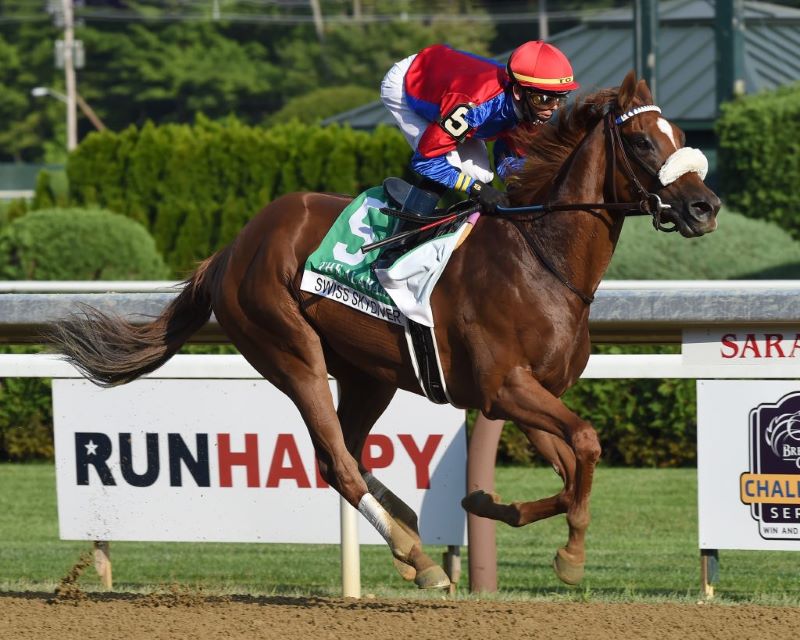 Max Player (Post 8-15/1-Steve Asmussen, Paco Lopez): Hang back, hang back, fire at the top of the stretch, pick off tired horses, finish anywhere from third to fifth. Rinse and repeat. Oh, and head to the window if you've put the best closer in the field on the bottom of your Grade 1 exotics. The second of three Asmussens in the field is the only horse to compete in all three Triple Crown races. He hit the board in the Belmont with a strong third behind Tiz the Law and Dr. Post and staggered through the traffic of the Derby with a closing flourish to finish fifth – albeit by seven lengths. Max Player is as predictable as the second ring on a phone, which makes handicapping him here easy. Especially when you understand Exaggerator in 2016 is the only closer in the last 12 years to win coming from more than five lengths back. Keep an eye on rider Paco Lopez, who takes Max Player's reins for the first time. Known as an aggressive jockey, Lopez may put Max Player closer to the fray to allow his finishing kick to actually have some kick.
Waiting in the Wings…
Pneumatic (Post 10-20/1-Steve Asmussen, Joe Bravo): Say hello to the Asmussen in the field, doubling as the best value play and tripling as a legitimate candidate to spring the upset should Authentic and Art Collector misfire. Stranger things have happened. The Uncle Mo colt spent the last seven weeks lying in wait after taking apart an admittedly weak field in the Pegasus Stakes. His connections passed an available Derby spot for this race, which says plenty. Expanding the story, Pneumatic's career-best 113 Equibase Speed Figure is identical to Authentic's and seven points better than Art Collector's. So the tactical speed is there. So is the stalking – always useful in the Preakness. Pneumatic put that to good use in a third-place finish behind Maxfield and Ny Traffic in the Matt Winn and two victories at Oaklawn Park early in the season. The only time Pneumatic missed the board in five races was when he tired and finished fourth in the Belmont Stakes 3 ½ months ago. Speaking of stalking, bettors should stalk and pounce on Pneumatic anywhere on your tickets if his odds are anywhere near double-digits.
Art Collector (Post 3-5/2-Tom Drury Jr., Brian Hernandez): Finally, we see this son of 2006 Preakness winner Bernardini tangle with horses in his class. First across the finish line in all five of his races (with one DQ), no horse comes into Pimlico with more anticipation and curiosity than Art Collector, who scratched Monday of Derby week with a minor hoof injury. And with that, you're looking at the horse that will decide the Preakness Stakes. We know Authentic will surge forward into the lead, probably dragging Pneumatic, Swiss Skydiver and overmatched Thousand Words and Ny Traffic along for the ride. But what the talented, versatile Art Collector does in response sets the table for the race's outcome. Does Brian Hernandez go with them, relying on Art Collector's elite speed and ability to change gears and styles on a dime? Or does he sit back a bit, stalk Authentic and pounce? Either way, Art Collector probably won't be 5/2 when the gates open, because he's going to be atop many tickets as the pick.
The Pick
Authentic (Post 9-9/5-Bob Baffert, John Velazquez): Again, because everyone wants to find flaws with the favorite, we'll dispose of Authentic's flaw out of the gate. The overhanging question with Authentic is how much did his gritty Kentucky Derby victory, where he turned back every challenge from Tiz the Law, take out of him? According to Baffert, who raved about Authentic's workouts since the Derby, the answer is "not at all." There's plenty more to rave about here, starting with the fact that since the Santa Anita Derby in early June – Authentic's only loss in six races – he has led at every call. He's led at the first call in four out of the six. From there, we move to Authentic's freakish speed in a race that traditionally demands speed. He covered the first quarter-mile in the 1 ¼-mile Derby in under 23 seconds – from an outside post. There's no horse in this field either talented enough or crazy enough to go there. Third, the Preakness sets up for Authentic's running style – speed horses who seize or stay within 3 ½ lengths of the lead. And fourth, there's no other pace-setter in the field and once Authentic gets the lead, he never loses it. Just like seven-time Preakness winner Baffert has never lost a Preakness with a Derby winner. Say hello to No. 8.