Magnus Carlsen holds the solo lead at the Tata Steel Chess Tournament heading into the final three rounds, but three players are within one point and still hold realistic hopes of catching the World Champion in Wijk aan Zee.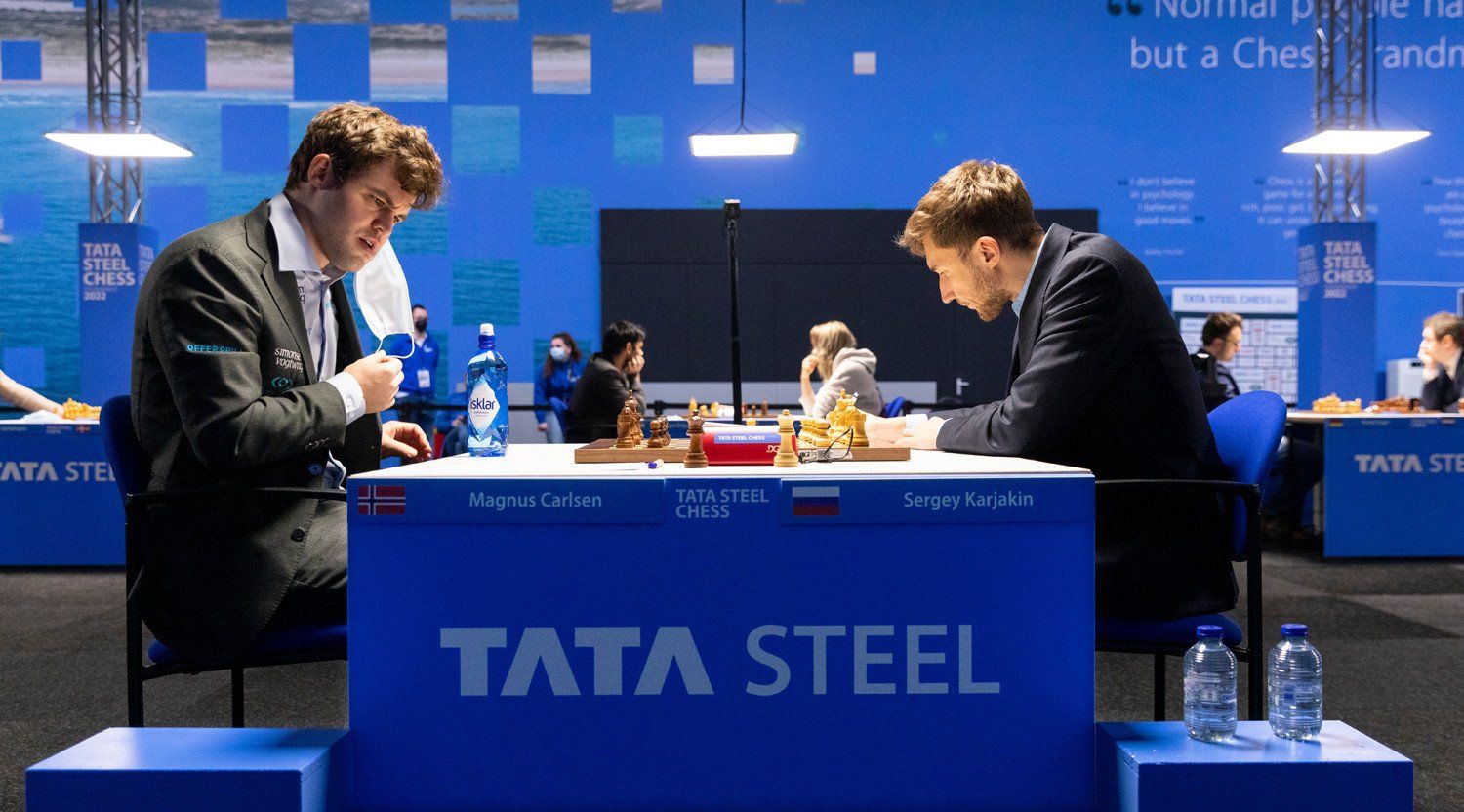 Carlsen held a draw with Black against Sergei Karjakin in Wednesday's Round 10 to stay atop the leaderboard heading into the final rest day.
Carlsen maintains lead with quick handshake
The former World Championship rivals played a tepid game. Neither seemed inclined to press for a win, and they agreed to a draw after just 16 moves.
"It's quite alright considering the tournament standings," Carlsen said afterwards. "I didn't really know what to expect today. I thought he would probably be relatively satisfied with the way the last few rounds had gone and maybe not risk much, but on the other hand, he could have almost caught up with the lead if he'd won, so I expected him to at least try a little bit."
The draw leaves Carlsen on seven points after 10 rounds. The Norwegian sits a half-point ahead of Anish Giri, who also drew Jan-Krzysztof Duda on Wednesday. That ended a streak of four straight wins by Giri, who is attempting to overcome a second-round loss to Carlsen.
Giri had White on Wednesday, but was unable to push Duda. The two traded most of their pieces early and agreed to a draw after 38 moves.
Tata Steel Masters produces four victories in Round 10
While the two highlight games didn't produce much drama, there were four decisive games in the Tata Steel Masters on Wednesday. Three of those victories came with Black: Nils Grandelius and Rameshbabu Praggnanandhaa picked up much-needed wins at the bottom of the table, while Richard Rapport beat Fabiano Caruana in spectacular fashion. Andrey Esipenko also found a win with White over last year's winner, Jorden van Foreest.
"The position is so weird," Rapport said of his victory. "During the game I felt okay, maybe it's somewhat unpleasant, but then he allowed my pawns to advance on the kingside. I got some invisible at least counterplay, and then he just blundered."
Carlsen now rates as the overwhelming -5000 favorite to win the Tata Steel Masters, according to Unibet. But Giri (+700) may still have chances of catching the World Champion. Giri still has games against van Foreest, Grandelius, and Rapport, while Carlsen will arguably face tougher competition against Santosh Gujrathi Vidit, Caruana, and Daniil Dubov.
Outside of the two leaders, only Rapport and Shakhriyar Mamedyarov retain realistic chances of winning the Tata Steel Chess Tournament. Both sit a point behind Carlsen with three games to play. Unibet gives Mamedyarov +1400 odds of winning the event, with Rapport at +2200.