After 16 seasons, Chris Paul will play in his first NBA Finals after the veteran point guard guided the Phoenix Suns to a Western Conference championship by defeating the Los Angeles Clippers in six games.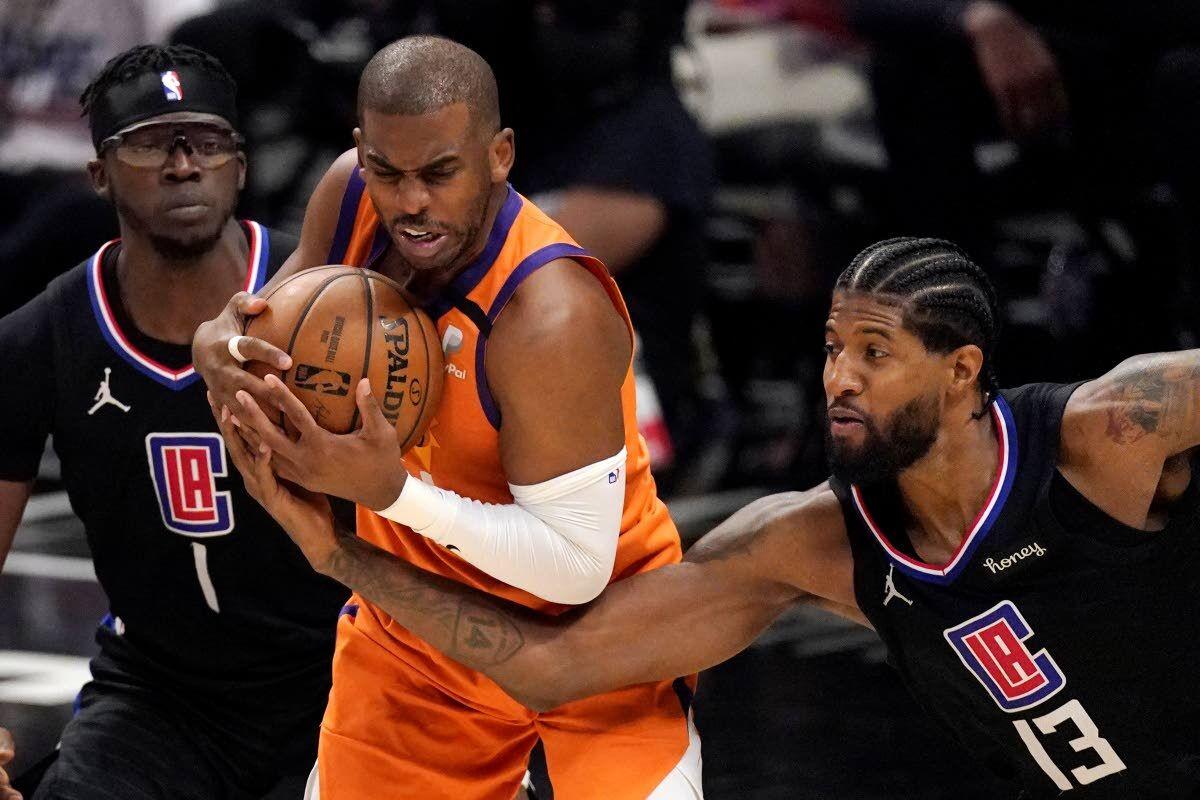 Paul dropped 41 points in the close-out game on the road in Los Angeles, including 19 points in the fourth quarter of Game 6. The Suns coasted to a 130-103 victory to lock up a spot in the NBA Finals.
The Suns will meet the Eastern Conference champion, which will be whoever wins the war of attrition between the Milwaukee Bucks and the Atlanta Hawks. The East finals are deadlocked at 2-2 with both teams missing their star players because of injuries.
The Suns are -200 favorites to win the 2021 NBA championship, according to an update by the Westgate SuperBook in Las Vegas.
Phoenix Suns vs beat-up teams
The Suns secured the #2 seed in the Western Conference playoffs and took advantage of teams that were fighting serious injuries to key starters. In the first round, the Suns knocked out the #7 Los Angeles Lakers in just five games. The Lakers suffered a huge blow when Anthony Davis went down with a groin injury.
In the West semifinals, the Suns swept the #3 Denver Nuggets in four games. The Nuggets were missing Jamal Murray, who blew out this ACL in the last month of the regular season. In the Western Conference finals, the Suns faced the short-handed LA Clippers, who were without Kawhi Leonard after he sprained his ACL in the semifinals.
West to win again?
Since 1999, the Western Conference won the NBA championship 15 times and the Eastern Conference won it seven times. The Golden State Warriors recently snapped off a stellar stretch with three NBA titles in five years between 2015 and 2019.
---
NBA Western Conference Champions (Since 2009)
| | | |
| --- | --- | --- |
| Year | Champions | Win NBA Title? |
| 2021 | Phoenix Suns | TBD |
| 2020 | LA Lakers | Yes |
| 2019 | Golden State Warriors | No |
| 2018 | Golden State Warriors | Yes |
| 2017 | Golden State Warriors | Yes |
| 2016 | Golden State Warriors | No |
| 2015 | Golden State Warriors | Yes |
| 2014 | San Antonio Spurs | Yes |
| 2013 | San Antonio Spurs | No |
| 2012 | Oklahoma City Thunder | No |
| 2011 | Dallas Mavericks | Yes |
| 2010 | LA Lakers | Yes |
| 2009 | LA Lakers | Yes |
---
The Phoenix Suns won the Western Conference twice before, but they're still seeking their first championship after losing in the NBA Finals twice. The Suns fell short of winning a title against the Boston Celtics in 1976. After Charles Barkley joined the Suns, they went up against Michael Jordan's Chicago Bulls in 1993 and lost in six games.
Check out more coverage of the 2021 NBA Playoffs.