The latest chatter on the NBA rumor mill suggests the Los Angeles Lakers would love to acquire Spencer Dinwiddie in the offseason in a potential three-team, blockbuster trade with the Brooklyn Nets and Washington Wizards that also involves All-Star Bradley Beal.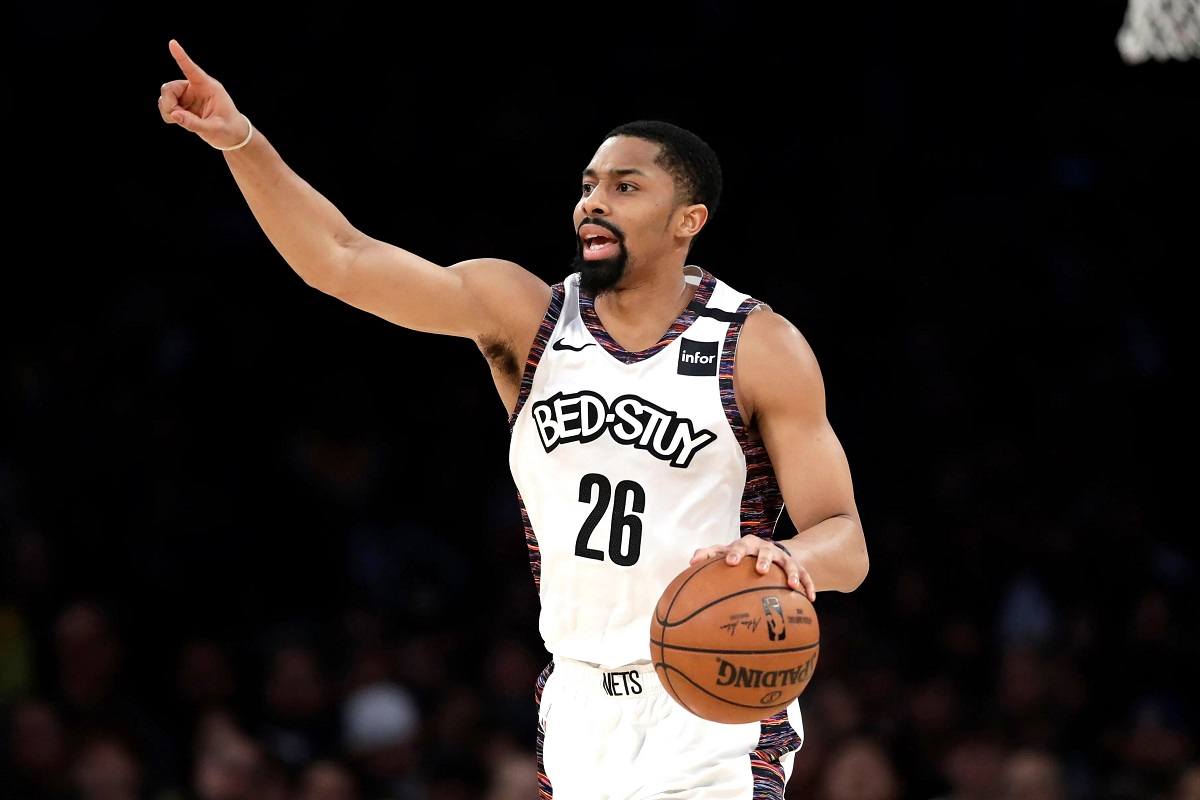 Last week, the NBA rumors focused on a potential trade that the Nets would love to pull off to secure Beal from the Wizards. Beal found himself snubbed at the All-Star Game. Since the snub, Beal went on a scoring heater to move into second place overall in scoring at 30.0 points per game.
Any deal with Beal would have to include Nets guard Dinwiddie to even out salary numbers. If the Lakers get involved for a multi-team trade that would send Beal to the Nets and Dinwiddie to the Lakers, then the Lakers and Nets would have to compensate the Wizards with veterans and draft picks.
Dinwiddie complicated rumors in early March when he tweeted, "I'm coming home." NBA Twitter lost its collective mind without looking at the schedule. Everyone assumed he got traded. But at the time, the Nets were playing the Lakers.
Dinwiddie grew up in Los Angeles as a Lakers fan. He attended Taft High School in the Valley, where he drew interest from Colorado, Harvard, and Santa Clara. Dinwiddie picked Colorado and made a huge splash in Boulder. During his first game as a freshman, Dinwiddie dropped 32 points.
I'm coming home

— Spencer Dinwiddie (@SDinwiddie_25) March 10, 2020
Boulder > Detroit > Brooklyn
Dinwiddie averaged 14.7 points during his junior year at Colorado before he blew out his knee after 17 games. He had season-ending ACL surgery, but still decided to declare for the 2014 NBA Draft.
The Detroit Pistons took a flier on Dinwiddie in the second-round pick with the 38th overall pick.
Dinwiddie struggled in his first couple of seasons in the NBA. He even spent time with the Pistons' G League team in Grand Rapids. The Pistons traded him to the Chicago Bulls in the summer of 2016. The Bulls waived Dinwiddie, who spent time with their G League team. After an impressive short stint with the Windy City Bulls, Dinwiddie signed with the Brooklyn Nets.
In 2016, Dinwiddie joined the Nets as a backup point guard. He finally got some playing time and averaged 7.3 ppg that season.
In 2017-18, he started 58 games with the Nets and averaged 12.6 points and 3.2 assists per game.
Last season, Dinwiddie saw his average jump to 16.8 ppg as a backup point guard. If it weren't for Mr. Sixth Man, Lou Williams, Dinwiddie could have been the NBA's Sixth Man of the Year.
Dinwiddie came into this season expecting to come off the bench as Kyrie Irving's backup. However, various injuries, including a shoulder impingement (which required season-ending surgery), kept Irving out of the lineup. Irving stepped up and filled in as the Nets' leading scoring. He averaged 20.6 ppg and started in 49 of 64 games. He also added 6.8 assists per game.
In late December, Dinwiddie set a career-high when he lit up the San Antonio Spurs for 41 points.