Dame strikes again. The Portland Trail Blazers erased a 17-point deficit with six minutes remaining in the fourth quarter, thanks to 50 points from Damian Lillard and two clutch free throws to ice the game and defeat the New Orleans Pelicans.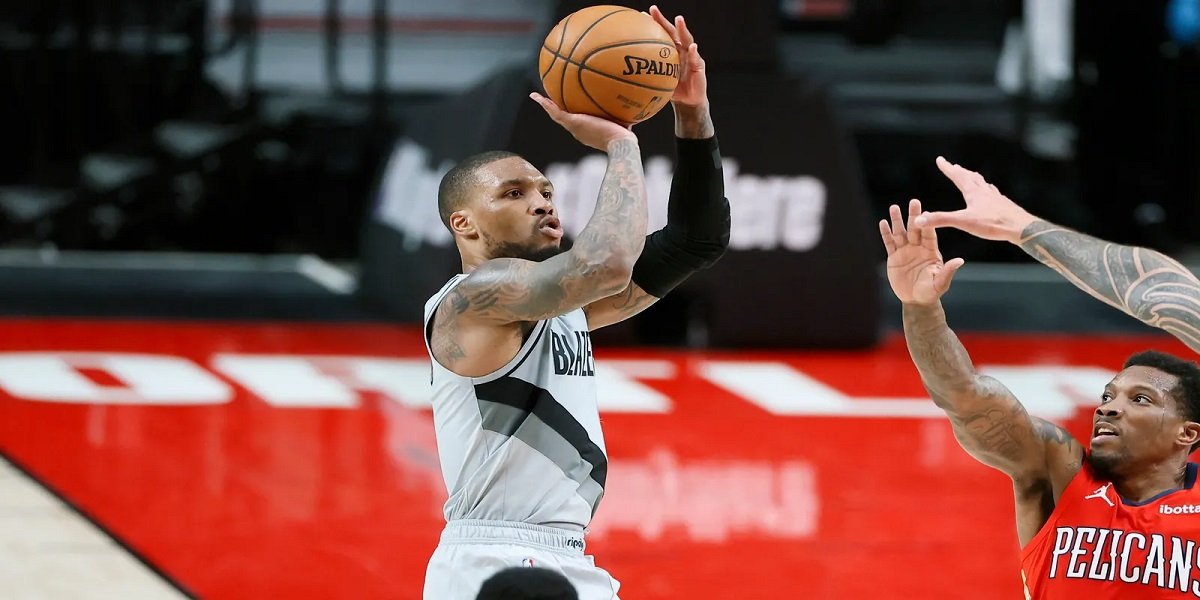 The Portland Trail Blazers improved to 23-16 on the season and currently occupy the #6 playoff seed in the top-heavy Western Conference.
Lillard scored 20 of his game-high 50 points in the fourth quarter. He shot 13-for-20 from the field, including 6-for-13 from 3-point range. He also went a perfect 13-for-13 from the charity stripe to cap off his 50-point night. Overall, Lillard scored 50 points and added 10 assists and six rebounds in the comeback win.
The Blazers were down one point on their final possession and everyone knew that Lillard would shoot. He was fouled by Eric Bledsode with 1.2 seconds on the clock. A calm Lillard stepped to the free-throw line and hit both free throws to put the Blazers ahead 125-124.
"How it happened and the position we were in down the stretch, this will be one I remember," said Lillard in the post-game presser.
Dame spoiled two great performances from the New Orleans Pelicans' dynamic duo. Brandon Ingram scored 30 points and Zion Williamson added 28 on a highly-efficient 11-for17 from the field.
Dame 50
McCollum played his first game since fracturing his foot in mid-January. Head coach Terry Stotts said he would be limiting McCollum's playing time until he's ready to return to his full workload. McCollum started, but played just 26 minutes. He looked rusty, shooting 3-for-11 from the floor, but he scored 10 points in his first game back.
"He continues to do things that are remarkable," said Stotts. "Geez, 50 points and 10 assists, and game-winners, and all the things that he does. I'm never surprised, but I never take it for granted."
Lillard leads the NBA with 124 points in crunch time, which are games decided by five points or less with under 5:00 remaining on the clock. He knocked down more than 60% of his shots in close, late-game situations, including 53.3% from 3-point range. He's also been the Ice Man at the free-throw line with a perfect 38-for-38
"You get better mentally and more confident in it because you've done it so often," added Lillard. "You have the ultimate confidence that it's going in, and I think confidence is the biggest thing for shooters."
Lillard makes scoring look so easy that it resembles a video game like NBA 2K21.
Dame MVP Sleeper?
Lillard averages 30.5 points per game, which is second-best in the NBA behind Bradley Beal (32.3 ppg). He's ranked #4 in PER with 27.20.
Joel Embiid recently passed LeBron James as the betting favorite to win the 2021 NBA MVP. However, Embiid hyper-extended his knee and will miss up to three weeks with a bone bruise. After last night's eruption by Dame, he should be involved in the MVP conversation. Dame gets our vote for MVP, but he's +1800 odds to win it because Portland plays in a sleepy, secondary market compared to Los Angeles or an East Coast metropolis.
You can back the Portland Trail Blazers to win the 2021 NBA Championship at +6000 odds. The way Dame's been playing, and now that they have McCollum back in the lineup, teams want to avoid the Portland Trail Blazers in a seven-game playoff series.
Check out more videos and highlights in our NBA High Guys section.