The Santa Anita Handicap was the race that put Seabiscuit into the Depression-era public conscience. It was the first race offering a $100,000 purse, earning it the nickname "The Hundred Grander," back when that was real money.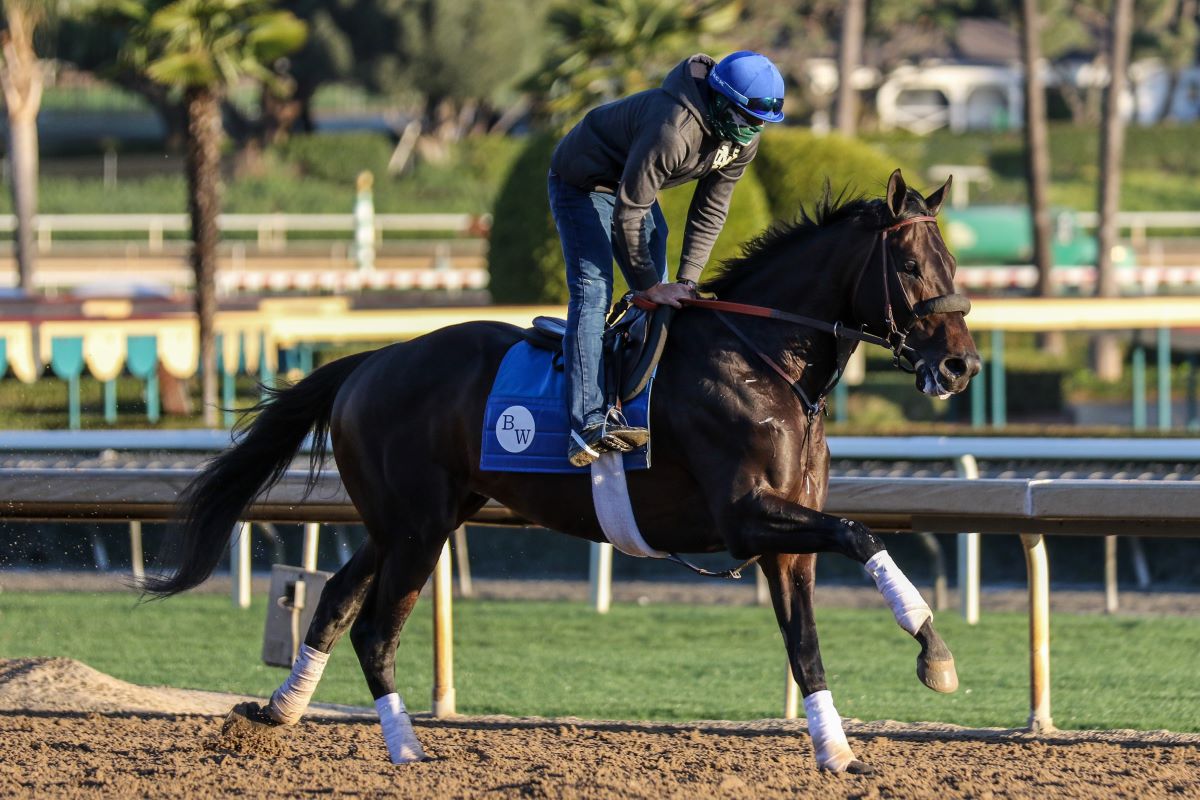 Now, Maxfield is putting the Santa Anita Handicap back on the racing map.
Affectionately known as the "Big 'Cap," the Grade 1 Santa Anita Handicap is one of America's premier races for older horses. It dates to 1935, Santa Anita's first season, and provided the launching point for the immortal Seabiscuit, who lost in photo finishes in 1937 and 1938. He missed the 1939 race due to injury, but finally broke through in 1940, winning in his final race.
More than Laura Hillenbrand's book and the movie coming from it immortalize him. There is a statue of Seabiscuit in Santa Anita's paddock.
Santa Anita Handicap has a Hall of Fame winner's list
There's also one of John Henry, who won two of these (1981-82). Those followed Big 'Cap wins by Affirmed and Spectacular Bid. Ponder that: a four-year span of races won by Affirmed, Spectacular Bid and John Henry.
Go back further and you find Noor, Lucky Debonair, Ack Ack and Triple Bend among its winners. Go forward and there's Alysheba, Best Pal, Tiznow, two-time winner Lava Man and the only three-time winner – Game On Dude.
Lately, however, the Santa Anita Handicap fields suffered due to the big-money late winter/early spring races in Dubai and now, Saudi Arabia. The one-time famous "Hundred-Grander" – with a current purse of $400,000 — seems quaint in an era of $20 million purses in Saudi Arabia or $12 million purses in Dubai.
Maxfield is a big grab for the Big 'Cap
But this year could mark a turning point of sorts. Thanks to unbeaten Maxfield, who ships in from New Orleans for his first Grade 1 outing since he won the Breeders' Futurity in October 2019. He's the 8/5 favorite and will carry top weight in the handicap format of 124 pounds.
Since then, Maxfield's physical issues have been well-chronicled: the ankle chip that cost him seven months after that Breeders' Futurity win. Then, the comeback and subsequent victory in the Matt Winn Stakes, followed by a condylar fracture of his right front cannon bone. That cost the son of 2007 Kentucky Derby champion another seven months – along with his Triple Crown shot.
He returned in mid-December to win the Tenacious Stakes at Fair Grounds, then added the Grade 3 Mineshaft Stakes to his resume last month. That included a rally from 11 lengths back after the first half-mile. That's not exactly uncharted territory for Maxfield, who came from behind in his first three victories.
"He's just a stronger horse now," trainer Brendan Walsh told Santa Anita's Ed Golden. "I think as a 2-year-old, he was a bit immature, maybe not that strong, and that's why he wasn't getting away from the gate super-fast. But that didn't seem to have a negative effect upon him. That said, his last three starts he's been a lot closer to the pace."
Go West, young horse
This field, however, will be one of the best Maxfield has seen, which provided Walsh with a good reason to ship him here. With few high-profile races for older horses on the late winter agenda, Walsh looked west and found exactly what he and Maxfield needed.
"There aren't a lot of Grade 1s for older horses this time of year," Walsh told Santa Anita's Mike Willman. "The timing is good for the horse, the mile and a quarter will be a good test. There were options at home, but this seemed like a good time to ship."
Of course, that means ceding home track advantage to the likes of Express Train (3/1), Independence Hall (4/1), Idol (6/1) and Tizamagician (12/1). Express Train, Tizamagician and Idol went 1-2-3 in the Grade 2 San Pasqual last month.
Independence Hall, Express Train bring form
Independence Hall comes back home after finishing a strong third to Knicks Go and Jesus' Team in the Pegasus World Cup in late January. His questions concern consistency and whether he can handle 10 furlongs.
The start before that, Express Train finished second to Charlatan at 16/1 in the Grade 1 Malibu Dec. 26. Once upon a time, he broke his maiden by 14 ½ lengths, but after a fourth in the 2019 American Pharoah, Express Train took the next 11 months off. Since then, he's returned with two firsts and two seconds in five races.
Grade 1 Santa Anita Handicap/Santa Anita Park
Morning Line (Jockey/Trainer)
Independence Hall, 4/1 (Flavien Prat/Mike McCarthy)
Maxfield, 8/5 (Florent Geroux/Brendan Walsh)
Kiss Today Goodbye, 8/1 (Mike Smith/Eric Kruljac)
Coastal Defense, 15/1 (John Velazquez/Dale Romans)
Express Train, 4/1 (Juan Hernandez/John Shirreffs)
Idol, 6/1 (Joel Rosario/Richard Baltas)
Tizamagician, 8/1 (Drayden Van Dyke/Richard Mandella)
King Guillermo, 12/1 (Abel Cedillo/Juan Carlos Avila)
On the other end of the shipping odds list from Maxfield are Coastal Defense (15/1) and King Guillermo (12/1). That's right, last year's Tampa Bay Derby winner and game runner-up to Nadal at the Arkansas Derby seeks a return to that form. In his last two races, he finished fourth by 12 ¼ lengths to True Timber in the Cigar Mile, then dead-last in the San Pasqual by 21 ¾ lengths.
This is a make-or-break race for the one-time Kentucky Derby prospect, who has struggled against older horses.
The pick: Express Train. We'll try to beat Maxfield – something that hasn't been done by horse or human – with a horse making his third start off a layoff on a familiar track. That's when horses often find their best form. Even as the expected second choice, you'll find this horse at far better value than you'll find Maxfield.