This weekend's stakes lineup features one of the most iconic races in American horse racing, the Santa Anita Handicap. But even that event, technically Santa Anita Park's Saturday headliner, may get overshadowed on its own card by a Grade 2 Kentucky Derby prep, the San Felipe Stakes.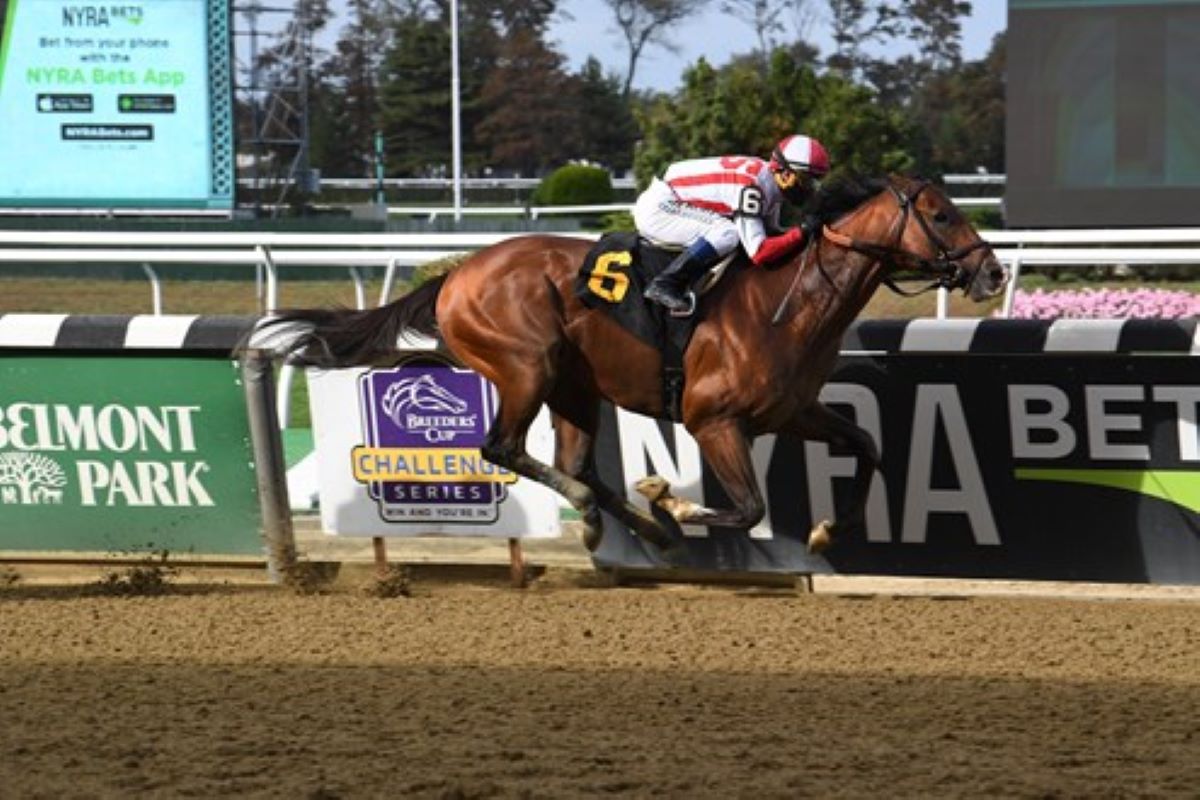 Featuring two of Bob Baffert's top 3-year-old prospects, Life Is Good and Medina Spirit, the San Felipe is one of three Derby preps on the weekend stakes slate. All three, the San Felipe, the Grade 2 Tampa Bay Derby at Tampa Bay Downs, and the Grade 3 Gotham at Aqueduct, bring 50 points to the winner.
Santa Anita and Tampa Bay Downs grab the bicoastal stakes attention this weekend. The Santa Anita Handicap dates to 1935 and carries a winner's list that includes Seabiscuit. The "Big 'Cap," however, suffered recently due to the Saudi Cup beforehand, and the Dubai World Cup afterward.
This year, it brings one of its strongest fields in years. That's largely courtesy of Maxfield, who ships in from Fair Grounds looking for his sixth victory in as many races. He comes in off winning the Grade 3 Mineshaft Stakes at Fair Grounds last month.
Santa Anita takes weekend stakes center stage
That's not Santa Anita's only Grade 1 this weekend. The Frank E. Kilroe Mile, another venerable event, turns loose Smooth Like Strait and Ride A Comet on the Santa Anita turf.
The Tampa Bay Derby undercard features the Grade 2 Hillsborough and the Grade 3 Challenger, which brings us yet another Tax and Math Wizard battle.
The weekend stakes lineup also offers two Kentucky Oaks preps, including the Grade 3 Honeybee at Oaklawn Park and the Listed Stakes Busher at Aqueduct.
OG News takes a closer look at this weekend's selected races.
Saturday
Grade 1 Santa Anita Handicap/Santa Anita
Unbeaten Maxfield makes his West Coast debut in this 1 ¼-mile classic for 4-year-olds and up. This deep field offers Express Train and Tizamagician, who went 1-2 in the San Pasqual last month. Independence Hall, who finished third in the Pegasus World Cup, and Coastal Defense, who finished sixth, will be there. And there's King Guillermo, looking for redemption after finishing a miserable fifth in the San Pasqual.
Grade 2 San Felipe Stakes/Santa Anita
Baffert could send three horses into this 1 1/16-mile Derby prep. Life Is Good and Medina Spirit figure to suck up most of the betting interest, especially since Life Is Good is one of the Derby futures favorites (7/1 at Circa Sports, 9/2 at William Hill Nevada). Stablemate Hozier, who broke his maiden in a February race at this distance, could join them. Waiting for the Baffert bunch is The Great One, a 14-length, last-out winner, along with Roman Centurian and Dream Shake. Roman Centurian lost in a photo to Medina Spirit in the Robert B. Lewis. Dream Shake vaults from a maiden special weight win to a Grade 2.
Grade 2 Tampa Bay Derby/Tampa Bay Downs
Tampa Bay Downs' marquee event features Sam F. Davis winner Candy Man Rocket, riding a two-race winning streak. Waiting for him in this 1 1/16-mile Derby prep is Hello Hot Rod, who brings in a three-race winning streak, and Helium, who was unbeaten in two 2020 races. Sittin On Go seeks the form that brought him the Grade 3 Iroquois, and not the form that brought him a sixth in the Holy Bull. Keep an eye on Promise Keeper, last seen breaking his maiden by five lengths at Gulfstream.
Grade 3 Gotham/Aqueduct
Welcome Highly Motivated back to the Derby trail for this mile prep. The last time we saw this Chad Brown Derby prospect, he was setting the track record at Keeneland. That came in a 4 ¼-length dissection in a race on the Breeders' Cup undercard. The last time we saw Baffert's Freedom Fighter, he was finishing a gritty second to stablemate Concert Tour in the Grade 2 San Vicente. Joining Freedom Fighter on the shipping trail east is Doug O'Neill's Wipe The Slate. And Jerome Stakes winner Capo Kane returns after finishing third in the Grade 3 Withers
Grade 1 Frank E. Kilroe Mile/Santa Anita
This turf tussle begins with Ride A Comet, who brings a three-race winning streak to the proceedings. He was last seen winning the Listed Stakes Tropical Turf in January. Smooth Like Strait was last seen winning the Grade 2 Twilight Derby after winning the Grade 2 Mathis Brothers Mile. Social Paranoia, who finished fourth in the Pegasus World Cup Turf, will also join the fray.
Grade 3 Honeybee/Oaklawn
This 1 1/16-mile Oaks prep features the 1-2 finishers from the Martha Washington. Those would be Will's Secret, who beat favorite Coach by 5 ½ lengths. Oliviaofthedesert makes her eighth start on her sixth track, coming off a win in the Listed Stakes Trapeze at Remington Park. She and Will's Secret are two of the five entries coming in off victories.
Grade 3 Challenger/Tampa Bay Downs
Tax and Math Wizard are two of the most frustrating horses for bettors. Tax goes from winning the Grade 3 Harlan's Holiday in December to finishing 10th in the Pegasus World Cup. Math Wizard finished fourth in the Harlan's Holiday, but beat Tax by a half-length in the Pegasus. He hasn't won since prevailing in the Pennsylvania Derby in September 2019. Then, there's Modernist, who hasn't run since finishing fifth in the Grade 3 Peter Pan last summer.