Skippylongstocking opened his career 1-for-7. He couldn't crack 88 on the Equibase Speed Figure chart and went into Saturday's 154th Belmont Stakes one of two double-digit long shots with his 11.80/1 surpassed only by Golden Glider's 14.60/1.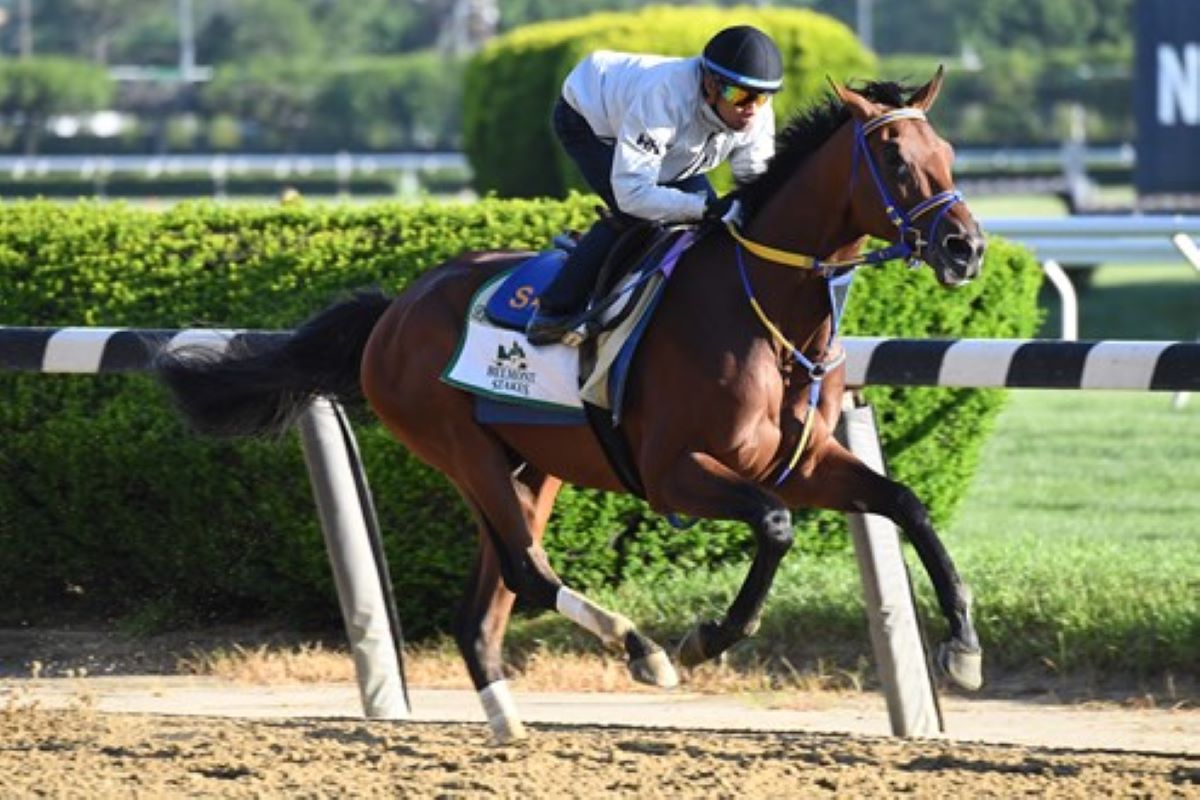 Now, he's a Triple Crown-placed colt.
The son of 2016 Preakness Stakes winner Exaggerator outran his odds Saturday. With one furlong to go in the 1 1/2-mile Belmont, Skippylongstocking was a head behind leader We the People. He lost ground in the stretch, falling to fourth at the call. But Skippylongstocking rallied to finish third behind Todd Pletcher's exacta duo of Mo Donegal and Nest. Jockey Manny Franco brought him home 6 1/4 lengths behind winner Mo Donegal.
"Manny gave him a perfect trip and he gave a very good run yesterday," trainer Saffie Joseph Jr. told the New York Racing Association on Sunday. "At one point, we thought he might have had a chance of winning it, but there was no disappointment. It was all joy with how he ran."
Skippylongstocking improving with better competition
The most experienced horse in the Belmont, with 10 races going in, Skippylongstocking's third was only his sixth in-the-money finish. But since that 1-for-7 start, the colt has enjoyed a resurgence. He won an early March allowance optional claimer at Gulfstream Park by nearly four lengths. That victory came with a career-best 102 Equibase Speed Figure.
It also jump-started him to a third in the Grade 2 Wood Memorial behind Mo Donegal and Early Voting, who won two of the Triple Crown's three legs. A fifth in the Preakness followed.
"He's a horse that's had a tough campaign and he's very sturdy," Joseph said. "He's shown up and has been consistent. He keeps improving and getting better. There's no disgrace in running third to Todd. We're thankful for the effort and how Skippy performed."
Joseph getting realistic about his charge's class
Nor is there any disgrace in what Joseph has planned next for Skippylongstocking. He's going to throttle back the colt's competition level, eyeing either the July 29 Curlin Stakes at Saratoga or the Aug. 6 Grade 3 West Virginia Derby at Mountaineer Park.
The goal: get Skippylongstocking a stakes score.
"We'll give him a freshening, and the crazy thing is, he's never won a stakes, so the Curlin could be possible. The West Virginia Derby is a realistic target," Joseph said. I'd like to win one of these derbies with him. I would say that's the main target, but how do we get there? Do we go straight there or something before? We'll decide later."
What's already decided is that Skippylongstocking is a money maker. He cost owner Daniel Alonso $37K at the 2021 OBS Spring Sale of 2-Year-Olds in Training. With his $150K Belmont haul, Skippylongstocking sits at career earnings of $364,600.