What's a better way to celebrate the Christmas spirit than with five consecutive NBA games? The NBA released its Christmas Day schedule with a quintuple-header featuring the Atlanta Hawks at New York Knicks, Boston Celtics at Milwaukee Bucks, Golden State Warriors at Phoenix Suns, Brooklyn Nets at Los Angeles Lakers, and Dallas Mavericks at Utah Jazz.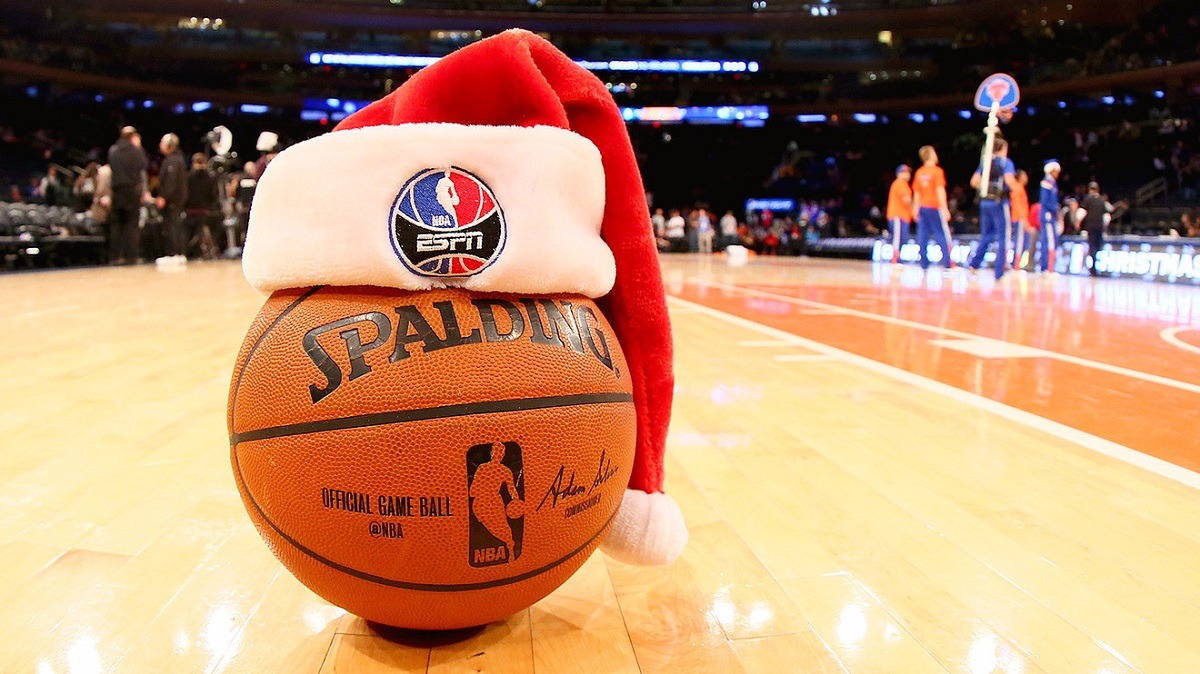 The NBA and the suits running the networks are ecstatic with Christmas falling on a Saturday in 2021. They have five games to promote the NBA's biggest batch of stars, including a new budding rivalry between Trae Young and the Hawks, and the Knicks to tip-off the Christmas festivities.
---
Christmas Day NBA Opening Lines
| | |
| --- | --- |
| Atlanta Hawks at New York Knicks | NY -1 |
| Boston Celtics at Milwaukee Bucks | MIL -8 |
| Golden State Warriors at Phoenix Suns | PHX -3.5 |
| Brooklyn Nets at LA Lakers | LA -1.5 |
| Dallas Mavericks at Utah Jazz | UT -5.5 |
---
The Brooklyn Nets and LA Lakers are the top two favorites to win the 2022 NBA championship, so scheduling them as the primetime matchup makes a lot of sense. LA's new Big 3 with LeBron James, Anthony Davis, and Russell Westbrook will host Brooklyn's Big 3 of Kevin Durant, James Harden, and Kyrie Irving.
Luka Doncic recently signed a super-max contract extension with the Dallas Mavericks. The Slovenian wunderkind will provide global audiences a chance to see their hero cap off the Christmas quintuple-header, albeit in the wee hours on Boxing Day in Europe.
The NBA will feature five games on Christmas Day (Saturday, Dec. 25) for the 14th year in a row, with ESPN or ABC televising each matchup. pic.twitter.com/IEvOgFkXCQ

— NBA Communications (@NBAPR) August 17, 2021
Knicks return to Christmas
In the 1980s, the NBA began its tradition of Christmas Day games, and the Knicks were the perennial hosts. Over the years, Christmas Day games expanded to a doubleheader, then a tripleheader, and a quadruple-header before the NBA created a five-game bacchanalia of basketball in 2007.
In recent years, with the Knicks stinking up the league, the league removed them from the Christmas jamboree. Networks agreed that the crappy Knicks made for bad TV. However, the revitalized Knicks surprised the league last season by securing the #4 seed in the Eastern Conference playoffs. With the Knicks good again, the NBA rewarded them with a home game on Christmas. The Knicks/Hawks tip-off the quintuple-header at noon ET.
Fans will also get to see the return of Young to MSG. During the opening round of the playoffs, Young became the newest villain after the Hawks eliminated the Knicks from the postseason. Young returns to MSG on Christmas, much to the delight of boisterous Knicks fans, which should make the first game of the quintuple-header must-see TV.