Doug O'Neill already has two of these Kentucky Derbies on the mantle, both with colts he planned on taking to Churchill Downs —  I'll Have Another and Nyquist. But when Hot Rod Charlie came to his Santa Anita Park barn as a $110,000 yearling purchase, the trainer looked at his pedigree, then scratched his head.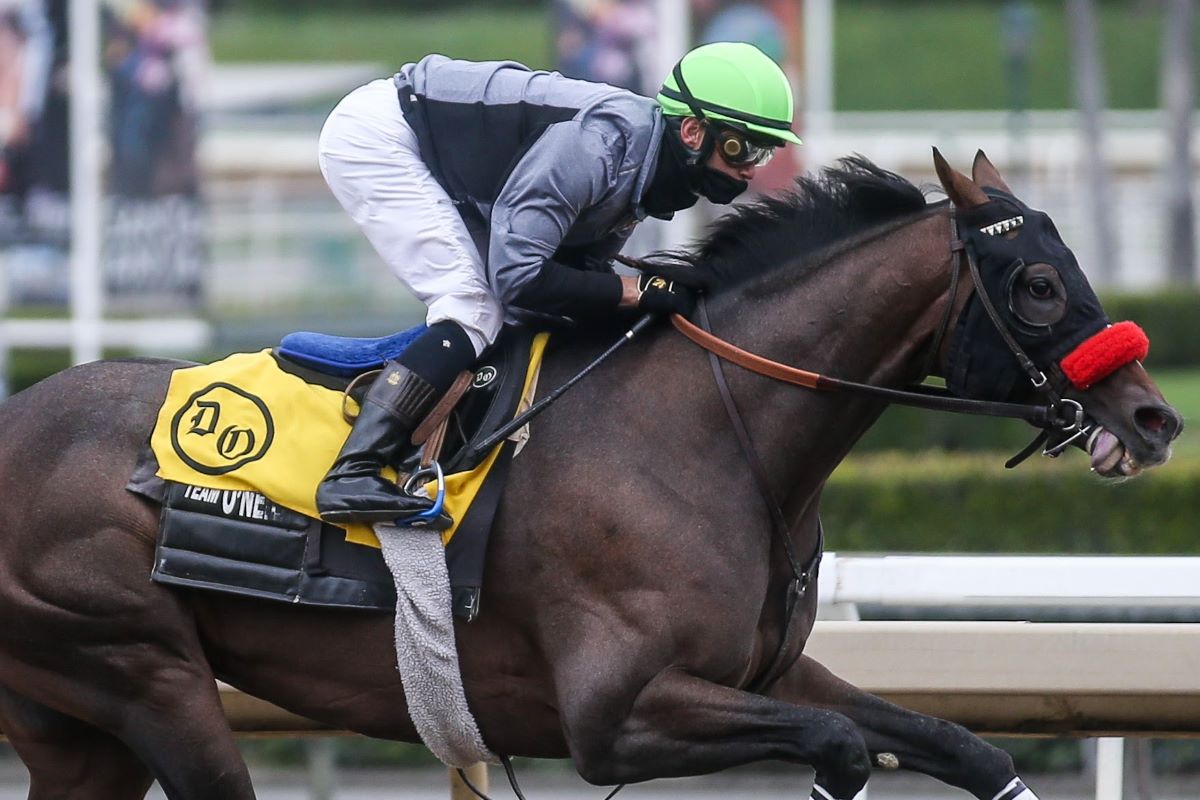 Was Hot Rod Charlie a sprinter? After all, he's the half-brother to Mitole, one of the best sprinters of his generation: the Champion Male Sprinter of 2019. Or was he a router? After all, his father is Oxbow, the 2013 Preakness Stakes winner.
This required further study on O'Neill's part. Study made easier by Hot Rod Charlie's genial, sociable nature. And study made easier by the fact his nephew, former Brown University football player Patrick O'Neill, heads one corner of the three-corner consortium owning the horse.
"He's such a talented colt. He's a tall, rangy colt," O'Neill said on a National Thoroughbred Racing Association call last week. "He's a half-brother to Mitole, which would make you think, 'Maybe he's a one-turn dynamite sprinter.' But as we've got to know him, and he's got to know us, he's told us with blinkers on (that) he's a two-turn (dirt) horse."
Hot Rod Charlie is a router — of this, we know
Hot Rod Charlie will advertise that status from post 9 in Saturday's 147th Kentucky Derby. He'll advertise this as the 8/1 morning-line fourth choice. This further illustrates Hot Rod Charlie's status as a two-turn dirt horse is no longer up for debate.
Not after the colt parachuted into Louisiana and impressively made off with the Grade 2 Louisiana Derby title. This came not two months after Hot Rod Charlie fell into the back end of a three-way photo finish with Medina Spirit and Roman Centurian in the Robert B. Lewis at Santa Anita.
That in turn, came 2 ½ months after Hot Rod Charlie advertised himself as an up-and-comer. This came by pushing eventual winner Essential Quality to the wire in the Breeders' Cup Juvenile – at 94/1.  And that, in turn, came a month after he broke his maiden at Santa Anita, beating Parnelli by a neck.
O'Neill understood what he had after that maiden-break
Hot Rod Charlie took four tries to break his maiden, but once he did in that October race, he hasn't missed the board since. This explains how the $110,000 yearling is now a millionaire, one of two in the field. Unbeaten 2/1 favorite Essential Quality is the other.
"It took us a little while to get on the same page with him, but he's just a real sociable colt," O'Neill said. "He's just a huge asset to our barn, obviously, and he's shown his maturity in shipping to places like Kentucky already. At Keeneland, for the Breeders' Cup, and then, shipping to Louisiana."
That Louisiana ship turned out to be the race that put Hot Rod Charlie into another gear, and onto the Derby hot-list. The Louisiana Derby hasn't been a top-shelf Derby predicting prep. Country House's asterisk-wearing victory two years ago was the last time a Louisiana Derby alum found the Derby winner's circle. Before that, you had to go back to Grindstone in 1996.
Four Louisiana Derby alums in the Derby field
Anyone watching Hot Rod Charlie dismissing a field that sent its top three finishers – along with sixth-place beaten favorite Mandaloun — to Churchill Downs, saw an eye-opening race. Hot Rod Charlie seized the lead just past the quarter pole and never relinquished it. He entered the stretch a half-length ahead of Midnight Bourbon. He crossed the wire two lengths clear.
Hot Rod Charlie's 99 Beyer Speed Figure ranks second in this field, trailing only Santa Anita Derby champion Rock Your World's 100. Along with that comes the not-insignificant fact the Louisiana Derby is 1 3/16 miles. This means Hot Rod Charlie won the longest Derby prep on the Kentucky Derby Trail, only a half-furlong shorter than the Derby's 1 ¼ miles.
Joel Rosario rode Hot Rod Charlie to that Louisiana Derby win. Flavien Prat, the West Coast's top rider, has the reins for the Derby. With Rosario pondering which horse he'd saddle — Concert Tour (since exited), Rock Your World, or Hot Rod Charlie, O'Neill wasted no time getting Prat aboard. It's not like this is a downgrade. Not with Prat.
O'Neill would love to 'have another' Derby
"We were going to be in great shape if we have Joel or Flavien. We just want to make sure we have one of them," O'Neill said. "And Flavien was able to commit, so we jumped on that."
Prat in the irons of one of the fastest, most proven colts in the field. All this explains why O'Neill gushed about Hot Rod Charlie on Thursday. When one of Churchill Downs' notes team saw him Thursday morning, O'Neill wasted less time answering his question than he did in enlisting Prat's services.
"I'm happy with him. In fact, I'm very happy," he said.