After rampant speculation, the Tampa Bay Buccaneers' All-Pro tight end Rob "Gronk" Gronkowski officially announced his NFL retirement via Instagram, passing on suiting up for another season with his good friend Tom Brady.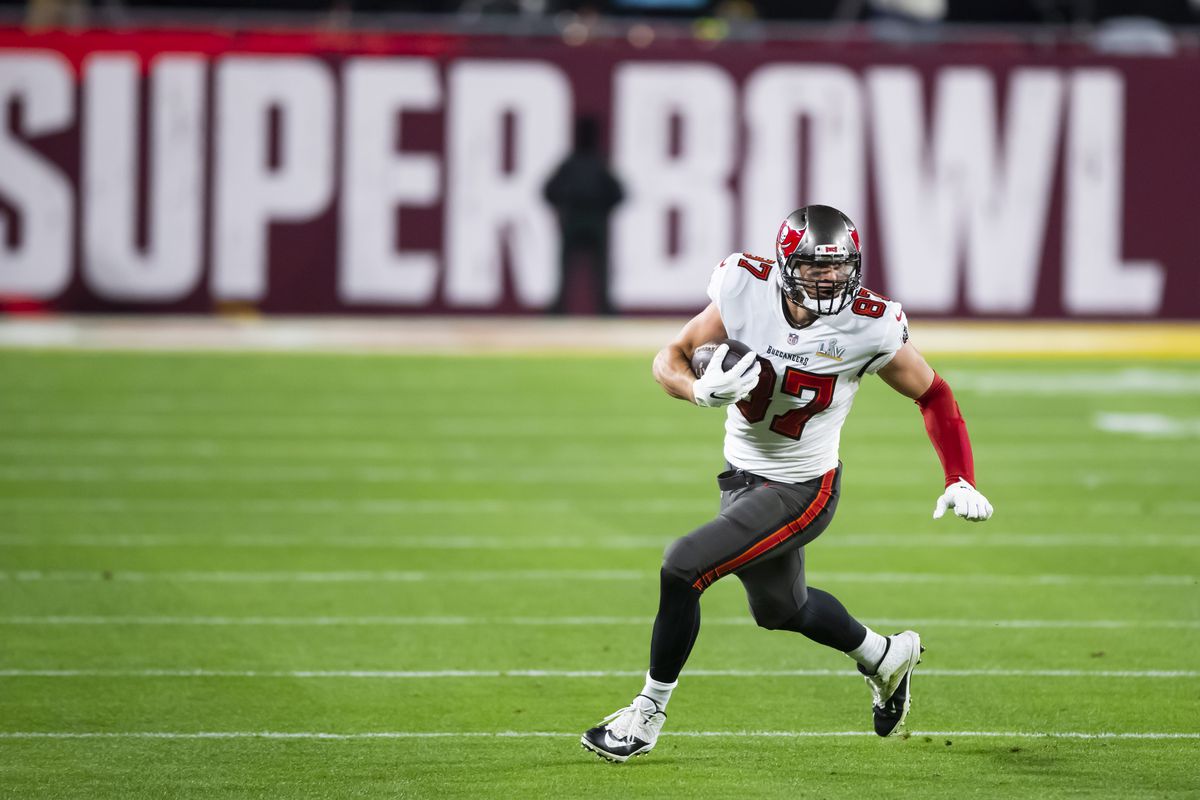 Gronk, who turned 33 in May, played the last two seasons with the Bucs after spending nine seasons with the New England Patriots between 2010 and 2018.
"I want to thank the whole entire first-class Buccaneers organization for an amazing ride, trusting me to come back to play and help build a championship team," Gronkowski posted on Instagram. "I will now be going back into my retirement home, walking away from football again with my head held high knowing I gave it everything I had, good or bad, every time I stepped out on the field."
Gronk initially retired after the 2018 season. When Tom Brady signed with the Tampa Bay Bucs in 2020, the QB cajoled Gronk out of retirement.
"The friendships and relationships I have made will last forever, and I appreciate every single one of my teammates and coaches for giving everything they had as well," added Gronk. "From retirement, back to football and winning another championship, and now back to chilling out, thank you to all."
The Bucs are +700 odds to win Super Bowl 57 next season.
Gronk almost Bills Mafia
At the end of the postseason, all signs pointed to Brady and Gronkowski retiring after spending two seasons together with the Bucs. However, there was a strong rumor that Gronk could sign with the Buffalo Bills next season because the Gronkowski clan had strong ties to Buffalo where Gronk and his brothers grew up.
However, a few weeks after Brady rushed into retirement, he un-retired and returned to the Bucs. Gronkowski needed more time to think about his future, but heavily leaned toward retirement.
Gronkowski initially retired prior to the 2019 season after winning three Super Bowls with the New England Patriots. At the time, he nursed multiple series injuries and decided it was time to hang up the shoulder pads after a spectacular run with Brady, Bill Belichick, and the Patriots.
When Brady bolted to the Bucs in free agency prior to the 2020 season, he persuaded Gronkowski to end his retirement. At the time, Gronk admitted he was bored with retirement and fully healed from injuries that prematurely ended his playing career.
Gronk retirement 1.0: Singing tiger, WWE champ
During his first retirement, the legend of "Gronk" lived on while Gronkowski gushed about the healing properties of CBD products. At the time, the NFL had a hard-liner stance against marijuana and marijuana byproducts, such as THC and CBD oil. Instead of gobbling fistfuls of painkillers, Gronk became an advocate of CBD products, which dulled the pain associated with the rough and tumble life of an NFL tight end.
Gronkowski also participated in reality TV, including "The Masked Singer," where he donned a white tiger costumed and performed karaoke during the third season of the popular series. Wrestling fans, meanwhile, were treated to a Gronk cameo at WrestleMania 36. He won the WWE 24/7 Championship, but his reign was short-lived after R-Truth defeated him two months later.
After one season in retirement, Gronkowski returned to the NFL after signing with the Tampa Bay Bucs. He always said that he would only play with one quarterback, aka Brady, and that Brady — and only Brady — could ever convince him to return to the gridiron.
Gronk stats
In nine seasons with the Patriots, Gronkowski appeared in 115 games. He caught 521 passes for 7,861 yards and 79 touchdowns. He also added one rushing touchdown.
In two seasons with the Bucs, Gronkowski started 28 games. He caught 100 receptions for 1,425 yards and 13 touchdowns.
Over his 11-season career, Gronkowski caught 621 passes for 9,286 yards and 92 touchdowns. He played for the Super Bowl champion four times, including three with the Patriots (2014, 2016, 2018) and one with the Bucs (2020).
Gronk finishes his career third on the all-time touchdown list from tight ends. Only Antonio Gates (116) and Tony Gonzalez (111) scored more touchdowns than Gronk (93). If you count postseason touchdowns, Gronkowski has 108 total TDs.
Brady-Gronk TD's will NEVER get old pic.twitter.com/D9kKbq3e47

— Boston Diehards (@Boston_Diehards) December 26, 2020