California Split, directed by Robert Altman in 1974, is a popular gambling film and poker movie that eloquently captures the dodgy gambling world set in California in the early 1970s. Elliot Gould and George Segal play Charlie and Bill, a pair of action gamblers and poker players, who embark on a tumultuous gambling binge that includes poker, sports betting, roulette, blackjack, and craps.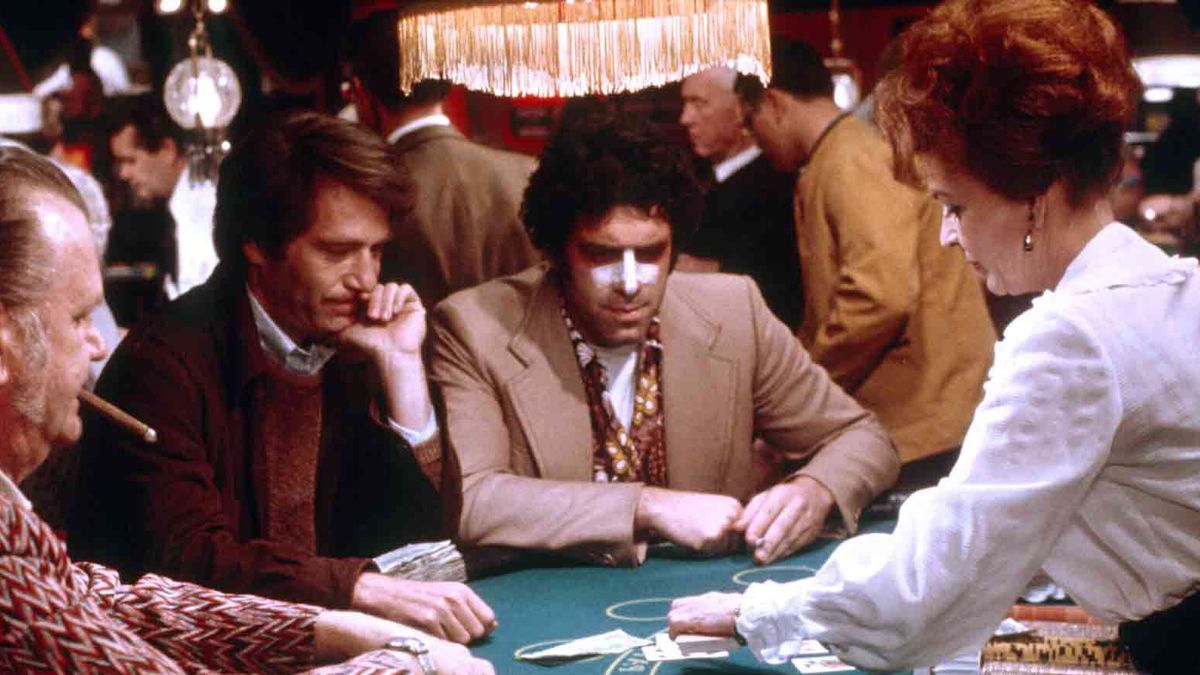 California Split is known as one of Altman's lesser-known films in his stunning oeuvre as a director, which includes M*A*S*H, Nashville, and The Player. Even though its set nearly 50 years ago, gamblers still consider California Split one of the greatest movies and most realistic films about the life of a gambler.
"He's taken us into an American nightmare, and all the people we met along the way felt genuine and looked real," penned Roger Ebert in his review in the Chicago Sun-Times.
---
Release: August 1974
Produced by: Joseph Walsh and Robert Altman
Written by: Joseph Walsh
Directed by: Robert Altman
Distributed by: Columbia Pictures
---
After spending time playing poker in different card rooms in SoCal, including at the Gardena, screenwriter Joseph Walsh penned the screenplay for California Split about two guys who developed a deep connection and friendship over their hankering for gambling action.
Columbia Pictures made California Split for a budget of $5 million.
Altman films are known for overlapping dialogue with characters talking over each other. It can be a sound editing headache, but California Split utilized a then state-of-the-art 8-track sound recording that allowed eight different simultaneous tracks.
The Plot: Tale of Two Gamblers
Altman blends genres with a gambling movie disguised as a buddy comedy. Uptight and super-square Bill Denny (Segal) holds down a boring day job at a magazine in Los Angeles. Bill plays poker to liven things up. Bill meets Charlie Waters (Gould), a dope-smoking degenerate gambler, at the tables and the two hit it off. After the two are mugged, they seek first aid at the apartment of local call girls who are Charlie's acquaintances.
Bill's late nights playing poker have put his job in jeopardy. After a rough run betting basketball, he borrows money to pay his bookie. It doesn't take Charlie much to persuade Bill that the only way he's really going to get out of deep debt is to bet bigger and more often.
During their gambling benders, Bill and Charlie visit a racetrack to wager on a horse, bet on local boxing fights, gamble on the NBA, play poker, and engage in wild prop bets. At one point, Charlie returns from a gambling sojourn to Tijuana, Mexico, to gamble at their dog track.
In one of the funniest scenes in California Split, a drunken Bill and Charlie degen it up trying to bet on if they can remember the names of all of the Seven Dwarfs from Snow White.
My favorite scene is when Charlie hustles high school kids in the schoolyard during a pick-up basketball game. After playing badly on purpose, the kids bet him all the money in their pockets that Charlie can't beat one of them in a one-on-one game. Charlie destroys them.
Degens are Gonna Degen
Bill sells some of his most valuable possessions, including his car, in order to roll up a stake for a trip to Reno, Nevada. In Reno, he intends to take a shot in a nose-bleed poker game where they play $40/$80 Stud Lowball. Bill knows he can beat those stakes.
"Tough game, tough action!" said Charlie. "Lumberjacks. Cowboys. A lot of rich guys. Tough game."
With less than $3,000 combined, the two board a Greyhound bus to Reno. On the rail of the big game, the two size up everyone at the table and go over a quick game plan. Despite being over his head with Amarillo Slim at the table, Bill buys in for $2,000. He thrives and cashes out $18,000.
Bill and Charlie head to the tables in the gambling pit, where they go on a heater shooting dice, playing blackjack, and betting on roulette.
With more than $80,000 won during this epic hot streak, an exhausted and emotional wrought Bill decides he's had enough of living life in the fast lane. Bill splits the $80,000 score with Charlie and heads home. We don't see it, but we all know Charlie will gamble the remainder of his share.
If you account for inflation, Bill's $80K score at the end of California Split is worth more than a half-million bucks in 2021 dollars.
California Split: Did You Know?
Poker scenes were filmed on a sound stage in Hollywood, which replicated the Gardena poker room on the outskirts of LA.
California Split includes a cameo from poker pro Amarillo Slim, who played himself in the high-stakes poker scene.
Screenwriter Joseph Walsh and Steven Spielberg are close friends. Walsh and Spielberg worked together on the first couple of drafts of the script, and Walsh wanted Spielberg to direct the film.
---
Bill Denny (George Segal)
Charlie Waters (Elliot Gould)
Amarillo Slim (Himself)
Barbara Miller (Ann Prentiss)
Susan Peters (Gwen Welles)
Lew (Edward Walsh)
Sparkie (Joseph Walsh)
Helen Brown (Bert Remsen)
Lloyd Harris (Jeff Goldblum)
---
Walsh originally brought the screenplay — then titled Slide — to MGM Studios, who wanted to make the film with Steve McQueen in the starring role. The deal fell apart when MGM insisted the entire film take place at Circus Circus in Las Vegas.
Walsh's agent sent the script to Robert Altman, who adored the idea about the California gambling scene. With Altman attached to direct, Columbia Pictures greenlit the project. Altman and execs changed the title from Slide to California Split.
George Segal was the first actor cast in the main role of Bill. For the super-degen role, Altman considered Robert DeNiro and Peter Falk before Elliot Gould won the part of Charlie.
Showtime and Todd Phillips kicked around an idea about developing California Split into a series, but that was before the pandemic.
Other Gambling and Sports Movies
We've reviewed a bunch of sports films, including numerous baseball movies.
If you like gambling movies, check out Uncut Gems (2019) with Adam Sandler.