The Gonzaga Bulldogs are two wins away from winning March Madness and finishing the season with an undefeated record at 32-0. Gonzaga entered the tournament as the consensus favorite to win March Madness and, heading into the Final Four against #11 UCLA, the top-seeded Zags are -250 odds to win their first NCAA men's college basketball championship.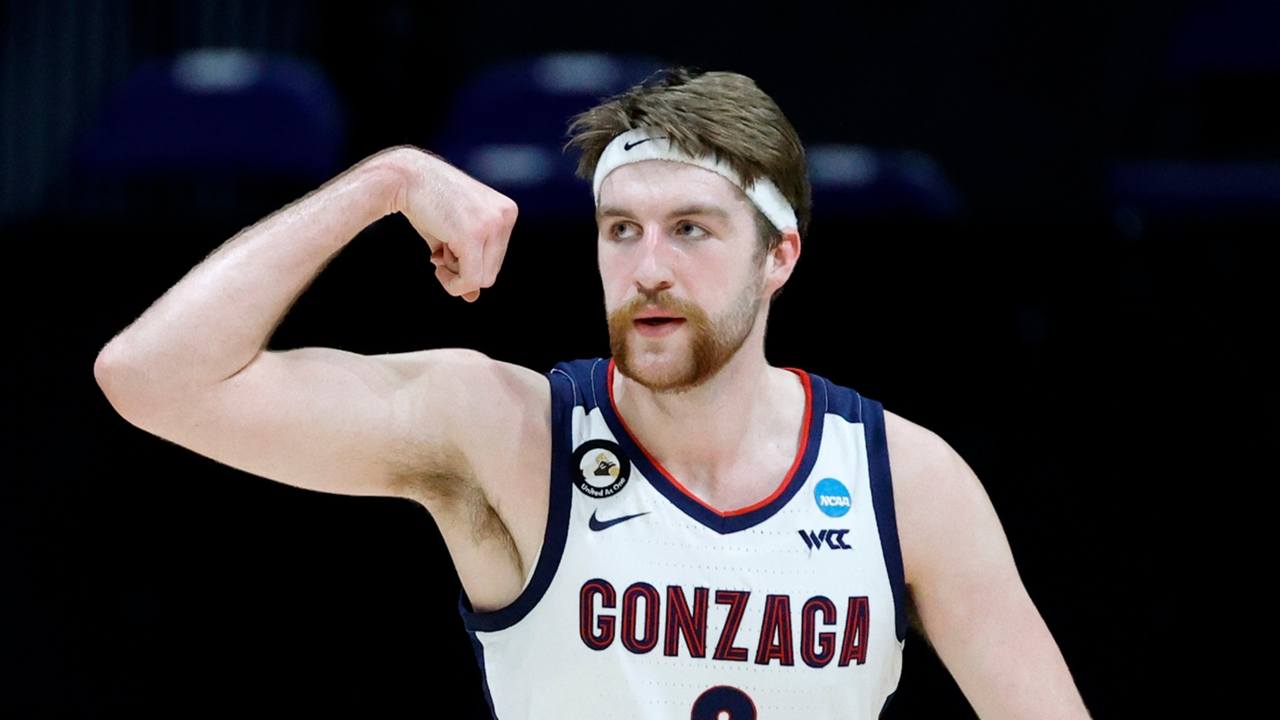 Since 1979, four other teams entered March Madness with an undefeated record, but all four of those teams faltered in the tournament. That list of excellent teams includes Larry Bird's Indiana State (1979), Jerry Tarkanian's UNLV (1991), Fred VanVleet's Wichita State (2014), and Kentucky (2015), which produced a trio of future NBA stars.
Gonzaga is the fifth undefeated team to take a shot at finishing the season without a blemish.
---
#11 UCLA Bruins (30-0) vs #1 Gonzaga Bulldogs (22-9)
Tip-off: April 3 at 8:34 pm ET
Point Spread: GON -14
Over/Under: 145.5
Money Line: GON -1200 / UCLA +775
---
The 1975-76 Indiana Hoosiers were the last championship team to finish the season with a perfect record. In the last 50 years, so much has changed in college basketball that's it's been near impossible to dominate the season from start to finish. Gonzaga has a shot to pull off a rare feat, but it won't be easy with #11 UCLA awaiting them in the Final Four.
The Cinderella UCLA Bruins almost bubbled March Madness this year, but secured a spot in the tournament via a play-in game for the #11 seed. UCLA went from the First Four to the Final Four, which had never been done before.
PacNW Pressure Cooker
Gonzaga barely broke a sweat in the tournament this year. They now face a difficult opponent with a never-say-die mentality. UCLA won two overtime games en route to the Final Four. They already picked off a #1 and #2 seed to win the East Regional, so they won't be intimidated by Gonzaga. UCLA is in an enviable spot because they're expected to lose, whereas the pressure is on Gonzaga to win.
If UCLA loses, then everyone will say "Great run!" because the Bruins overachieved in March Madness without their top scorer and team leader. If Gonzaga loses, then everyone will label them as choke artists.
Gonzaga must neutralize Johnny Juzang, UCLA's leading scorer, then the Bruins will be in deep trouble. If Juzang gets hot and their shooters get cold, it could be a long night for Gonzaga.
Gonzaga has yet to lose a game, but they struggled to beat the spread with a 16-12 ATS record. Over their last 11 games, the Zags covered eight times, including four in a row.
Easy Path to the Final Four
Mark Few's team runs a high-octane offense. Gonzaga, ranked #2 in scoring, averages 91.6 ppg this season.
In four March Madness games, Gonzaga covered all four and won every game by at least 16 points. In the first round, Gonzaga missed scoring 100 points by a bucket and shellacked #16 Norfolk State by 43 points. The Zags easily covered the 33-point spread.
In the second round, Gonzaga picked off #8 Oklahoma by 16 points, which was their closest game in the tournament. During Sweet 16 action, #5 Creighton looked lost from the opening tip. Gonzaga knocked them out after an 18-point victory. In the Elite 8, #6 USC fell behind early and never had a shot. Gonzaga coasted to a 19-point victory to lock up a spot in the Final Four.
UCLA won five ugly games, including an overtime victory in the play-in game, to reach the Final Four. Gonzaga didn't break a sweat in any of their victories, which means they have yet to be truly tested. Oddsmakers don't think UCLA will pose much of a challenge against Gonzaga. The bookies list UCLA as a +14.5 underdog against undefeated Gonzaga.
Big Zag-Dogs: Kispert, Timme, Suggs
Corey Kispert, a 6-foot-7 senior swingman, averaged 18.9 ppg for Gonzaga this season. His sharpshooting is what makes him difficult to guard. Last season, he shot 43.8% from 3-point range. This season, he knocked down 45.3% of his treys and averages three made 3-pointers per game.
In four March Madness games, Kispert averaged 17.3 ppg. He shot 15-for-30 from downtown, but struggled against USC with a 3-for-10 clip. In numerous mock NBA drafts, Kispert was mentioned in the top 10.
Drew Timme, a 6-foot-10 sophomore center, leads Gonzaga in scoring with 19 ppg. Timme was the Zags' sixth man last season and averaged just shy of 10 ppg as a freshman. This season, the highly efficient Timme is shooting 65% from the floor.
Timme was not a factor in the first round against #16 Norfolk. In his last three March Madness games, Timme averaged 25 points and shot 29-for-45 from the field for 64.4%. He scored a career-high 30 points and pulled down 13 rebounds against #8 Oklahoma. Timme stepped up on defense and kept USC's super-frosh, Evan Mobley, in check in the Elite 8.
Jalen Suggs, a 6-foot-4 freshman point guard, averaged 14 ppg this season. Suggs has been getting attention as Paige Bueckers' BFF. The two grew up in Minnesota together, but a pep talk from the AP Player of the Year in women's college basketball helped him focus in the Elite 8. Suggs committed 14 turnovers and shot 1-for-11 from 3-point range through the first three March Madness games. After a chat with Bueckers, Suggs scored 18 points against #6 USC. He shot 7-for-14 from the floor, including 2-for-4 from downtown. Most importantly, he committed only three turnovers in one of his tightest games of the season.
Check out more Final Four betting previews.