The last time we saw Letruska, she was more human and less equine machine. The next time we'll see the newly minted Eclipse Award winner is next Saturday at Gulfstream Park for the Grade 3 Royal Delta Stakes.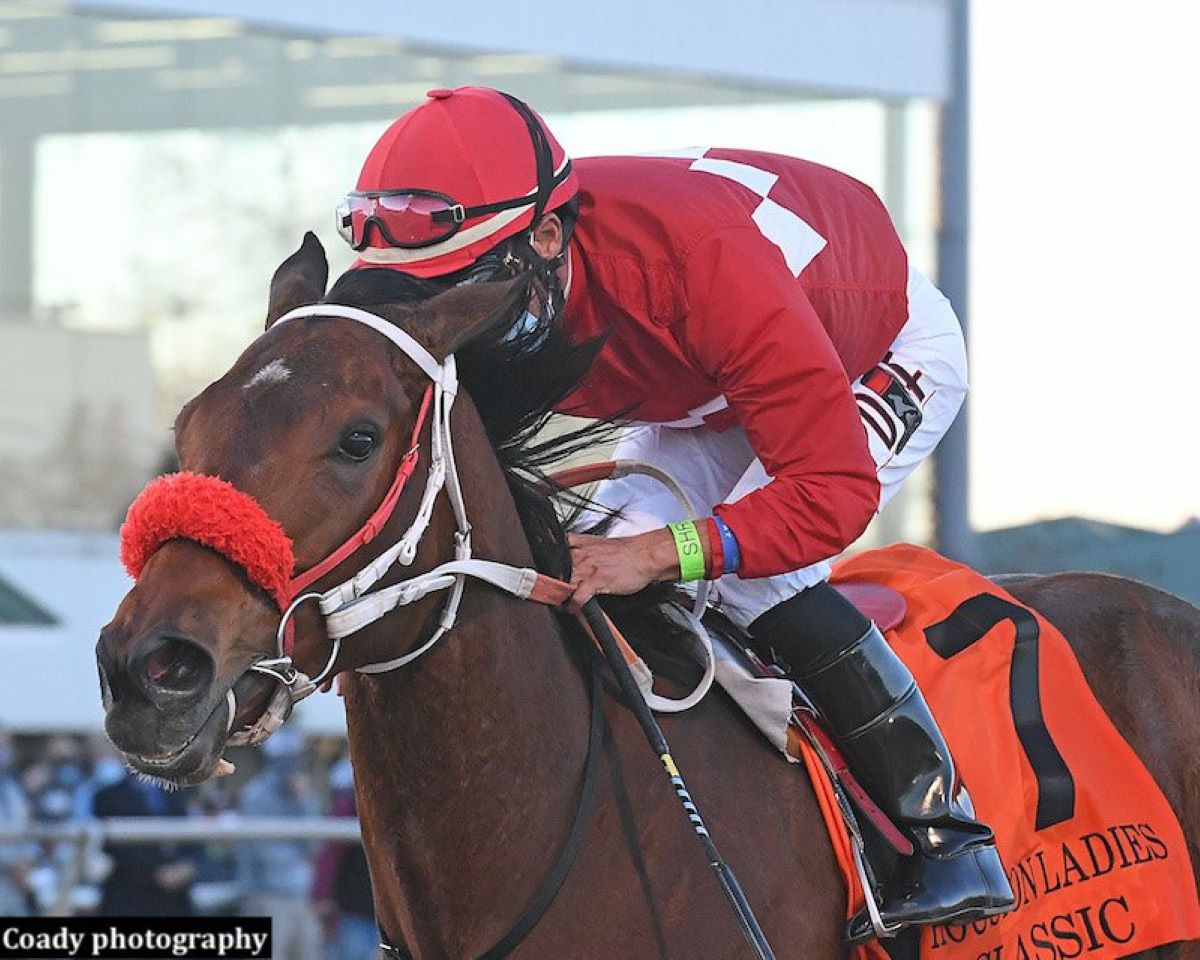 The 6-year-old warmed up for her first race since the Nov. 6 Breeders' Cup Distaff Friday with a 1:00.40 five-furlong jaunt that was fifth of 18 at that distance. That snapped a string of three bullet works that included two sub-1-minute five-furlong workouts.
"She breezed vey good. I think that she's ready," trainer Fausto Gutierrez told Gulfstream Park.
If there's a track to welcome Letruska to the 2022 season, Gulfstream is that track. The daughter of 2010 Kentucky Derby winner Super Saver is 3-for-4 at the south Florida track. Her last Gulfstream trip, the Grade 3 Rampart in December 2020, produced a nearly seven-length victory.
Four Grade 1s, six stakes scores on six tracks
It did more than that. It jump-started an enviable season for the 5-year-old mare. Letruska opened the 2021 ledger winning the Grade 3 Houston Ladies Classic at Sam Houston Park. After finishing second in the Grade 2 Azeri at Oaklawn in late March, Letruska spent the next six months winning her next five races. Four of those were Grade 1s: the Apple Blossom at Oaklawn, Ogden Phipps at Belmont Park, Personal Ensign at Saratoga and Spinster at Keeneland.
Throw in the Grade 2 score in the Fleur de Lis Stakes at Churchill Downs and you've got six stakes victories at six different tracks – four of the six Grade 1s.
And then, came Letruska's bid for seven stakes at seven different tracks. That was the Breeders' Cup Distaff at Del Mar, where Letruska came in as the 1.70/1 favorite. What was an expected coronation and deal-sealer on her Eclipse Award as Champion Older Female turned into a stunning meltdown.
Letruska led a lethal speed parade
Letruska, Private Mission, Horologist and As Time Goes By decided to turn Del Mar into the Bonneville Salt Flats, engaging in a lethal speed duel over the first half-mile that cooked all four's chances. They went out in 21.84 seconds for the first quarter-mile and 44.97 for the first half. Letruska somehow had the lead at the five-sixteenths post, before collapsing from the pace. She wound up 10th of 11 – 32 lengths behind surprise winner Marche Lorraine.
Letruska's 66 Equibase Speed Figure from that race was her first sub-100 figure in nine races and 13 months. It was the lowest figure in her 17-race American career.
Afterward, jockey Irad Ortiz Jr. said he couldn't slow Letruska down. Gutierrez was at a loss for what snapped his mare's five-race win streak. With that, he gave Letruska the rest of the year off. He didn't put her back on the work tab until Jan. 16. She's had five workouts in 2022.
'Not the same horse'
"After 13 months travel, maybe she wasn't the same horse," Gutierrez said this week. "I'm very happy with her. She's had six weeks in Ocala and came back very strong and very happy."
And even with that Breeders' Cup burp,  Letruska comes back with that Eclipse Award for her 6-for-8 2021 campaign. Last year, Letruska won a tick shy of $2 million ($1,945,540). She earned nearly a quarter-million dollars per start.
Based on the nominations, the Royal Delta is shaping up to be one of those races that outkicks its class level. Besides Letruska, Crazy Beautiful and Envoutante were nominated, although trainer Kenny McPeek may run Envoutante in the Grade 1 Beholder at Santa Anita March 5.