Derek Brunson ignored the hype and the talk on Saturday night, using his superior wrestling skills to easily defeat middleweight prospect Kevin Holland in the main event of UFC on ESPN.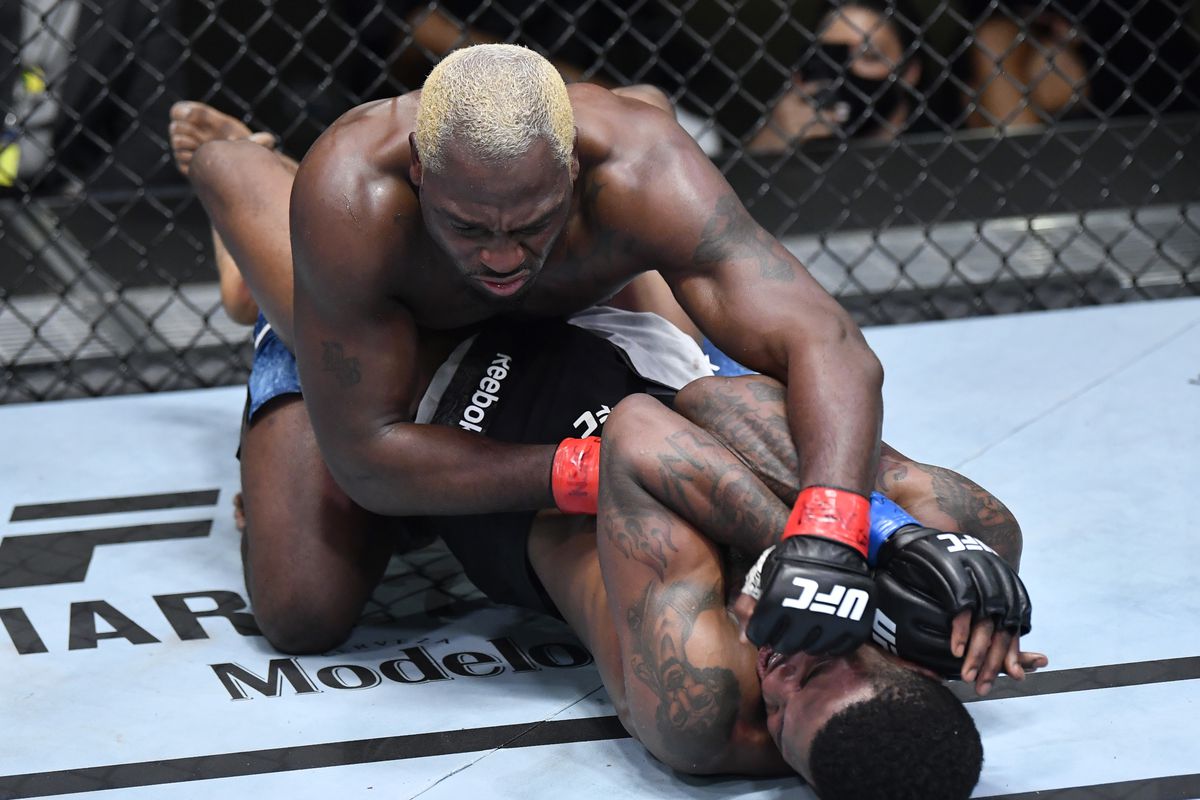 Brunson claimed a 49-45, 49-46, 49-46 unanimous decision victory over Holland, with all four judges awarding him the first four rounds of the fight.
Holland talks, Brunson wins
Holland proved dangerous while the fight was standing, rocking Brunson on multiple occasions. But he never appeared close to finishing the fight, and Brunson scored five takedowns – a career-best – to take control of the action time and time again.
Brunson said afterward that he wanted a bigger-name opponent, as the UFC has used him as a gatekeeper in recent fights.
"I wasn't really too excited about this matchup," Brunson said after his win. "I wanted a top-five. They probably didn't like my performance too much. So give me a top-five and see what happens."
Holland spent most of the fight jawing at Brunson, even as he was losing. In the final seconds, Holland walked away from Brunson as if to signal that he was giving up. He also talked to both UFC President Dana White and former lightweight champion Khabib Nurmagomedov – who was in the crowd to support Holland – between rounds.
* SOUND ON *

🗣 @Trailblaze2top is chatting with Khabib between rounds! #UFCVegas22 pic.twitter.com/DbwTtP8GhX

— UFC (@ufc) March 21, 2021
"I think that was a mental breakdown," White told Yahoo Sports. "I think he might not have been able to handle the pressure and just broke mentally."
Brunson disagreed, pointing out that Holland has a habit of talking during fights.
"That's what Kevin Holland do," Brunson said. "Anybody can change the narrative."
Volkanovski tests positive for COVID-19
Featherweight champion Alexander Volkanovski has withdrawn from UFC 260 after testing positive for COVID-19. Volkanovski planned to defend his title against Brian Ortega on Saturday, and had already flown into Las Vegas for the fight. The UFC will likely reschedule the bout for a later date.
— Alex Volkanovski (@alexvolkanovski) March 21, 2021
"I tested negative leaving Australia, negative before entering the UFC bubble but my latest test was positive," Volkanovski said in a statement. "We have worked so hard getting ready for this fight and I'm absolutely gutted this has happened. We followed every policy and process to remain COVID free but it wasn't meant to be this time."
White: Nurmagomedov definitely, officially retired
We've already reported on Khabib Nurmagomedov's decision to retire. But White remained unconvinced, believing that Nurmagomedov would come back one more time to run his record to 30-0.
Last week, however, the UFC president changed his tune. White met with Nurmagomedov again in Las Vegas, and says that the legend is done fighting.
"Khabib is retired and doesn't wanna hold up the division," White told ESPN. "Tonight was our final meeting and he is retired."
Nurmagomedov's retirement opens up the lightweight title. White told ESPN that he is working on a title bout between Michael Chandler and Charles Oliveira for UFC 262 on May 15.