Uriah Hall scored a TKO in the fourth round of his main event clash against the legendary Anderson Silva at UFC Fight Night 181 on Saturday, likely ending the Brazilian's UFC career in the process.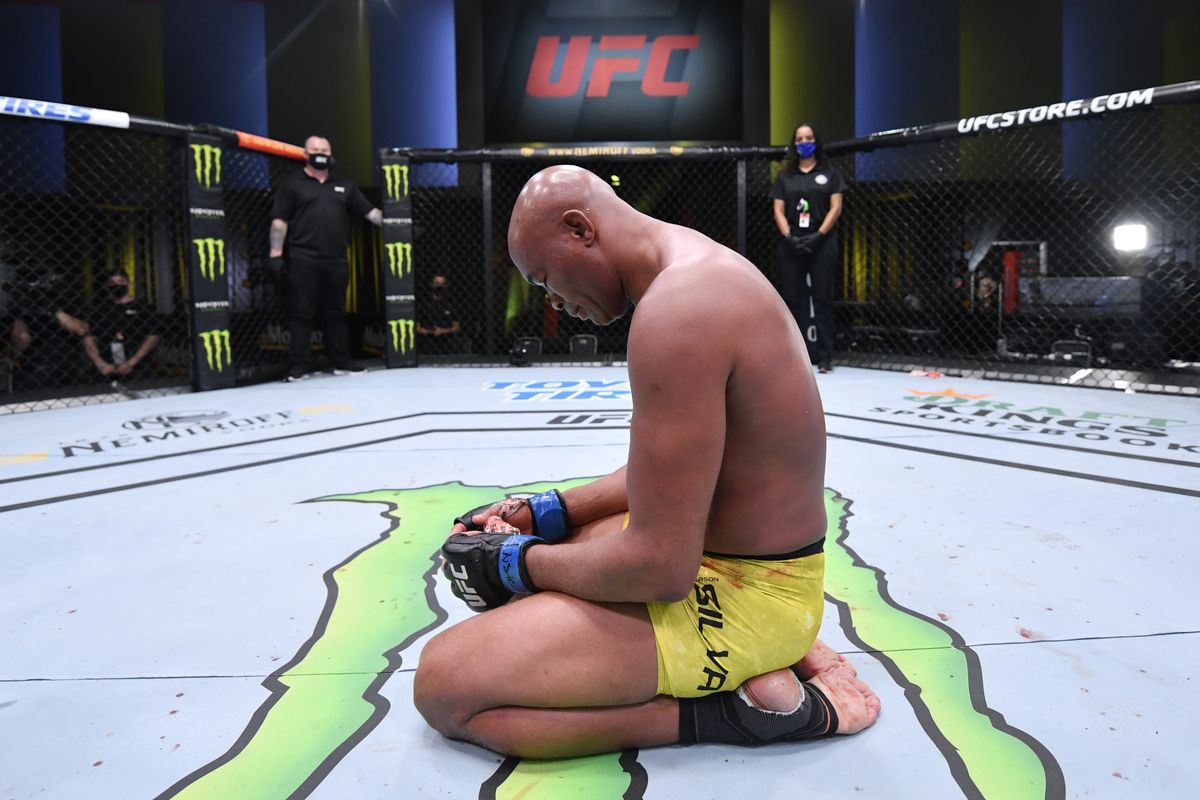 Silva started the fight well, but Hall nearly knocked out the 45-year-old at the end of the third round, then finished off the bout in the fourth.
Silva Leaves Options Open After Loss
The UFC promoted the fight at Silva's last with the company, though he declined to commit to that after the bout.
"First, I go back home and go see with my team and everything," Silva said afterward. "Because it's tough to say it's my last or not. This is my air. This is what I do for my entire life and with my heart."
UFC president Dana White vowed that he wouldn't call in Silva to fight again.
"I made a big mistake. I shouldn't have let him fight this fight tonight," White told reporters. I'll never let him fight here again. I want him to retire. I hope when he goes home, his family tells him the same thing."
White: Nurmagomedov Might Go for 30-0
Earlier last week, White also shared his opinion on another UFC legend, the recently retired Khabib Nurmagomedov. The UFC has yet to remove Nurmagomedov (29-0) from its rankings or strip him of the lightweight title. White told CBS Sports Radio he believes the 32-year-old will come back for at least one more fight.
"He was completely emotional that night when he got through that fight. I have a feeling that he might go for 30-0," White told The Zach Gelb Show. "I think that he's not going to retire. His dad wanted him to get to 30-0, and I think he wants to honor his dad's wish."
Nurmagomedov and his late father had previously angled for a fight against retired UFC legend Georges St-Pierre as a potential way to reach the 30-0 mark.
Adesanya to Face Blachowicz for UFC 205-Pound Title
After the UFC Fight Night on Saturday, White also told reporters that middleweight champion Israel Adesanya (20-0) will move up in weight to take on light heavyweight champion Jan Blachowicz (27-8). Adesanya will get the chance to become the fifth fighter in UFC history to hold titles in two different divisions simultaneously.
Adesanya says he's looking forward to the challenge of going up against a larger fighter.
"He's dangerous on the ground, he's awkward on the feet, got that legendary Polish power. But yeah, everyone's got power, right?" Adesanya told Submission Radio. "You have to deliver that power somehow, you have to get it to the target. I'm not the easiest target to hit."
UFC fans can also look forward to the return of a classic brand of programming next year, as a new season of "The Ultimate Fighter" will begin in March 2021. The new series will feature male bantamweight and middleweight contestants, and will air on ESPN+. Auditions for the show will be held later this month.