Cris Cyborg continued to assert her dominance over the Bellator women's featherweight division, beating Arlene Blencowe by unanimous decision to make the fourth defense of her championship at Bellator 279 in Honolulu.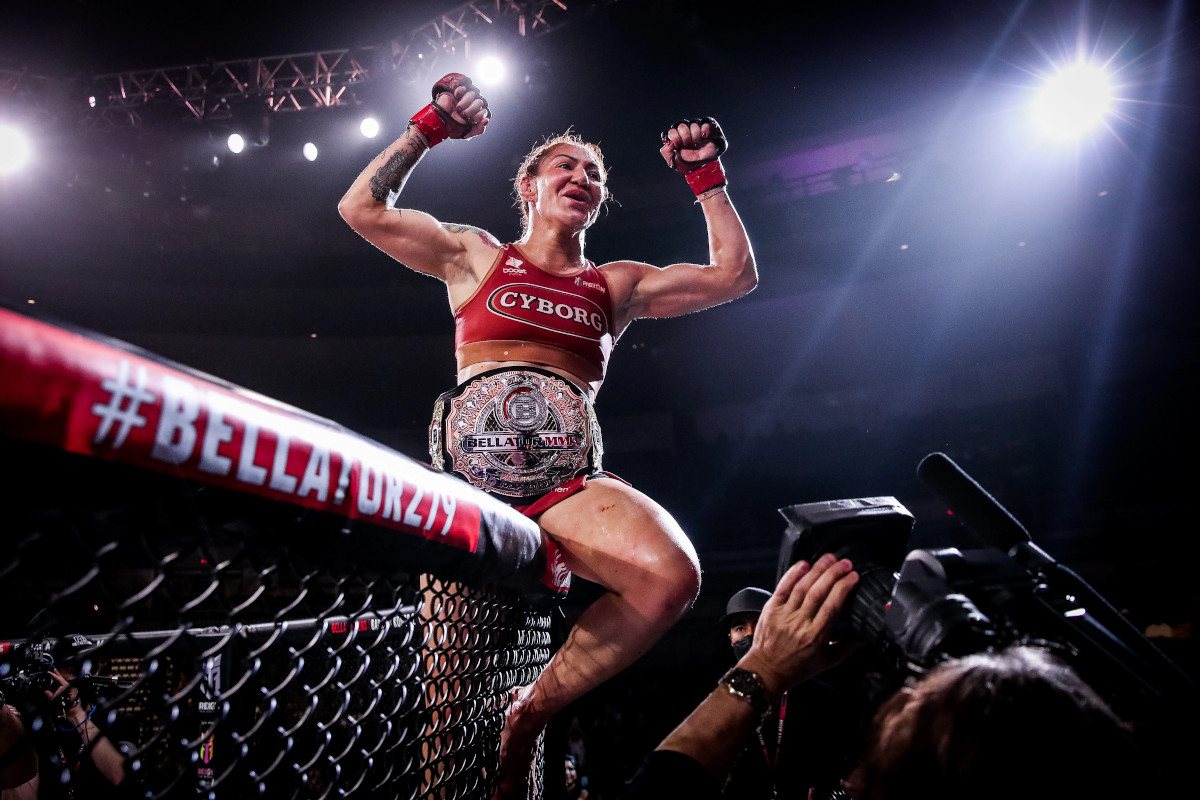 Cyborg (26-2) had little trouble beating Blencowe (15-9) for a second time, scoring a 49-45 victory on all three cards.
Cyborg dominates durable Blencowe
Blencowe put in a better performance than in their first meeting in October 2020. Back then, Cyborg won by submission in the second round.
This time, Blencowe managed to get some offense in, showing her impressive boxing skills throughout the fight. But Cyborg landed more often and more effectively to easily win the fight. Cyborg lost one point on all three cards due to throwing an illegal knee at Blencowe's head while her opponent was on the ground, but that was about her only mistake of the night.
Cyborg praised Blencowe for a tough fight, but said the bout also showed her own progress.
"You have to change every fight," Cyborg said. "You have to improve and get a better game. Today, I showed a little more."
Carmouche finally earns championship gold
Liz Carmouche scored a TKO victory over the previously undefeated Juliana Velasquez to win the Bellator women's flyweight title at Bellator 278. That marked the first time in four total opportunities – including two in the UFC and one in Strikeforce – that Carmouche scored a win in a championship fight.
Velasquez (12-1) seemed in control over the first three rounds. However, Carmouche (17-7) scored a critical takedown in the fourth, catching Velasquez in a mounted crucifix. Carmouche began landing elbows while Velasquez attempted to defend herself. Referee Mike Beltran stopped the fight, though Velaquez immediately protested.
"I know if she squirmed a little bit more, I had some other answers for that," Carmouche said afterwards. "They would have been really bad for her. So I'm glad he stopped it when he did."
The promotion held Bellator 278 exclusively for a crowd of military personnel and first responders at Neil S. Blaisdell Arena in Honolulu.
Ngannou wants fight with Fury in next contract
After Tyson Fury successfully defended his heavyweight title on Saturday, he and UFC heavyweight champion Francis Ngannou continued talking about a potential crossover fight. Now, Ngannou says a bout with Fury must be a part of any future UFC contract.
"The Tyson Fury Fight has to be part of the discussion, Ngannou said on The MMA Hour. "It has to be part of the discussion because if that's not part of the discussion, it will never be. If I sign another contract now, basically the same model of the contract, I'm screwed. That's not happening ever. So we have to figure out a way to implement this into a contract."
Fury and Ngannou suggested that they could compete in a hybrid competition, perhaps using MMA gloves in a boxing ring.
UFC launching Asian tournament
The UFC will organize an eight-man tournament across four weight classes later this year with the goal of finding new talent in Asia for the promotion. Participants will compete at flyweight, bantamweight, featherweight, or lightweight. Each tournament winner will earn a UFC contract.
The UFC has yet to announce any competitors. However, the promotion does operate a Performance Institute in China which opened in 2017, and many other Asian nations enjoy rich MMA traditions.