The LA Lakers Thursday became the first team to announce some of their upcoming regular-season protocols, including playing the entire season in a modified bubble at the Staples Center.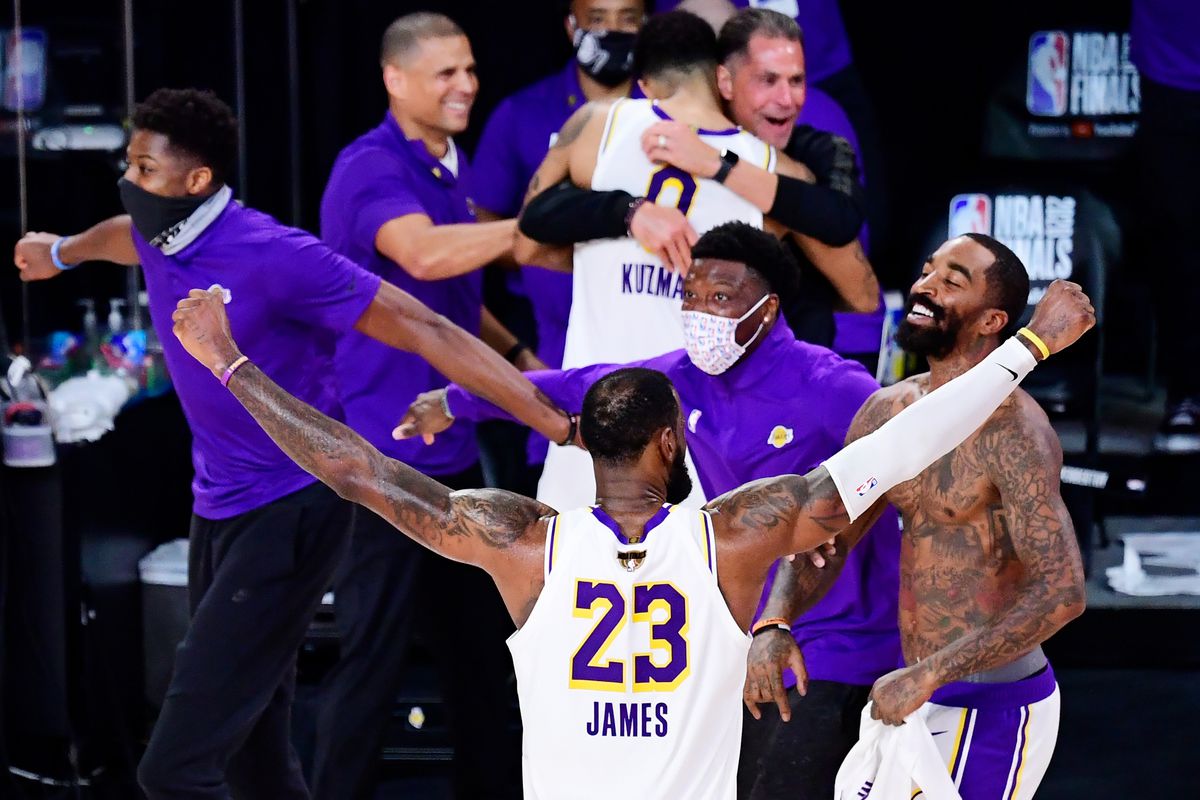 They are also the odds-on favorite to win the 2020-21 season and prove their 2020 bubble championship was no fluke.
When the NBA shut down on March 12, most teams had about 20 games left on their regular-season schedules and a whole lot of uncertainty about how the season would play out, or whether it would be played at all.
Lakers Found Rhythm in Lock Down
When the season was put on pause, the Lakers had ended on a high note, coming off a pair of big wins against the Clippers and Bucks. LeBron James had shaken a few early-season injuries and started putting up MVP-like numbers.
Even though the Lakers were 49-14, and first in the west going into the bubble, there was still massive speculation over whether LeBron and free-agent acquisition Anthony Davis were in rhythm.
The Lakers' supporting cast had also yet to find a consistent rotation with the two superstars. One night it was JaVale McGee grabbing boards and clogging up the paint. The next, it was Kyle Kuzma dropping 30 with 10 assists. The night after that, Rajon Rondo rolled back the clock to his 2012 All-Star season by leading the team in assists.
But it never seemed to happen all at once.
Until the bubble, that is.
Including their NBA Finals victory in six games over the Miami Heat, the Lakers went 19-10 in the bubble, winning their first championship in a decade and the 17th in franchise history.
Bubble Life: Biggest Challenge of LeBron's Career
James admitted he and his teammates were able to reach that next level of focus while sequestered at Walt Disney World. Going into the finals, he noted that finishing a season in quarantine was the hardest thing he'd ever done in his career.
"It's probably been the most challenging thing I've ever done as a professional, as far as committing to something and actually making it through," James said. "But I knew what we were coming here for. I would be lying if I sat up here and knew that everything inside the bubble, the toll that it would take on your mind and your body, and everything else because it's been extremely tough. But I'm here for one reason and one reason only, and that's to compete for a championship."
And compete he did. James took away the 2020 NBA Finals MVP, winning the vote unanimously over teammate Anthony Davis. James averaged 29.8 points, 11.8 rebounds, and 8.5 assists in the series, netting him his fourth Finals MVP award to go along with his fourth championship trophy. Only Michael Jordan, who won six Finals MVPs, has more.
Lakers Going Fanless in 2021
Fast-forward to this week, where the Lakers, one month removed from their final game of the season, announced they'll be fanless for the 2020-2021 season.
The health and safety of our fans, players, staff and community are our main priority and we will continue to work with state and local officials to come up with a plan to safely welcome fans back in adherence with local, State, and NBA guidelines.https://t.co/2DeKDX3yzf

— Los Angeles Lakers (@Lakers) November 12, 2020
While the upcoming season is tentatively slated for a Dec. 22 tip-off, the Lakers didn't release their full schedule.
While the Lakers are the first team to announce they will go fanless in 2021, the NBA is considering implementing several rules league-wide to help protect the players and fans, including but not limited to:
Reduced travel
A more relaxed dress code
"Bubble" gyms and arenas that are fanless and available to only specific credentialed and tested media at certain times
Virtual fans
Mandatory mask-wearing
Social distancing on the bench.
2021 NBA Season May Hinge on Technology Advances
However the new season shakes out for players and fans. Commissioner Adam Silver touted the zero cases reported in the NBA bubble as the first (and only) wholly preventative season from major sports during the COVID-era. He noted recently that any arena play depends on how the pandemic is going nationwide, and what new technologies are in place to make that happen.
"It's certainly our goal," Silver said when asked of the possibility of opening arenas. "But it's dependent on some additional advancements. Rapid testing may be the key here."
Regardless of where they'll play, the Lakers became the odds-on favorite after the final buzzer to pull a Showtime (or Kobe/Shaq-era) repeat. Also high on the futures board are the Lakers' cross-town rivals, the LA Clippers, along with the surging Milwaukee Bucks, the fading Golden State Warriors, and the young Brooklyn Nets.