The Washington Wizards — thanks to Bradley Beal and Russell Westbrook — knocked down two 3-pointers in less than four seconds to overcome a 5-point deficit and upset the Brooklyn Nets 149-146 on Sunday evening.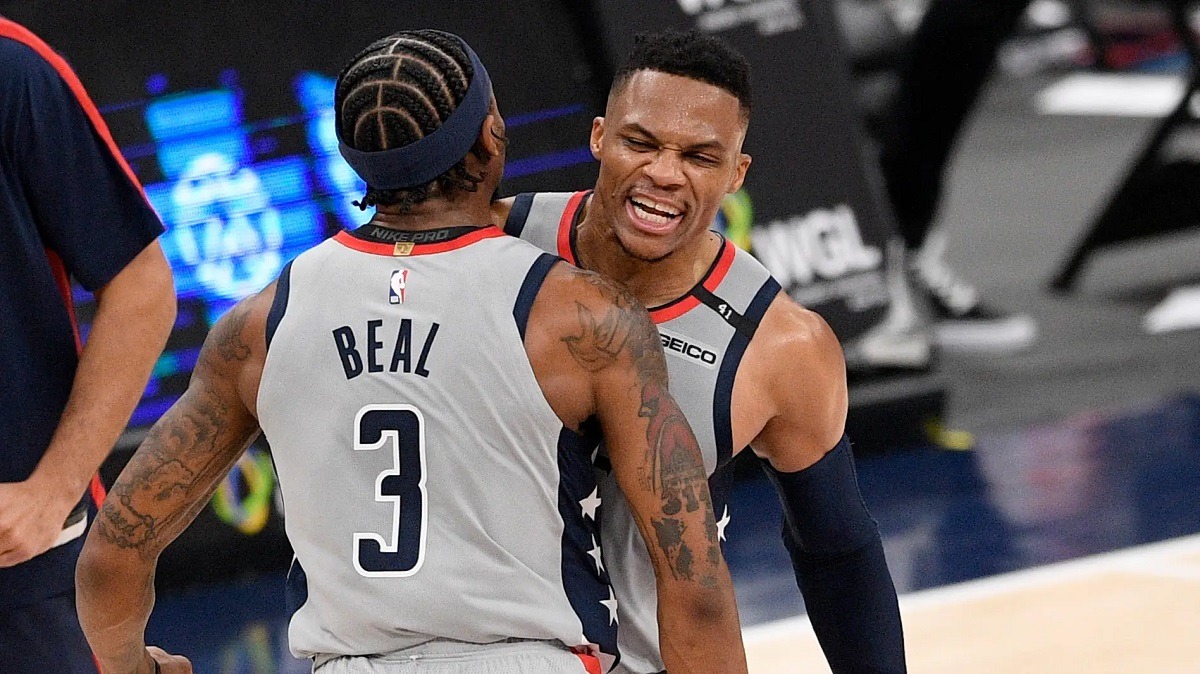 The Nets held a 5-point edge at 146-141. Beal pulled up and drilled a 3-pointer to cut the lead to two points (146-144) with eight seconds remaining.
"Ish Smith just told me to push it and pull it," Beal told reporters after the game. "That is all we could have done in that situation."
Due to a communication gaffe, Joe Harris and Kevin Durant from the Nets messed up the inbounds pass. Washington's Garrison Mathews was in the right place at the right time and stole the ball, flipping it to a wide-open Westbrook behind the 3-point line.
"At this time, we don't have nothing to lose, so it's win or go home," said Westbrook.
Westbrook knocked down the trey to put the Wizards ahead of the Nets 147-146 with 4.3 seconds remaining. That huge 3-pointer put Westbrook at 41 points on the night.
Beal added two free throws to ice the game at 149-146. Beal, the NBA's leading scorer, dropped 22 points in the fourth quarter and finished with 37 points.
The Nets are now 13-9 after losing to the worst team in the league. The Wizards improved to 4-12.
BRADLEY BEAL AND RUSSELL WESTBROOK WITH CLUTCH BUCKETS 🔥
Via @trashtalk_fr

— NBA Central (@TheNBACentral) February 1, 2021
All Gas, No Break
The Nets and Wizards played the NBA's second-highest scoring game since 1996 that didn't involve an overtime session. The Wizards were down 18 points in the second half before their late rally.
"We fought hard," said Washington head coach Scott Brooks. "The basketball gods gave us a break tonight."
"It should've been ours, so we just look at ourselves in the mirror and see what we can correct as individuals and as a group, especially on effort," said Kyrie Irving. "I couldn't guard a stick today."
The Nets were without James Harden, so only Durant and Irving were in uniform for Brooklyn's Big 3. Durant led the Nets with 37 points. Irving scored only 26. Joe Harris added 30 points on 8-for-13 from downtown.
"We had a big lead early, and we let them stay around a long, long time until their confidence grew," explained Brooklyn head coach Steve Nash. "They're a desperate bunch looking for a win, and we gave them a chance and gave them life."
According to ESPN's stats and information department, it's super rare for a team to come from behind and win when trailing by 5+ points in the final 10 seconds. It happened twice this weekend, including in a Portland Trail Blazers and Chicago Bulls game.
The @WashWizards trailed by 5 tonight with less than 10 seconds left and won.

In the last 25 seasons, teams are now 9-23,498 when trailing by 5+ in the final 10 seconds of the game. However, it's the 2nd straight day this type of comeback has happened (POR at CHI on Saturday). pic.twitter.com/Q7wcpKgfAy

— ESPN Stats & Info (@ESPNStatsInfo) February 1, 2021
Despite the loss, the Nets are one of the favorites to win the 2021 NBA Championship at +400 odds, according to a recent update by the BetMGM sportsbook at the Mirage Casino in Las Vegas.