While Alexander Volkanovski owned two victories over Max Holloway, there was still doubt over his dominance heading into UFC 276. That won't be the case after their third fight.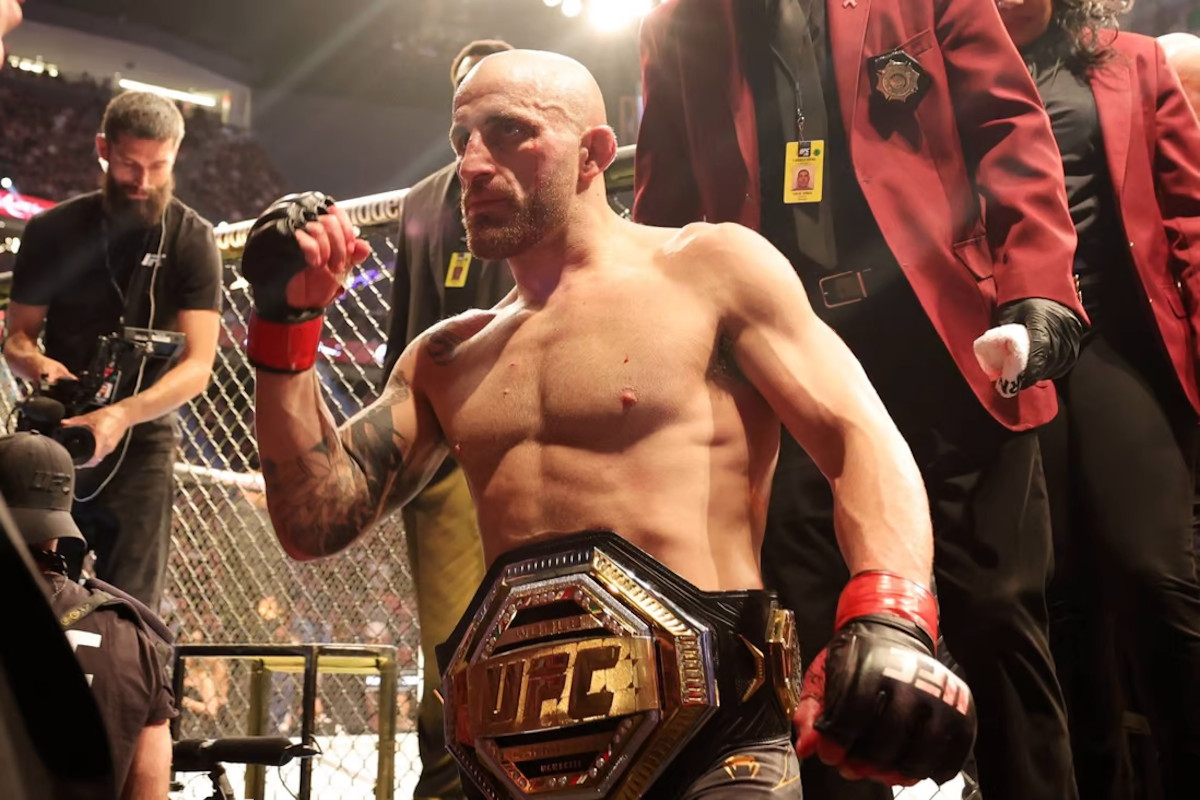 Volkanovski (25-1) scored an overwhelming unanimous decision victory over Holloway (23-7) in the co-main event of UFC 276 at T-Mobile Arena in Las Vegas on Saturday to retain his featherweight championship.
Volkanovski sweeps all three cards
All three judges scored the bout 50-45 for Volkanovski, with almost all media observers also giving the champion a clean sweep of all five rounds.
Volkaovski did damage throughout the fight, cutting Holloway on his left eyebrow in the second round, then bashing his nose in the fourth. Yet Holloway hung tough, even as he failed to land much effective offense throughout the fight.
"Max Holloway is an absolute beast," Volkanovski said afterwards. "I had to get him out of here. I knew I'm the best. I needed to remind myself."
Holloway took to social media to praise his rival and cede victory to the champion.
I'm still up 2-0 on knockdowns for trilogy. Prob gonna need a 4th to settle this. 😂 Just playing. Congrats to my brother @alexvolkanovski . Go get that 55 strap. You earned the shot. You're #1 P4P right now. pic.twitter.com/5lUNWZVbRA

— Max Holloway (@BlessedMMA) July 3, 2022
Holloway referenced the 155-pound title in the lightweight division. Volkanovski has said he's interested in moving up and winning a second title. That championship is currently vacant, though Charles Oliveira is the titleholder in all but name.
Adesanya holds off Cannonier
Middleweight champion Israel Adesanya easily out-pointed Jarod Cannonier in the main event of UFC 276, though the crowd found The Last Stylebender's performance far less thrilling than Volkanovski's.
The judges scored the fight 49-46, 49-46, 50-45 in favor of Adesanya, who used his length to land jabs and kicks at will against Cannonier at distance for five rounds.
Cannonier (15-6) couldn't get much offense going in return against Adesanya (23-1). With the challenger unable to turn things into a slugfest, Adesanya was content to do enough to win the fight while taking few risks.
That led to fans booing throughout, especially in the fight's later stages. Adesanya admitted it wasn't his best performance, but criticized the crowd's reaction nonetheless.
"They're all drunk. They don't know what real fighting is," Adesanya told reporters. "If it's not a show-out, spectacular performance, it's like 'Ah, he's not even that good.' Jared knows I'm a good fighter. He knows I'm a great fighter, and I gave him the same credit."
Alex Pereira could challenge Adesanya next after knocking out Sean Strickland on Saturday. Interestingly, Pereira has two wins over Adesanya – in kickboxing.
Cerrone announces retirement after loss
Donald "Cowboy" Cerrone announced his retirement from mixed martial arts after losing via submission to Jim Miller on Saturday at UFC 276. The 39-year-old Cerrone (36-17) won 23 times in his UFC career, tying him for the second-most ever in the promotion.
While Cerrone had said he planned to fight two more times after Saturday, he said his feelings had changed.
"I don't love it anymore," Cerrone said. "I'm going to be a movie star, baby."
In a post-fight press conference, Cerrone expressed relief that he was walking away from MMA.
"This sport is crazy. It's the highest highs and the lowest lows," he said. "I feel like the biggest sigh of relief I've ever had in my life. Like, 'Ho-ha, we're done.' Now it's off to the next chapter. I'll be back. I'll come hang out and watch fights, talk to the young generation about all the things I should've, would've, could've, should've done, and maybe I'll get an itch in two years."