The last time the golf world saw Jon Rahm, he was leaving the Memorial Tournament after learning of his positive COVID-19 test after the third round. The Spanish star will return to action this week as the odds-on favorite to win the US Open at Torrey Pines.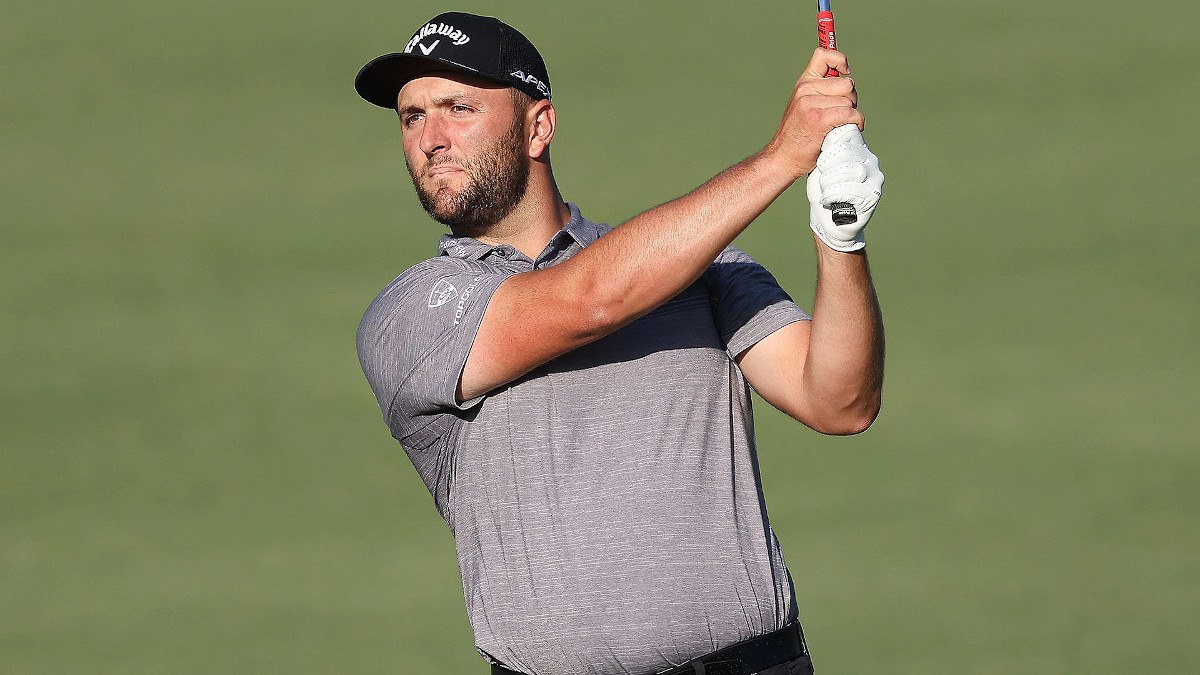 DraftKings Sportsbook rates Rahm as the +1050 pick to win the 2021 US Open and claim his first career major title.
Rahm says isolation won't ruin form
Rahm learned about his positive COVID-19 test immediately after finishing his third round at Muirfield Village two weeks ago. At the time, Rahm held a six-shot lead in the tournament. But the test result forced him to withdraw from an event he was all but certain to win.
"It could have been handled a little bit better, yes, but it still doesn't change the fact of what really happened," Rahm told reporters. "We are in a pandemic, and even though this virus has very different forms of attacking people, you never know what reaction you're going to get. So PGA Tour did what they had to do."
Rahm acknowledged that he wished he'd gotten vaccinated earlier so he could have avoided such a disappointing ending at the Memorial. Rahm has isolated at his home in Arizona since that time. He tested negative twice by Saturday morning, allowing him to play in the US Open. And while his preparation hasn't been ideal, he says he's ready to compete at Torrey Pines.
"When you don't hit a golf shot for just over a week or just about a week, it's tough leading into a major, especially a US Open," Rahm said. "I'm confident I can get in form quick enough. I still have two more days."
Rahm's return is one of the biggest stories at this year's US Open. But the growing feud between Brooks Koepka and Bryson DeChambeau may dwarf it in terms of narratives this weekend.
USGA separates Koepka, DeChambeau for US Open
Both DeChambeau (+1500) and Koepka (+1900) come in among the favorites to win the major. However, the USGA chose not to play into the building drama, as it did not pair the rivals during the first two rounds of the event.
Other players, including world No. 2 Justin Thomas (+2250), say that's for the best.
"The tournament is a lot bigger than those two, in my opinion," Thomas told reporters. "It seems like everyone wanted to see it, but it's not fair for either one of them to be distracted from trying to win a major from something they have going on outside."
---
2021 US Open Odds (via DraftKings Sportsbook)
Jon Rahm: +1050
Bryson DeChambeau: +1500
Dustin Johnson: +1500
Xander Schauffele: +1500
Brooks Koepka: +1900
Jordan Spieth: +1900
Rory McIlroy: +2100
Patrick Cantlay: +2200
Tony Finau: +2200
Justin Thomas: +2250
---
DeChambeau comes into the US Open as the joint second choice to win the tournament, alongside Dustin Johnson (+1500) and Xander Schauffele (+1500). For Schauffele, a San Diego native, playing at this US Open has been a longtime dream.
"As soon as they announced that the 2021 US Open would be at Torrey Pines it was a goal of mine to qualify," Schauffele told Golf.com. "I was an amateur at the time and it's been a goal ever since. Now sitting here, my goal is to win the tournament, so things change quickly."