Some of the biggest names in American sports are among a group of more than 200 people who Donald Trump has named to an advisory panel that will help shape plans to reopen the American economy.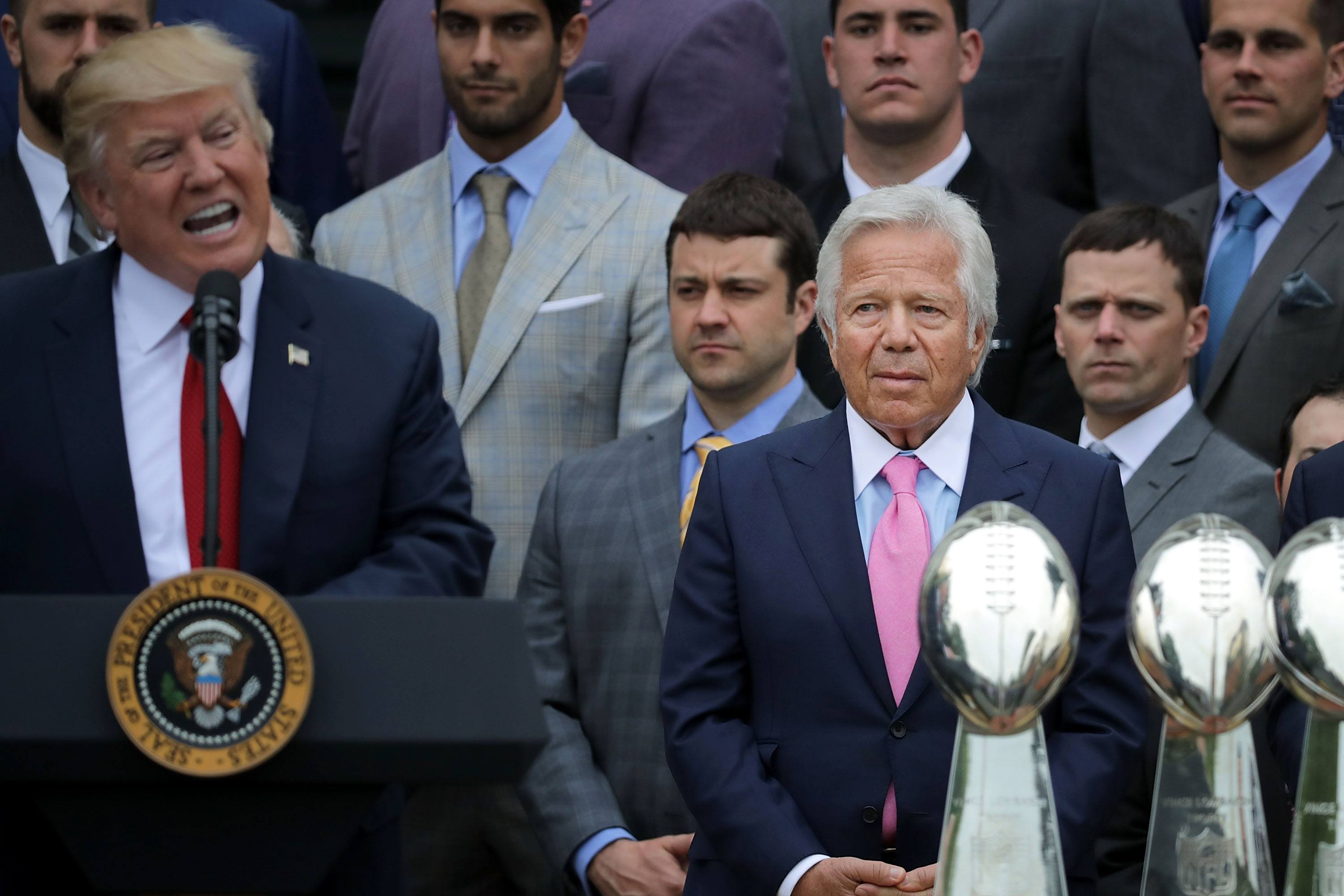 Trump announced the members of the advisory group on Tuesday, listing executives from nearly every sector of American business.
Trump Includes Commissioners, Owners in Advisory Group
Sports executives on the list include the leaders of nearly every major sport in the United States. That includes Rob Manfred (MLB), Roger Goodell (NFL), Adam Silver (NBA), Gary Bettman (NHL), and Dana White (UFC), among many others.
---
Sports Executives in Trump Economic Revival Group
Roger Godell (NFL)
Rob Manfred (MLB)
Adam Silver (NBA)
Gary Bettman (NHL)
Dana White (UFC)
Jay Monahan (PGA)
Don Garber (MLS)
Lesa Kennedy (NASCAR)
Cathy Engelbert (WNBA)
Mike Whan (LPGA)
Patrick Galbraith (USTA)
Lisa Baird (NWSL)
Vince McMahon (WWE)
Bob Kraft (New England Patriots)
Jerry Jones (Dallas Cowboys)
Mark Cuban (Dallas Mavericks)
---
Several team owners also made the list, including Jerry Jones (Dallas Cowboys), Mark Cuban (Dallas Mavericks), and Robert Kraft (New England Patriots).
During a Tuesday briefing, President Trump singled out sports as an industry that he would like to see make a return to business.
"We have to get our sports back. I'm tired of watching baseball games that are 14 years old," Trump said at the briefing. "I haven't actually had too much time to watch. I would say maybe I watch one batter, then I get back to work."
The panel, known as the Great American Economic Revival Industry Group, includes executives from many other prominent companies as well, including representatives from corporations like Bank of America, Goldman Sachs, Citigroup, Morgan Stanley, Cisco Systems, and Tyson Foods.
Sports Leagues Could Return By Summer
Sports leagues may be able to resume play this summer, albeit with some modifications. Dr. Anthony Fauci spoke to Snapchat this week, sharing his belief that sports leagues could reopen in a safe manner provided there are no fans in attendance and that players stayed in hotels while regularly taking tests to ensure they are not sick.
"Nobody comes to the stadium," Fauci told Snapchat's Peter Hamby. "Have [the players] tested every single week and make sure they don't wind up infecting each other or their family, and just let them play the season out."
The sports betting industry would benefit from a return to play as well. While sportsbooks have scrounged up a handful of markets for bettors to wager on, ranging from Belarusian soccer to ping pong and esports, the return of major American leagues like Major League Baseball and the NBA would encourage more casual bettors and average fans to bet on sports again.
When that might happen is still an open question. While multiple media outlets have reported that the PGA is set to announce a June restart date, MLB, NBA, and NHL officials have only begun discussing plans for how they might return to action, with even the most optimistic timelines potentially putting those leagues in action no earlier than June.