Major League Baseball and its players' union are considering a plan that would see the league start playing games as early as May in Arizona, according to multiple media reports.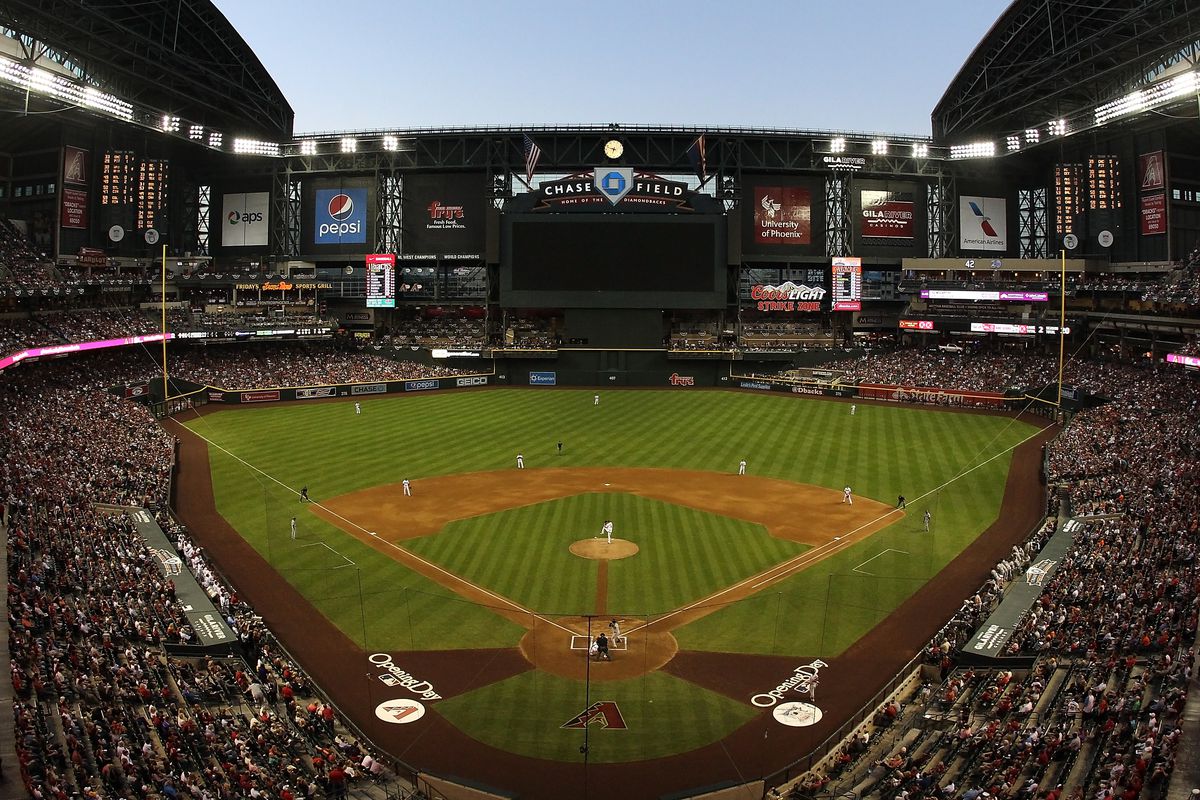 ESPN and the Associated Press cited sources who said that MLB officials had discussed several different plans for beginning the baseball season, with the Arizona proposal gaining the most traction.
MLB: Ideas Discussed, No Detailed Plan
The idea would see all 30 teams play in Phoenix-area stadiums, including Chase Field – home of the Arizona Diamondbacks – along with spring training facilities and, potentially, other fields in the region.
ESPN reported that federal officials are supportive of the plan, according to sources. The proposal would see players and essential staff members sequestered from the public, traveling only to and from the stadiums and their quarters.
On Tuesday, MLB acknowledged discussing various plans, but said the league has yet to settle on any proposal for starting the 2020 season.
"While we have discussed the idea of staging games at one location as one potential option, we have not settled on that option or developed a detailed plan," MLB said in a statement. "While we continue to interact regularly with governmental and public health officials, we have not sought or received approval of any plan from federal, state and local officials, or the Players Association."
Sources told ESPN that even if MLB does decide to go forward with the Arizona plan, a May start might be unrealistic. Instead, June could give the league and teams more time to prepare and to acquire COVID-19 tests that would be readily available and provide quick results, something that would be necessary for teams to safely congregate on a regular basis.
Such safety measures would be necessary to protect the health of everyone involved, especially older managers, coaches, and employees who could be particularly susceptible to the coronavirus.
"The health and safety of our employees, players, fans, and the public at large are paramount, and we are not ready at this time to endorse any particular format for staging games in light of the rapidly changing public health situation caused by the coronavirus," the MLB statement read.
Logistical Hurdles Could Make Arizona Plan Implausible
MLB will face numerous hurdles in executing anything that resembles the Arizona proposal.
Players and staff would likely have concerns over separating themselves from their families for, potentially, several months. Plans would have to be in place to deal with potential positive coronavirus tests, with ESPN reporting that officials believe such a result wouldn't necessarily force the league to shut down if proper measures were taken. In addition, the league and its franchises would potentially lose billions in revenue by staging all of their games without fans.
Ok now what about the non-millionaire hotel workers, security staff, grounds crews, media members, team traveling staffs, clubhouse attendants, janitorial workers, food service workers, and the billion other people required to make that 3.5 hour game happen every night? https://t.co/NIbqsjejvQ

— Eireann Dolan (@EireannDolan) April 7, 2020
Many have also criticized what some are calling a "Baseball Biodome" plan by pointing out the sheer number of additional workers involved in putting on an MLB game, even without fans in attendance.
Major League Baseball originally planned to hold its Opening Day on March 26 with all 30 teams in action.