It's appropriate that in a race named after one of America's most prominent families, the field consists of five millionaires. Yes, Saturday's $1,200,000 Grade 1 1 1/8-mile Whitney Stakes at Saratoga, one of the most prestigious races for older horses in North America, features only five horses.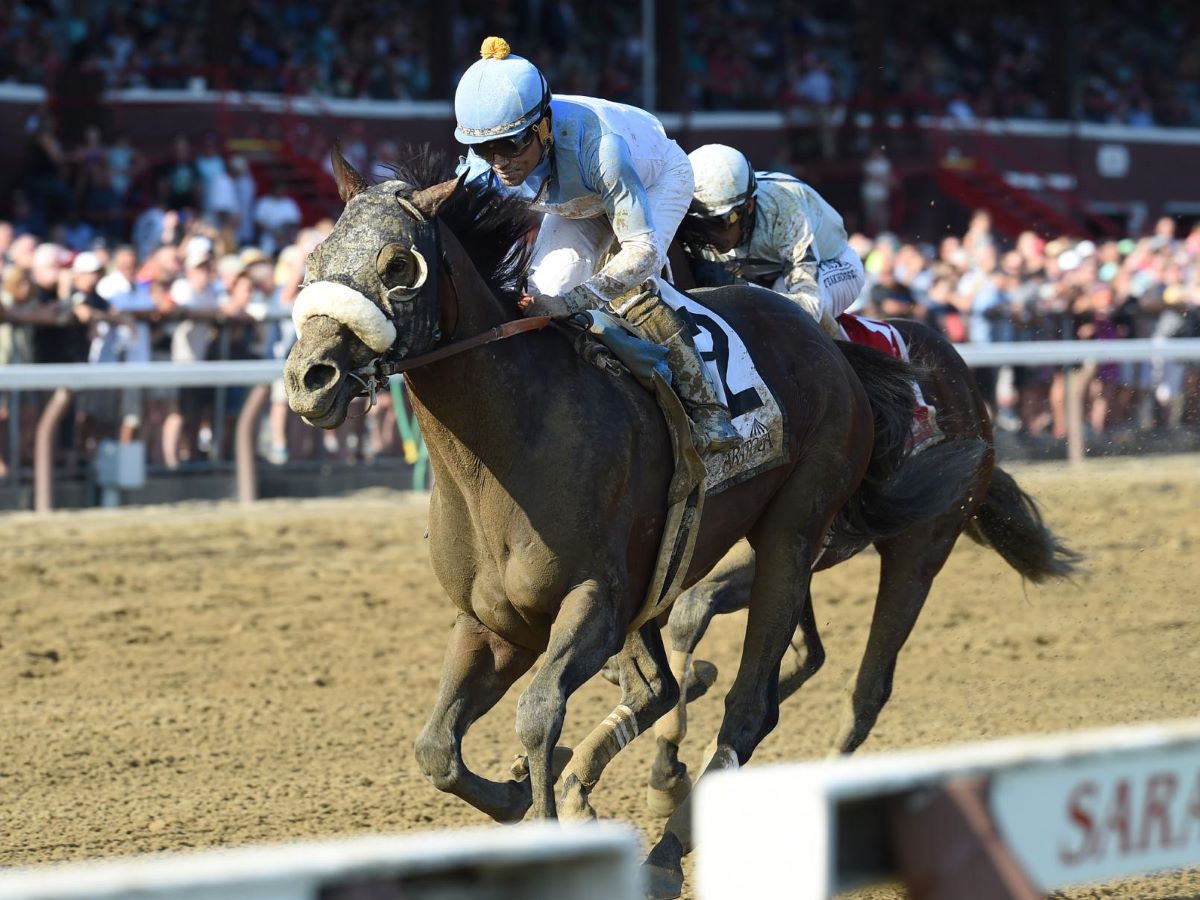 But quality abounds. After all, we're talking millionaires here. Even 20/1 long shot Mr. Buff has $1.08 million in career earnings. Of course, he's an arriviste' to this party, being the only horse of the quintet not winning a graded stakes race. The 6-year-old gelding does own 14 wins and numerous stakes victories, so he's not a total gate-crasher.
The Whitney is the centerpiece to one of the biggest days on the racing calendar. Saratoga cards five stakes races Saturday, with three of those Grade 1's. And the Whitney – restricted to 4-year-olds and up since 1949 – features some of horse racing's brightest stars on its winner's roll. There's War Admiral, Alydar, Discovery, Slew o' Gold, Dr. Fager, Tom Fool, Easy Goer, and Kelso, who won it three times, the last time as an 8-year-old.
The Whitney Stakes
Morning Line (Jockey)
By My Standards, 9/2 (Jose Ortiz)
Improbable, 5/2 (Irad Ortiz Jr.)
Code of Honor, 5/2 (John Velazquez)
Mr. Buff, 20/1 (Junior Alvarado)
Tom's d'Etat, 6/5 (Joel Rosario)
Six fillies have won the Whitney, most notably Personal Ensign in 1988. But the race set the scene for one of horse racing's greatest upsets. That came in the 1973 Whitney, when 5/1 Onion defeated reigning Triple Crown champion Secretariat, who went off at 1/10. Penny Chenery, Secretariat's owner, said the horse was running a low-grade fever that day.
Two months later, when the two met again in the Marlboro Cup at Belmont Park, Secretariat restored order – winning and clocking a world-record time of 1:45.4 for 1 1/8 miles. Onion, meanwhile, finished fourth.
Is There an Onion in This Year's Whitney?
Could Mr. Buff pull off a similar upset this year? Unlikely, considering who he's contending with. There may not be a Secretariat in the field, but there is more than enough talent and class. Three horses in the National Thoroughbred Racing Association's Top Thoroughbred Poll are in the Whitney field: Tom's d'Etat (2), By My Standards (7), and Code of Honor (10).
"We know this place has been known as the 'Graveyard of Favorites,' but Mr. Buff is stepping into some deep water in this race," trainer John Kimmel told the New York Racing Association. "People might look at his last race and just kind of think that he's a little bit off form. But this horse has run commensurate numbers with all the horses in the race when he's been running against New York-bred company."
Not surprisingly, Tom's d'Etat is your 6/5 favorite. He comes into Saratoga as the hottest horse in the country. The 7-year-old – last seen ripping through the Stephen Foster in June — brings a four-race winning streak into the Whitney. That dovetails nicely with his three Spa victories, which leads this field. As a 3-year-old, Tom's d'Etat broke his maiden at Saratoga, and he's won there at three, four, and six.
Tom's d'Etat Likes His Surroundings
"Some horses just take to it. I can tell in the couple weeks he's been here, his hair is great and his eye is just what you want, and it seems like he knows just where he is," trainer Al Stall said.
Stall skillfully nursed Tom's d'Etat through numerous injuries, and puts Joel Rosario and his 5-for-5 record riding Tom's d'Etat back in the irons. Stall will content himself watching Tom's d'Etat stalk the pace, then watch Rosario turn him loose on the far turn.
Keeping him company there will most likely be the impressive tandem of Improbable (5/2) and By My Standards (9/2). Tom's d'Etat's fellow stalkers double as graded stakes winners and recent Tom's d'Etat victims. Improbable ships in from California on the wave of his Hollywood Gold Cup victory in early June, seeking trainer Bob Baffert's second consecutive Whitney title. Baffert won with McKinzie last year.
Equine Revenge Factor Kicks in With These Two
Whether Improbable can equal his stablemate depends on whether he can outkick Tom's d'Etat, who caught and passed him to capture the Oaklawn Mile in April. This is a much tougher field and a tougher track for Improbable than was the Hollywood Gold Cup at Santa Anita.
By My Standards would also like a piece of Tom's d'Etat, who snapped his three-race winning streak with the 4 ¼-length victory at the Stephen Foster. He's won three of four races at nine furlongs, but lacks the Saratoga familiarity and 2020 Equibase Speed Figures of his three main rivals. By My Standards deserves consideration in exotics due to his consistency.
Then, there's your closer: Code of Honor (5/2). If you're looking for someone to beat Tom's d'Etat, here's your likely candidate. He's familiar with Saratoga, capturing the Grade 1 Travers and Grade 2 Jim Dandy there last year. He's more comfortable with the nine furlongs than he was at the Met Mile, where he finished a very game third, having rallied from last to finish third among a group of sprinters.
Code of Honor's Closing Speed Will be Telling
Code of Honor even made up ground on Met Mile winner Vekoma in the deep stretch, a testament to his closing prowess.
"It won't be easy, but I just hope Code of Honor runs a monster race," trainer Shug McGaughey said. "It will be kind of interesting to see what the tactics are with only five (horses). I know where I'm going to be, but I'm not sure what the others are going to do or how much they're going to press."
The pick: Tom's d'Etat. As much as I love Code of Honor here – and a win here would surprise nobody — I can't pick against a horse in this form on this course. Tom's d'Etat has the closing speed to keep Code of Honor at bay. There's the difference.