Spendthrift Farm acquired the breeding rights to its third Met Mile winner in the last four years when it secured stud privileges to multiple Grade 1 winner Vekoma.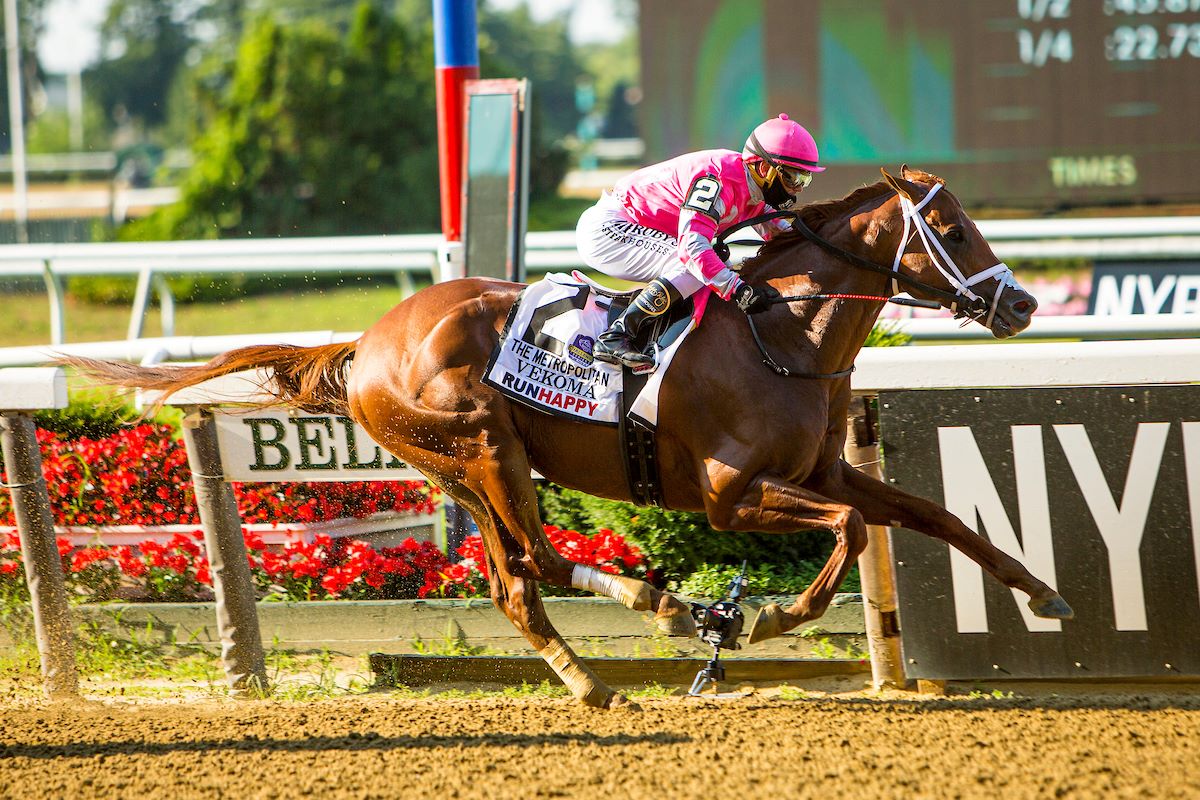 Spendthrift, the famous Kentucky breeding farm owned by billionaire B. Wayne Hughes, the founder and chairman of Public Storage, adds perhaps the hottest horse of 2020 to its stable. Last week, Vekoma won his third stakes race this year, capturing the Met Mile in impressive fashion. His 1:32.8 clocking missed the Met Mile record by .15 seconds in a 129-year-old race.
In so doing, Vekoma turned back Grade 1 winners Code of Honor and McKinzie. He also won his second Grade 1 at Belmont Park in less than a month, following a dominant, 7 ¼-length romp in the Carter Handicap in early June. That seven-furlong victory came with a 110 Beyer Speed Figure and career-best 118 Equibase Speed Figure. The win also put Vekoma in rare company as a winner of a Grade 1 race at ages 2, 3, and 4.
The 4-year-old son of standout Argentinian sire Candy Ride and Grade 1-winning dam Mona de Momma opened his year winning the black-type (ungraded) Sir Shackleton Stakes at Gulfstream Park in March.
"Vekoma has been an outstanding talent since the moment we got him. He's such a special horse," trainer George Weaver said in a statement. "We will take our time to enjoy this win, but Saratoga is the likely next place for him to run. We would like to put the horse in position to be a champion.
Vekoma Already a Champion in All but Name
When it comes to individual races, Vekoma is already there. He owns six wins and a third in eight starts, good for $1.245 million in career earnings. That resume includes the Grade 2 Blue Grass Stakes, where Vekoma is the 2019 champion.
Spendthrift gets a horse who failed to hit the board only once: the 2019 Kentucky Derby, when Vekoma finished 12th. Weaver later said that distance was too far and cut Vekoma back accordingly. They get a horse, as Spendthrift general manager Ned Toffey noted, who won at distances from six furlongs to 1 1/8 miles.
And they get another Met Mile winner. Vekoma will join Mor Spirit (2017) and Mitole (2019) as Met Mile "studs" at Spendthrift.
'Combination of Brilliance and Pedigree is Special'
"You just will not find a better-bred son of Candy Ride," Toffey said. "Vekoma proved he is one of the best horses in training with wins over good fields in the Carter and Met Mile, which have been two of the best performances we have seen this year. The combination of brilliance and pedigree is special."
The other special element about Vekoma is his odd "paddling" running style, where his left front leg swings out as he runs. That's no matter for a horse who epitomizes the saying "It's not how. It's how fast."
As for "where" Vekoma runs next, Weaver said he'll nominate him for the Aug. 1, 1 1/8-mile Whitney, Saratoga's marquee race for older horses. That, however, may be a big ask for a horse who just ran two big races inside of a month. Ergo, there's the seven-furlong Forego Stakes Aug. 29.
"We want to plot a campaign to get us to the Breeders' Cup, so we'll take a look at the calendar and go from there," Weaver said.
Speaking of the Breeders' Cup, that's likely Vekoma's farewell performance. His Met Mile victory earned him a spot in the Breeders' Cup Dirt Mile at Keeneland in November.