COVID-19 is killing more than 550 people a day in the Midwest — the most in the nation, per capita. And yet, as the population continues to get sick, college football is still happening there … sort of.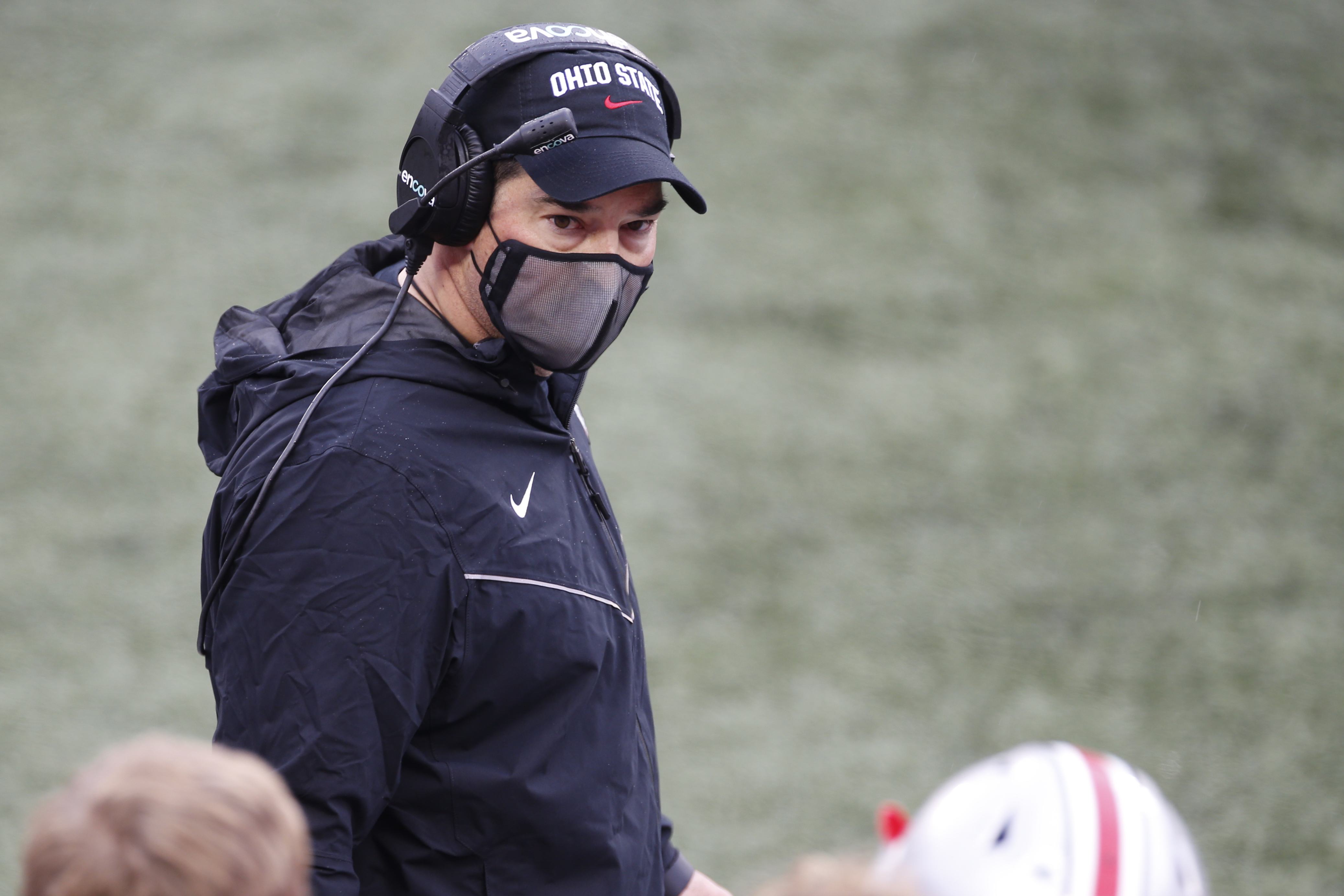 Thus far this season, only opening week in the Big Ten went off without a cancellation due to COVID-19. Eight teams have missed at least one game with no room in the schedule for makeups.
This weekend, No. 4 Ohio State (4-0) continued to see its hopes fade as it canceled vs. Illinois, its second no-contest in three weeks. The first cancellation came against Maryland on Nov. 11 after that program's outbreak.
While cryptic about individual infection numbers, it's believed Ohio State's football program suffered an estimated 13 to 20 infections in the past week.
Buckeyes Might Not Take the Field Again
Ohio State's football program remains on indefinite pause as it continues to test for additional coronavirus cases. If the Buckeyes can play Saturday at Michigan State, a long shot, they will have to go without head coach Ryan Day, who tested positive for the virus and will not have met Big Ten's quarantine protocol timeline.
If the Buckeyes are healthy enough to play against Michigan on Dec. 12, they would still have to do it without at least seven starters who've also tested positive over the past week.
The Big Ten, which tests six days a week, will have the latest Ohio State results on Monday or Tuesday, which should determine whether this weekend's matchup is on or off. The conference requires a minimum of six games to qualify for its championship game. The College Football Playoff likely won't take a team with a four game sample size.
If other teams' COVID-protocols are any indicator, the prognosis for Ohio State retaking the field this season isn't great.
When Wisconsin vs. Nebraska was canceled on Oct. 28, the Badgers had 12 positive tests. A week later, when they canceled against Purdue, that number ballooned to 27.
When Maryland vs. Ohio State was canceled on Nov. 11, the Terrapins had eight positive tests. A week later, that number ballooned to 23.
Though avoiding cancellations, Minnesota has been playing with players absent since Week 1. When their game vs. Wisconsin was canceled, the Gophers had nine players and six staff members test positive. The program is temporarily shut down with 40 cases.
This leaves the door open for No. 16 Indiana (4-1), which would be in the drivers' seat should they win this weekend at No. 16 Wisconsin, provided both teams can stay healthy between now and Saturday.
Meanwhile, Franklin County, home to the Buckeyes, is entering its second week as a "purple" or Level 4, the highest designation for COVID-19 spread. Over the weekend, Ohio Gov. Mike DeWine warned the virus' spread across the state is "very dangerous as we move into the holidays."
Golden Gophers Spread Rampant as Hennepin County Reels
In Minnesota, things are even more dire. The Golden Gophers' athletic department announced Saturday evening an additional 15 positive cases to its program, including eight players and seven staff.
The programs' total cases are 40, evenly split between players and staff. All team activities are on pause, though they still haven't ruled out this weekend's game vs. Northwestern on Saturday at TCF Bank Stadium.
Hennepin County, home of the Gophers, is also experiencing an uncontrollable spread. Sunday totals for the state were "record-smashing," according to one data journalist, and trending worse.
So today's #COVID19 data at first looks bad: a record level of 8,953 new cases, higher than any day so far this year except yesterday's two-days-in-one report.

But those 8.9K cases came on a record-smashing 97,500 tests! (Presumably cases trickling in over the holiday.) pic.twitter.com/j6JFJx2bf7

— David H. Montgomery (@dhmontgomery) November 29, 2020