Tex Winter, a Hall of Famer and assistant coach who many say helped translate Michael Jordan's basketball skills into NBA championships, died on Wednesday.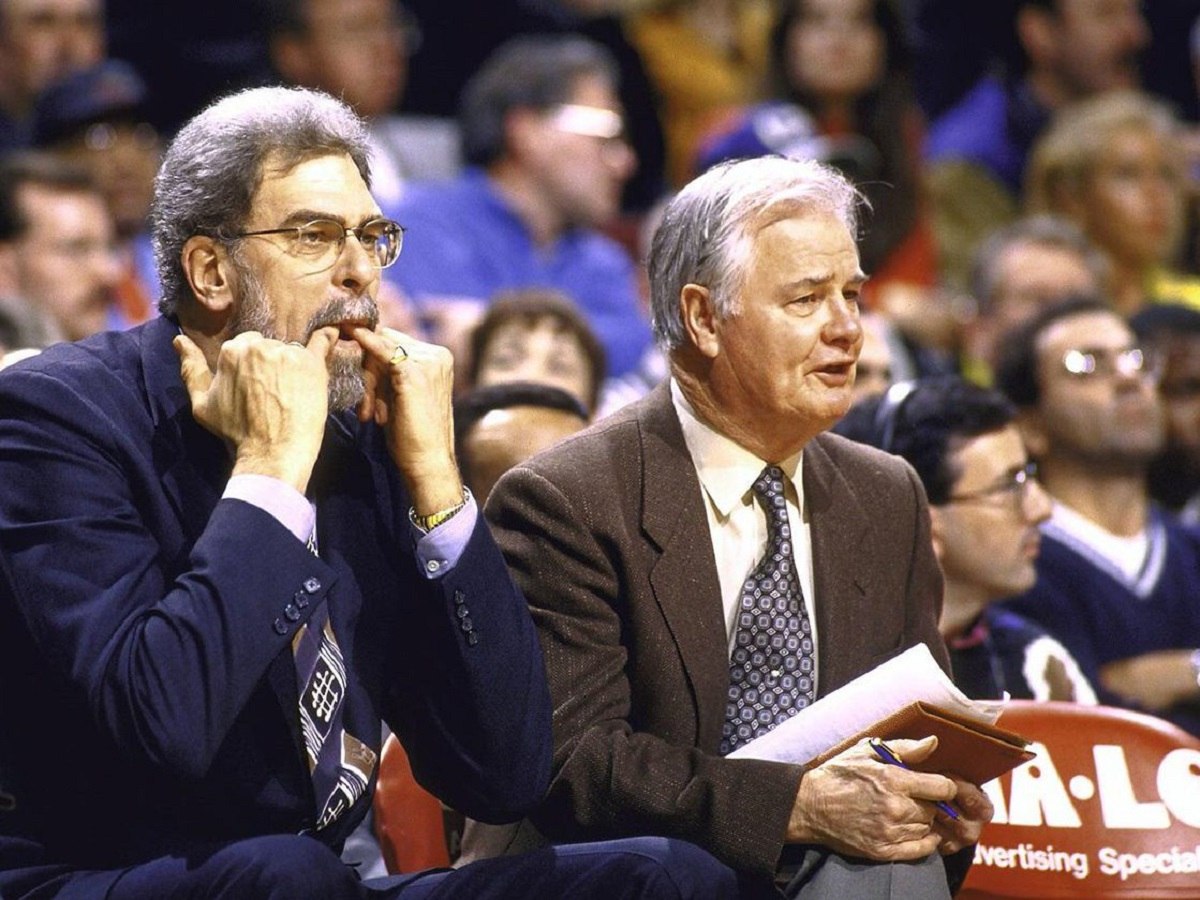 Winter is credited with revolutionizing NBA play with his Triangle Offense, which head coach Phil Jackson implemented in nine NBA championship teams during his tenure with the Chicago Bulls and LA Lakers.
Prior to making the NBA more exciting for fans to watch, Winter spent three decades coaching at the college level. As head coach of Kansas State, he guided the Wildcats to two Final Four appearances in 1958 and 1964.
Track Star, Navy Pilot, Coach
Born in Wellington, Texas, in 1922, Morice Frederick Winter was an excellent collegiate track and field star at Oregon State. His Olympic dreams were put aside when he enlisted in the Navy at the onset of World War II. Winter trained as a fighter pilot. After the war, Winter resumed his studies at USC where he ran track and played basketball. USC's coach Sam Barry taught Winter the basic tenants of the Triangle Offense.
Winter got his first job as an assistant coach at Kansas State at 1947 and he never looked back. In 1951, Winter accepted his first head coaching job at Marquette. Winter coaches Kansas State for 15 years from 1953 to 1968. At Kansas State, Winter introduced a tweaked version of the Triangle Offense.
Winter had a short stint as a head coach in the NBA with the Houston Rockets. He finished 51-78 in two seasons with the Rockets from 1971-1973, before returning to the college ranks for another decade at Northwestern and Long Beach State.
Teaching Jordan Triangle Offense
In 1985, Winter joined the Bulls as an assistant coach. He met a young Michael Jordan and the two shared a bond that would inevitably lead to multiple NBA championships. With Jordan running Winter's Triangle Offense to a perfection, the Bulls won six NBA titles in the 1990s.
When Phil Jackson was tapped to coach the Los Angeles Lakers, Winter joined Jackson in Hollywood. Winter taught the Triangle Offense to Shaquille O'Neal and Kobe Bryant, which also produced championship results. Winter won four more NBA titles with the Lakers, including three as an assistant coach from 2000-2002 and another as a team consultant in 2009.
Kansas State released a cool video tribute featuring highlights from a Tex Winter instructional video.
Innovator of the "Triangle Offense", Tex Winter forever changed the game of basketball.#KStateMBB pic.twitter.com/kp8mO9I07J

— K-State Men's Basketball (@KStateMBB) October 11, 2018
"I learned so much from Coach Winter. He was a pioneer and a true student of the game," Jordan said on Twitter. "His triangle offense was a huge part of our six championships with the Bulls. He was a tireless worker. Tex was always focused on details and preparation and a great teacher. I was lucky to play for him. My condolences to his family."
Former Chicago Bulls forward Scottie Pippen added, "Without Tex, we may never have won a title. He taught us how to slice and dice our opponents on the offensive end. We had the GOAT, but it was Tex's knowledge and triangle offense that helped us shred defenses."
Winter suffered a severe stroke in 2009 and had been declining in health since.
In an official statement by the NBA, commissioner Adam Silver said, "Like James Naismith, Tex Winter was an educator at heart who deeply believed in the values of the game of basketball – teamwork, discipline and selflessness. A pioneering Hall of Famer with 10 NBA Championships to his name, he taught those values to generations of players and coaches, leaving a legacy that will forever be part of our history."