Scary Terry wants the bag, but the Washington Commanders have been slow to work out a contract extension with the standout wide receiver Terry McLaurin. As a result, McLaurin will skip a mandatory three-day minicamp with the Commanders.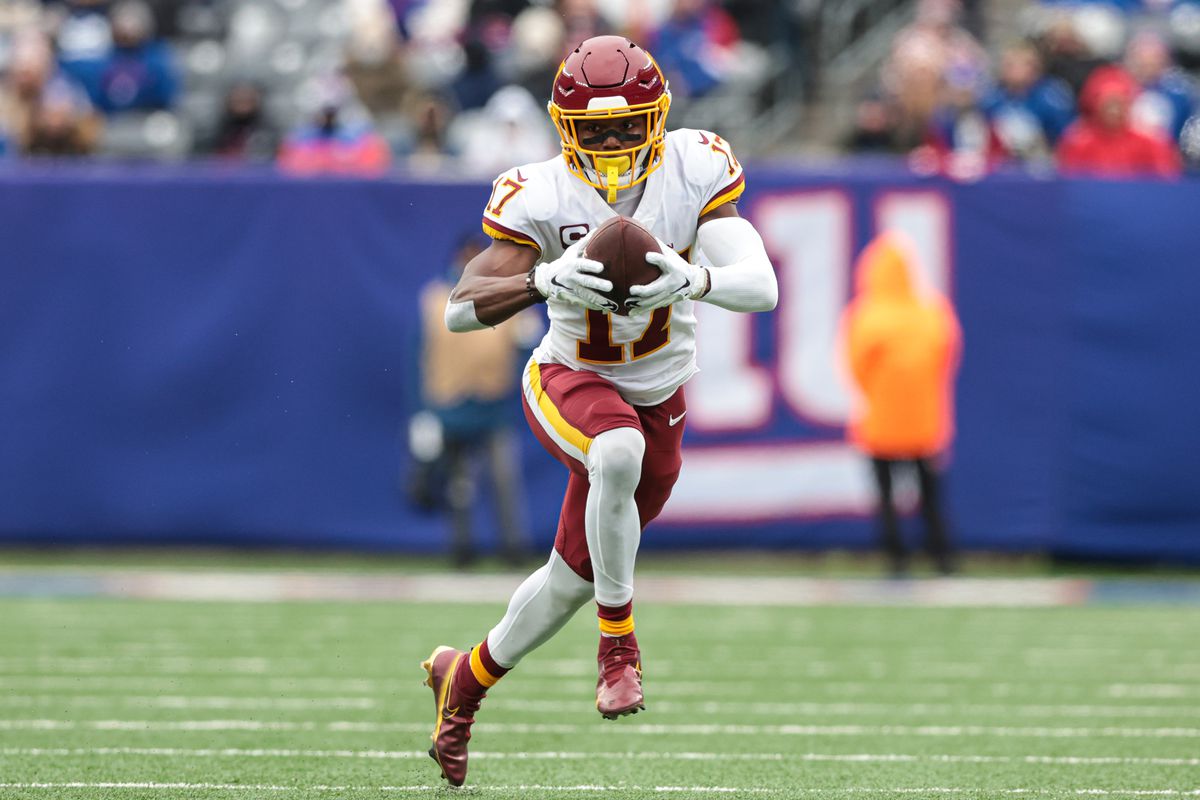 McLaurin recorded 77 receptions for 1,053 yards and five touchdowns in 17 games with the Commanders last season, who essentially had a backup quarterback as their starter. Ryan Fitzpatrick suffered a fractured hip in the first game of the season (which ultimately ended his career), and backup quarterback Taylor Heinicke was thrust into the starting role. Heinicke held his own at times and did a bang-up job, all things considered, but fans and fantasy football owners were disappointed with how the season progressed for McLaurin.
McLaurin lived up to his Scary Terry moniker, which he earned with the Ohio State Buckeyes, during his rookie season in Washington. In 14 games, he caught 58 passes for 919 yards and seven touchdowns. In his second season, he caught a career-best 87 passes for 1,118 yards, but just four touchdowns.
Heinicke returns to the backup role after the Commanders acquired Carson Wentz in a trade with the Indianapolis Colts.
The Commanders are +7000 odds to win Super Bowl 57.
SCARY TERRY ROCKED THE BABY ON TREVON DIGGS 💀💀
pic.twitter.com/tb6VdLmGPm

— PFF (@PFF) October 25, 2020
Scary Terry holds out
It's been a profitable offseason for the premier wide receivers in the NFL. Tyreek Hill got the bag from the Dolphins. Stefon Diggs got $104 million from the Bills. Cooper Kupp got paid with the Super Bowl champion Rams. Davante Adams got a hefty raise with the Raiders. AJ Brown got a big bag from the Eagles.
Yet, Scary Terry has been eagerly waiting for the Washington Commanders to give him a well-deserved raise. However, everyone knows that the Commanders are an utter dumpster fire of an organization, starting at the top with owner Daniel Snyder. As the popular saying from "The Wire" goes, "shit rolls downhill," so it's not surprising to see the Commanders dragging their feet with Scary Terry.
McLaurin has one season remaining on his rookie contract, which will pay him $2.8 million. He wants to stay in Washington and play for the Commanders, especially in their brand-new uniforms after they shed their former racist moniker and embraced a new nickname and branding. However, the team isn't interested in providing him with a lucrative extension like the other elite wideouts in the NFL.
To his credit, McLaurin showed up at team workouts in the spring. However, when it looked like the Commanders were going to stonewall McLaurin, he skipped voluntary OTA sessions. With minicamp on the slate this week, all signs point toward McLaurin skipping the mandatory three-day event. The Commanders will fine McLaurin $93,085, but it's a small price to pay to expedite negotiations for a team that's desperate for some good PR.
Scary Terry caught this HOW?!? 🤯
pic.twitter.com/zPCcx4GGpw

— Robert Griffin III (@RGIII) September 12, 2021