Rob Gronkowski entered WrestleMania 36 as the host of the wrestling spectacular. He left the show as a WWE champion – of sorts.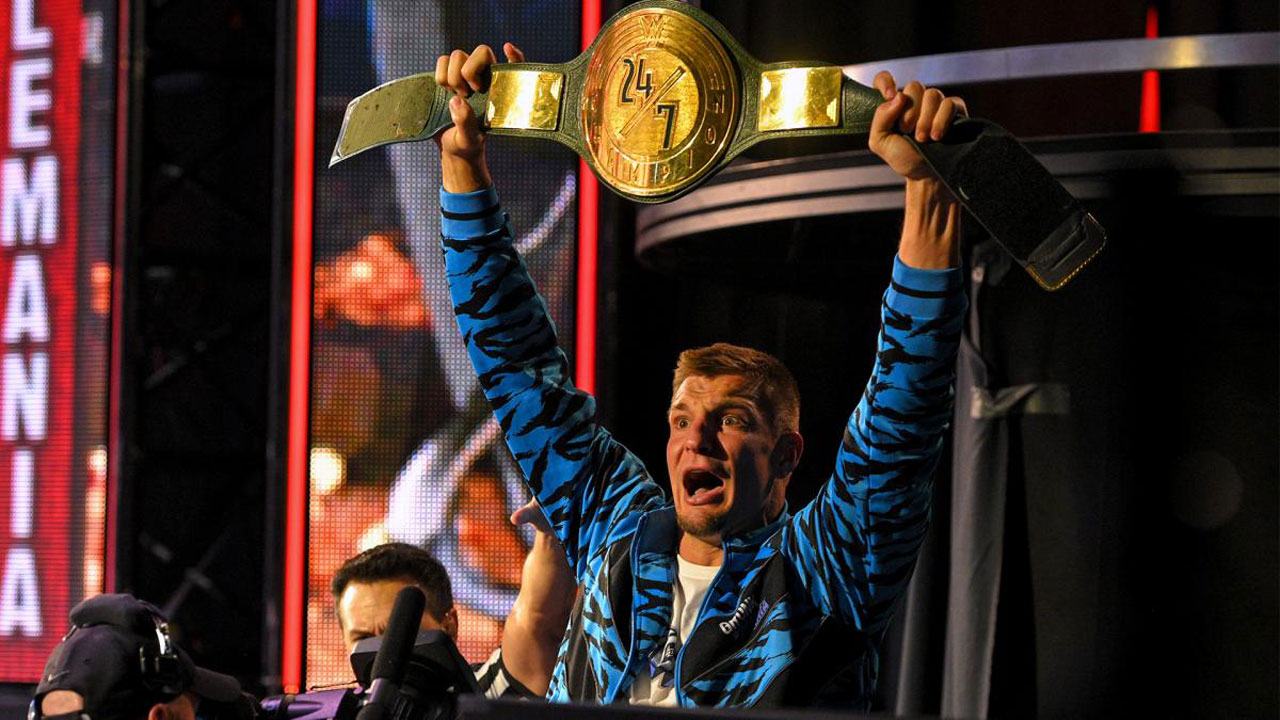 Gronkowski won the WWE 24/7 Championship, a title designed to change hands as frequently as possible.
24/7 Championship Changes Hands Anytime, Anywhere
Unlike the WWE Championship or the Universal Championship, the 24/7 Championship doesn't serve as a centerpiece for pro wrestling drama. Instead, the promotion often uses it in gimmicky and comedic ways as an interlude between more weighty material.
The rules of the 24/7 Championship are simple: it can be won or lost anywhere, at any time, as long as someone pins the current holder with a referee present. That has allowed plenty of celebrity guests to temporarily hold the belt, along with a slew of WWE superstars.
Gronkowski captured the championship after a group of wrestlers attacked his friend Mojo Rawley, who held the title at the time. Gronkowski jumped off a balcony, knocking the entire cadre of contenders to the floor. He then pinned Rawley to take the belt – and, perhaps, set up his first WWE storyline.
"I won a lot of awards in football," Gronkowski said on the WWE Network. "But let me tell you: this title right here is going to be the most cherished title, this title right here is going to be the most bragged about title I've ever won in my life."
WWE Setting Up Gronkowski vs. Rawley Storyline
Rawley won the 24/7 title earlier at WrestleMania when he and Gronkowski teamed up to attack R-Truth – the most frequent holder of the belt – during an interview segment. But when Gronk went for the pin, Rawley pulled him off to get the win himself, setting up Gronkowski's effort to take the belt later in the weekend.
"Sorry Mojo! Love you bro!" Gronkowski posted on his Instagram account. "But I could not pass up the opportunity to win gold at WrestleMania! Especially my dangerous high-voltage dive from the ceiling!"
Gronkowski joins other crossover athlete winners of the 24/7 title, including NBA player Enes Kanter and NASCAR driver Kyle Busch.
Gronkowski signed a contract with the WWE last month. The promotion immediately positioned him to be a part of WrestleMania, granting him the host position to put the star in a prominent role while also limiting his in-ring action, at least for now.
A three-time Super Bowl champion, Gronkowski retired from the NFL following the 2019 season. Gronkowski has said that he has no interest in returning to football, despite the fact that he is just 30 years old.
In the meantime, he's stayed busy with other pursuits. In addition to his WWE stint, Gronkowski also performed as the White Tiger on The Masked Singer and made plenty of other television appearances, including as an NFL analyst for Fox.