Dogdog came from behind to beat Wagamama 2-1 after a blitz tiebreaker to take the first quarterfinal in the Pogchamps 2 championship bracket on Wednesday.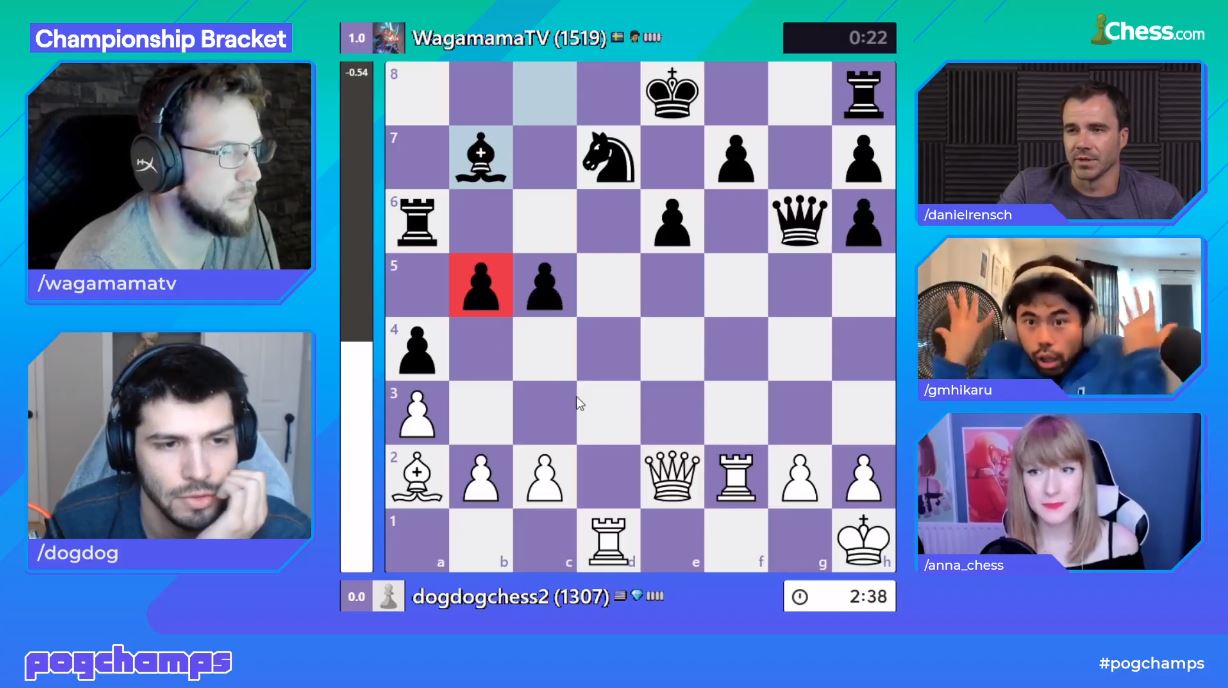 Wagamama came into the match as one of the highest-rated players in the field, but found himself in trouble early in the first game.
Time Trouble Haunts Wagamama in Pogchamps Exit
Dogdog used a basic tactic to set up a fork and win a piece out of the opening with Black in Game 1. But Wagamama recovered, and set up a dangerous kingside attack with both players in serious time trouble. Dogdog faltered in his defense, and Wagamama found a checkmate to take a 1-0 lead.
The second game started similarly, only with Wagamama picking up an extra piece with Black. But he also left his king in the center of the board, which presented Dogdog with some tactical opportunities. Worse yet, Wagamama found himself in severe time trouble in the middlegame, playing most of the critical moves with less than 30 seconds left on his clock. Inevitably, that led to blunders, and Dogdog converted the win.
That sent the match to a blitz tiebreaker. Unlike in the group stage, Pogchamps isn't using Armageddon games to determine winners in the knockout brackets. Instead, players must compete in three-minute blitz games – with no increment – switching colors until either player wins a game.
WHAT AN UPSET! 🤯@WagaGaming, one of the favorites to win #PogChamps gets taken down by @dogdog! 🤯 pic.twitter.com/TMb76ubYQY

— Chess.com (@chesscom) September 2, 2020
Wagamama had White in the first tiebreaker, and had several chances to gain the advantage in what quickly devolved into a time scramble. But Dogdog gained both a winning position and a decisive advantage on the clock. In the end, Wagamama ran out of time in what was a completely losing position. Dogdog moved into the championship semifinals, advancing one step closer to a potential finals clash with his fiancée, Hafu.
Gripex Sweeps David Pakman
Wednesday's second semifinal saw Gripex90 score a decisive 2-0 win over David Pakman. The first game turned into a highly competitive affair, with Pakman reaching a seemingly winning endgame, while also retaining the opportunity to take a draw with perpetual check. But one false move doomed the political commentator, as Gripex found a mating net to take the 1-0 lead.
Gripex dominated the second game, winning material early and then calmly trading pieces to reach the endgame up more than a rook. He then easily converted the win to book his spot in the Pogchamps championship semifinals.
👏 What a finish!

👏 @GripexJ premoves his checkmate and defeats @dpakman. #Pogchamps 👏 pic.twitter.com/QhsvLa2OKi

— Chess.com (@chesscom) September 2, 2020
Cizzorz and xQc also competed in the first Pogchamps consolation bracket quarterfinal on Wednesday. Both players made unfortunate errors: xQc lost a piece due to a mouse-slip in Game 1, while Cizzorz blundered a full piece with his fifth move in Game 2.
That set up another sudden death tiebreaker. Cizzorz dominated the first blitz game, holding both a huge time edge and several extra pieces. But disaster struck as Cizzorz stalemated xQc, who had just a few seconds left on his clock.
It's a miracle! It's an @xQc miracle! 🤯@xQc is completely losing and about to be eliminated…but @cizzorz leaves the king with no moves and it's a STALEMATE! 🤯🤯🤯 pic.twitter.com/0jggyp4W8d

— Chess.com (@chesscom) September 2, 2020
The stunning finish carried over into the second tiebreaker, as xQc played confidently as White and Cizzorz faltered to fall behind by a full rook. But xQc used too much time trying to find a decisive blow, and ultimately lost on time while Cizzorz had just 2.1 seconds remaining on his own clock.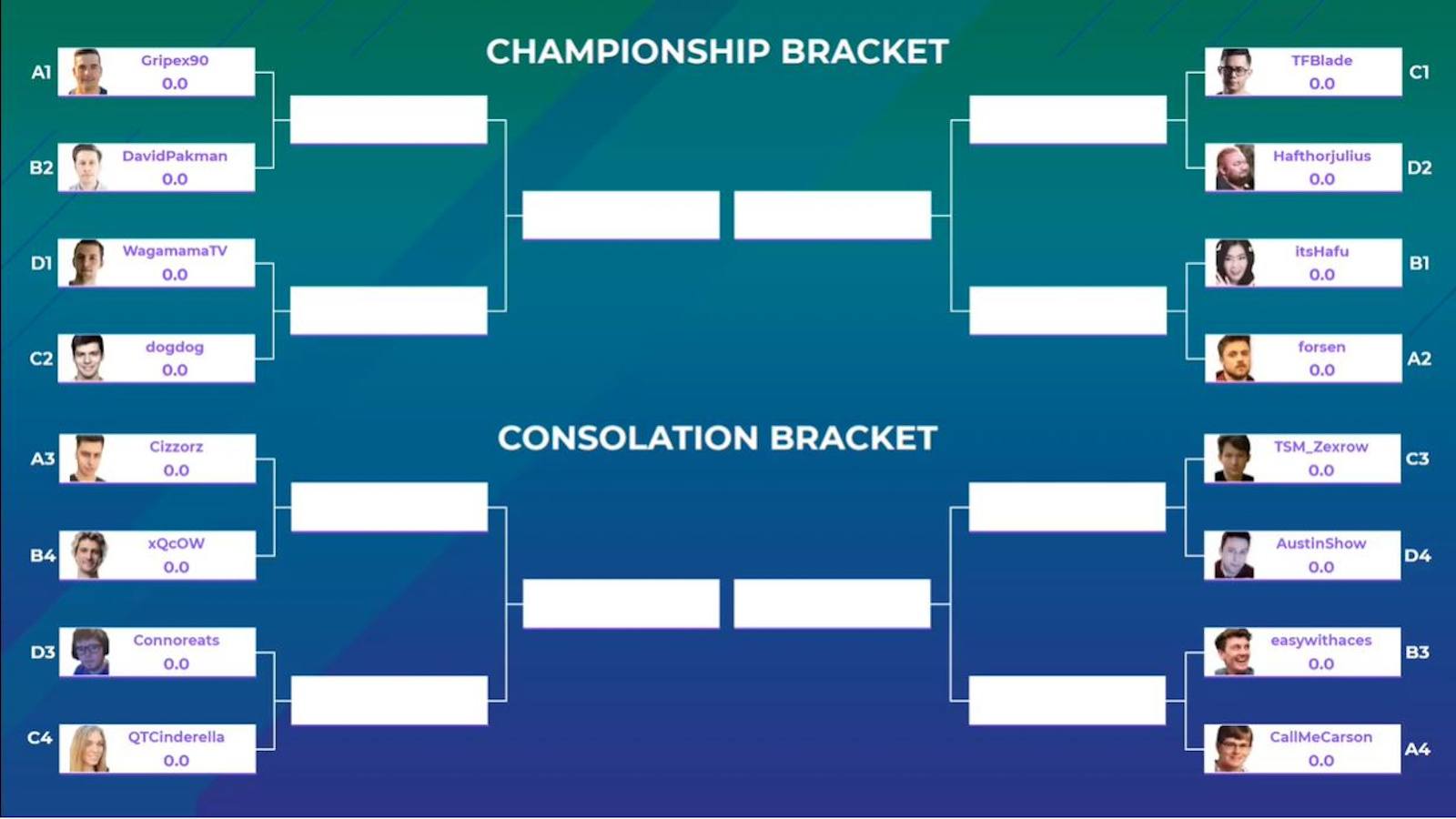 Pogchamps 2 quarterfinals action continues on Thursday. Hafthorjulius takes on TFBlade in championship bracket action, while Connoreatspants battles QTCinderella, and Easywithaces faces CallMeCarson in two consolation quarterfinals.